Cambridge is a little city with the soul of a big city, boasting an eclectic mix of romance, history, and culture. If you're looking for the best things to do in Cambridge, the best places to visit in Cambridge, the best things to see in Cambridge and the best places to eat in Cambridge, then this is the Cambridge travel guide you must read before you visit.
Cambridge is one of the best places to visit in England if you love a great vibe, pleasant strolls, beautiful architecture, and exciting food… then Cambridge is the city for you! Cambridge is also home to some of the best things to do in England, as well as some of the top unique things to do in England.
Cambridge is located in Cambridgeshire, England, a stone's throw north of London. This little city has a rich history as a university town, with some of the oldest, most prestigious institutions in the world. It's a fantastic place to meander through the streets and take in the sights, the charming historic architecture, museums, marketplace, plus stop-off at the quirky independent shops, cafes, and restaurants.
This stunning city has been used as a popular filming location for many films and TV shows, such as Grantchester and the film 'The theory of everything' based on the life of past resident Stephen Hawking. Other than universities, Cambridge is famous for having great food, cycling, picturesque scenery and of course, punting! In fact, the River Cam is the hub of Cambridge. When you visit Cambridge, you MUST go punting! It's so integral to the city's culture that in the summer months you'll find residents and tourists alike on the river, enjoying the views and tranquillity.
If you want to know more about where to find the best cafes in Cambridge with a view of world-famous King's College, romantic strolls and walks in Cambridge (one of the best places to go walking in England), cycle routes, street food recommendations and the entertaining and whimsical little quirks this city has in store for you, then keep reading to find out my favourite things to do in Cambridge in this Cambridge travel guide!
Other blog posts you might like…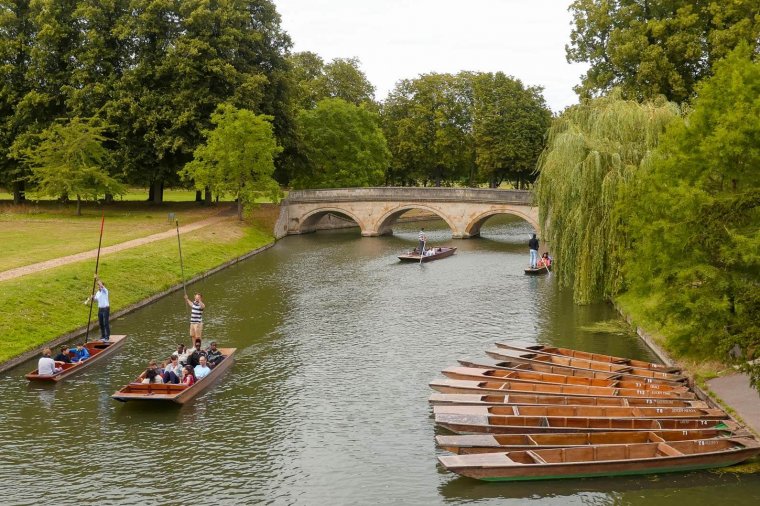 Where is Cambridge? How to get to Cambridge...
So where is Cambridge, you ask? This city is situated nicely between the bigger cities of London and Norwich (in Norfolk). It's only 55 miles to London and 22.6 miles to Stansted Airport, so it's really accessible from all parts of the UK and Europe! It is a very sustainably-minded city, which encourages public transport, walking and cycling.
If you're wondering how to get to Cambridge, the best way to get to Cambridge is by train or car. I highly recommend travelling by train to Cambridge, not only to travel more sustainably, but because it is an old city and not suitable for cars… in fact, parking can be next to impossible during peak times,not to mention expensive. However, if you are lucky, you can snag a free parking space in a residential street if you don't mind parallel parking and small spaces, but these are often away from the centre (20-30 min walk), which is where you want to be to experience the best things to do in Cambridge.
My suggestion? Use the Park and Ride facilities outside the city, along the main road routes into Cambridge. These offer cheaper parking, plenty of spaces, and a bus ride (around 20 mins) into the city.
Cambridge Park & Ride Locations: Milton, Newmarket Road, Babraham Road, Trumpington and Madingley Road.
Free car parking for up to 18 hours.
£3 return ticket to the city centre.
£8.50 group discount for 5 people travelling together.
Cambridge City Centre Parking (both 24 hours a day):
Grand Arcade Shopping Centre

Peak (1 hour) =£3.00/ Off-peak =£2.50
Peak (Over 5 hours) = £29.40/ Off-peak = £26.40

The Grafton Shopping Centre

Peak (1 hour) = £2.80/ Off-peak = £2.30
Peak (Over 5 hours) = £28.30 / Off-Peak = £25.30
Cambridge is well connected by train; it has two main stations Cambridge and Cambridge North. For the central city, you will want to use Cambridge Station. The journey between Cambridge and London Kings Cross is around 50 minutes direct; there are also services running from London Liverpool Street. Services from Brighton to Cambridge in 2 hours and 23 minutes, also take you through London. From Stansted airport, the train is around 35 minutes.
Approximate Train fares:
London Kings Cross/Liverpool Street to Cambridge = roughly £13.30 off-peak return
Cambridge to Cambridge North = £2.30 return
Brighton to Cambridge = £31.10 off-peak return
Stansted Airport to Cambridge = £11.90 off-peak return
Book your train tickets online on thetrainline.com.


Where to stay in Cambridge...
When looking for places to stay in Cambridge, there are so many options catering for everyone: Airbnb, budget hotels, bed and breakfasts, or if you want to splash out, there are plenty of luxury hotels too.
We stayed at the Travelodge, Newmarket Road. It is well-positioned with a short 10-minute walk into town, offering a breakfast option and all your expected amenities. Limited parking spaces are available for an additional charge. This Travelodge is easy to find, modern and well-positioned. However, the walk from the train station can be a bit long, especially if you have a suitcase. I'd recommend catching a bus (number 11,12,3,PR2) or Uber to the hotel if you don't fancy a 30–40 minute walk. Buses from the city stop right outside the hotel. Prices vary depending on when you visit but booking in advance with a saver-rate gets you the best price (Average Standard Room (Saver rate) £36.99 (1 night)).
You can even stay in one of the historic colleges in Cambridge, giving you the full student experience, minus all the dirty dishes! Don't be fooled into thinking these are bland student houses; many are beautifully kitted out and in unique surroundings. Rooms offer self-catering and breakfast options and are available outside of term-time. There are plenty of colleges to choose from, like the beautiful Christ's College or rooms overlooking Kings Cathedral. Prices vary depending on the room, but most fall between £40 to £140 a night.


Top tips for visiting Cambridge...
1. Watch out for bikes! Stay out of the bike lanes and be careful anytime you step out! If you hear a bike bell, kindly give way to the cyclist. Cycling is one of the most popular things to do in Cambridge so expect to see a lot of cyclists!
2. If you have a student ID, bring it with you! You can get cheaper concession rates for entry into attractions and food & drinks deals, saving you a lot of money overall. There are lots of places that offer student discount in Cambridge so it's worth keeping in your bag, just in case.
See more tips for travelling on a budget here.
3. October and November are graduation times for students which means the city is busier than usual, and many accommodation providers increase their prices. Summer can also be busy, so it's best to book in advance.


My favourite places to eat in Cambridge...
Cambridge is an excellent place if you love great food. There are some fantastic street food vendors in the market square and quaint cafes dotted around the city. From cafes in Cambridge to restaurants in Cambridge, here are some of my favourite places to eat in Cambridge…
Cambridge Crepe: Perfect for grabbing a crepe on the go during a shopping trip, situated right in the middle of town, both savoury and sweet crepes to choose from and run by the friendliest people.
Fort St George: A traditional British pub offering delicious food and drink, situated on the riverbank on Midsummer Common. Surrounded by the famous Cambridge rowing clubs on one side and the legendary Cambridge cows on the other, freely grazing on the common. This is a favourite of the Duke and Duchess of Cambridge themselves, so much so they have a reserved seat for whenever they visit. Sit back and enjoy a post-cycle drink here in summer, watching the rowers practice on the river.
Benet's Café: A perfect brunch spot overlooking King's College, the waffles here are divine.
La Raza: Located on one of the most picturesque streets in all of Cambridge, Rose Crescent, this relaxed Mediterranean style cocktail bar is great for an evening drink with friends. It has a great atmosphere, with tapas and live music, with seating both inside and outside.
Cambridge Fudge Kitchen: Found on King's Parade, this traditional fudge maker offers free tasters before you buy, and you can watch it being made. Provides the perfect souvenir of your trip.
Vegan Vice: The vegan burgers here are amazing and good value for money. Try the vanilla pretzel & caramel shake.
2648: A basement cocktail bar with a speakeasy vibe, this little bar can be hard to find but worth the hunt. A single door on Trinity Street leads you down a long, narrow staircase into an underground bar, serving up cocktails, food and great music. Located somewhere within the bar is a secret room, known as the secret library… will you be the one to uncover its secrets?


The best things to do in Cambridge...
1. Hire a bike in Cambridge.
Cambridge is known for its bikes and one of the most popular things to do in Cambridge is to go cycling. Hire an electric bike from the grand arcade or the station for £15 for 4 hours and explore. There's plenty of cycle lanes and routes, so you don't need to worry about going on the road if you're not confident. Why not try the DNA Rainbow Cycle Route, which takes you on a loop out to the countryside?
2. Go punting in Cambridge!
Whether you decide to give it a go yourself or get a guided tour on the river, punting is a must on your list of the best things to do in Cambridge.
It's relaxing, and you get to see Cambridge from a whole new viewpoint. Punting in Cambridge also gives you the best angle to observe the Mathematical Bridge and the Bridge of Sighs. In the summer months, there's even a Pimm's punt serving drinks straight to you on the river. This is the perfect summer's evening activity with friends or as part of a romantic getaway with that special someone. Get more unique date night ideas here.
Scudamore's shared punting tour costs £55 or give it a go yourself for £29.50 for 90 minutes. Just try not to fall in!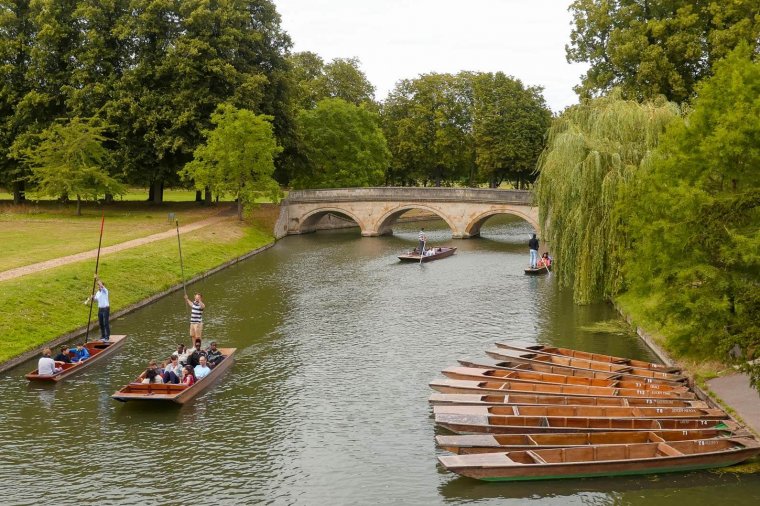 One of the best things to do in Cambridge is to see what bargains you can find at the market! The market runs every day between 10am and 4pm and has been here since the Middle Ages. Pick up fresh food, clothes, jewellery, and handmade crafts from local vendors. Have you ever tried an ostrich burger? Yeah, you can get those there too.
Cambridge has high-end brands and independent shops, as well as the high street brands you know and love. One of my favourite things to do in Cambridge is to explore some of the independent shops and see what souvenirs I can take home. If you want more of a shopaholic fix, some of the best places to visit in Cambridge include the Grand Arcade and Grafton shopping centres.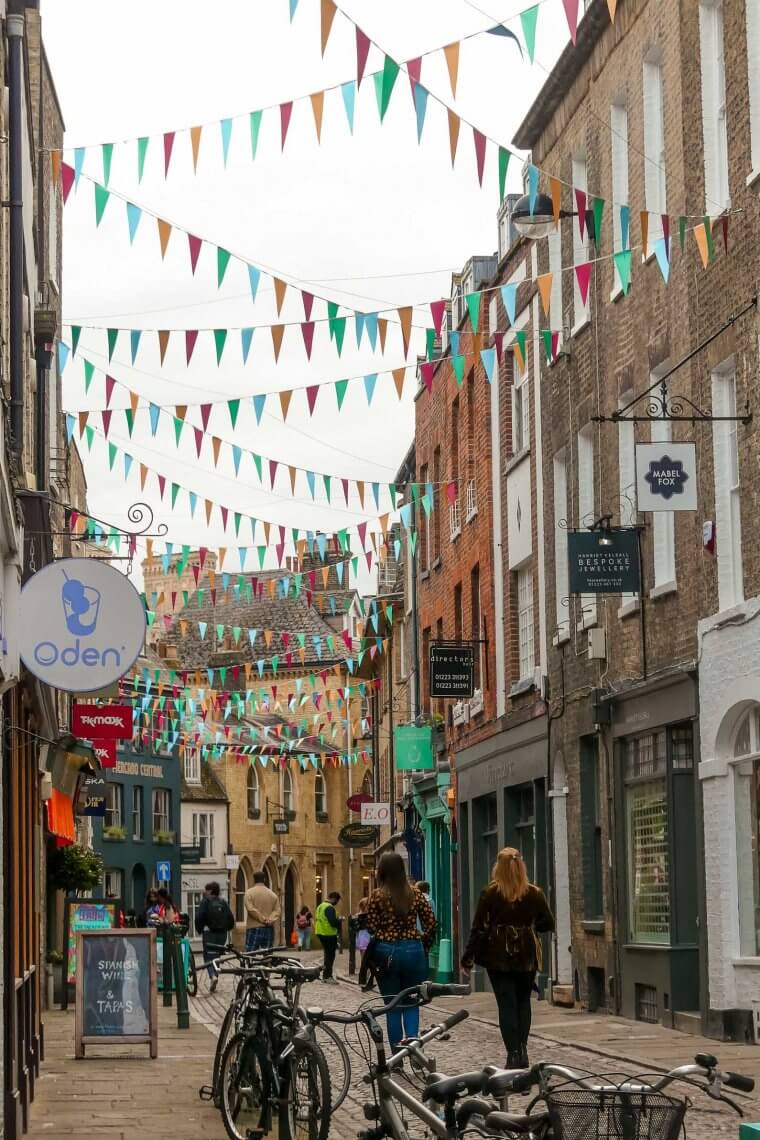 5. Have a picnic on the common.
The backs, Midsummer common, Jesus Green, Parker's Piece are but a few of the beautiful green spaces sprinkled throughout the city and some of the most beautiful places to visit in Cambridge. Take a romantic walk along the river or cycle through and enjoy the scenery.
In summer there are lots of things to do in Cambridge on the common: if you want a BBQ, there are designated zones on Jesus Green, there's free table tennis (as long as you bring your own bats and ball) and there's also a lido if you fancy a quick dip too. Often on Sunday afternoons in summer, there is a band performing. You might even catch a glimpse of some student Quidditch practice if you're lucky.
6. Tour a university college in Cambridge.
The numerous colleges boast history and beauty and one of the most popular things to do in Cambridge is to take a tour around one (or some!) of them. Learn more about the people that walked the halls and the world-leading discoveries that took place there as you marvel at the architecture and grounds. A self-guided audio tour is available from £4.43 (takes 40 mins to 2 hours).
Cambridge is one of the most beautiful cities in the UK and there are plenty of places to enjoy an afternoon stroll. Take in the sights, the architecture, stop at a cafe and people watch. It's a stunning city with plenty to see. Look out for the round church, walk down Portugal Place, see the Corpus Clock or the quirky local busker on King's Parade, all great places to visit in Cambridge.
There are so many museums in Cambridge, and there really is a museum to suit everyone. One of the best things to do in Cambridge is to take your pick from the museums and spend the day learning something new! If you like ancient history and art, try the Fitzwilliam. If animals and nature are more your thing; try the Museum of Zoology. Like dinosaurs, fossils and the earth sciences? The Sedgwick Museum has that for you. Best bit: all the museums have free entry! Currently, tickets must be booked in advance due to covid.
9. Enjoy sunset drinks at the Varsity Hotel's rooftop bar.
The Varsity Hotel is one of the best places to visit in Cambridge to see the sunset. Relax, have a glass of Pimm's or a cocktail, and watch the sun go down over Cambridge's iconic skyline.
10. Walk around the Botanical Gardens.
One of the best things to do in Cambridge is to escape the hustle and bustle of the city centre and enjoy some of the green spaces. At the Botanical Gardens in Cambridge you can see exotic and rare plants and smell beautiful flowers. Tickets cost £6.30.
11. Marvel at King's College Chapel and the Great St Mary's Church.
These are two of the best places to visit in Cambridge. Located adjacent to one another and steeped in history, here you can marvel at the architecture inside these places of worship, stained glass windows and famous fan ceilings. Self-guided tour tickets cost £10.
12. Catch a show at the Corn Exchange.
Whether it's comedy or music, it's a popular stopping point on the tours of many artists and right in the centre of town. One of the best things to do is to check the schedule and book yourself some tickets for a night of laughs or tunes at the Corn Exchange!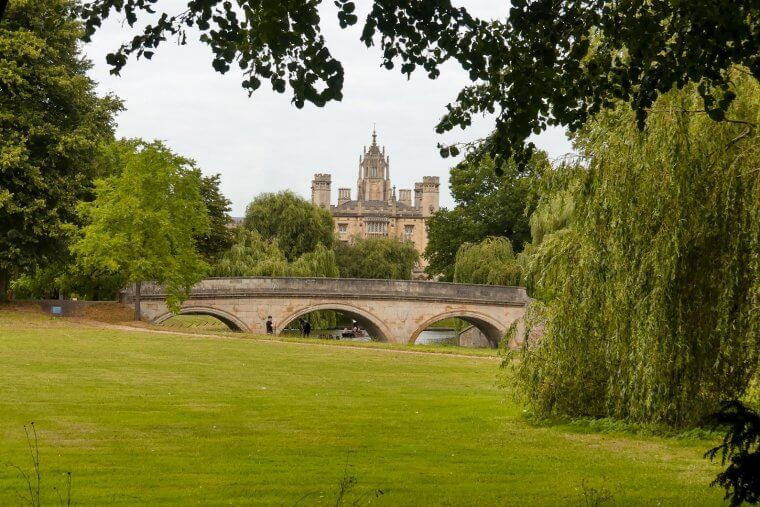 Is there anything else you'd add to this Cambridge travel guide?
Where are your favourite things to do in Cambridge?
Love as always and happy adventuring…
Did you find this post helpful? I'd love you to share it for me.
Pin and save this blog post for later…