It was love at first sight. I am really not sure how it took me so long to explore this corner of England but I'm glad I finally did.
If you're looking for the best things to do in Norfolk, you're in the right place. In this Norfolk travel guide, I am going to share the best things to do in Norfolk, the best things to see in Norfolk and the best adventures to go on in Norfolk.
I recently spent a weekend at Norfolk Woods Resort and Spa and it was absolutely divine. Norfolk is the perfect destination if you're looking for an outdoor haven, not too far from London and away from the typical tourist destinations in the UK (Cornwall, Devon, Wales, Lake District).
Think countryside, forests meet the ocean, gorgeous golden sand beaches, lavender fields and fish and chips on the harbour front. Norfolk, in my eyes, is the perfect place for a weekend getaway in the UK. Norfolk is also somewhere to consider for a day trip from London.
Located on the east coast of the UK, just a 2.5-hour drive from London, Norfolk is yet another example of the nature we have on our doorstep here in England. Proof that you don't always need to go to an exotic destination to get a coastline like this one… Nope, this is not Australia, this is England.
Other blog posts and travel guides that you may enjoy…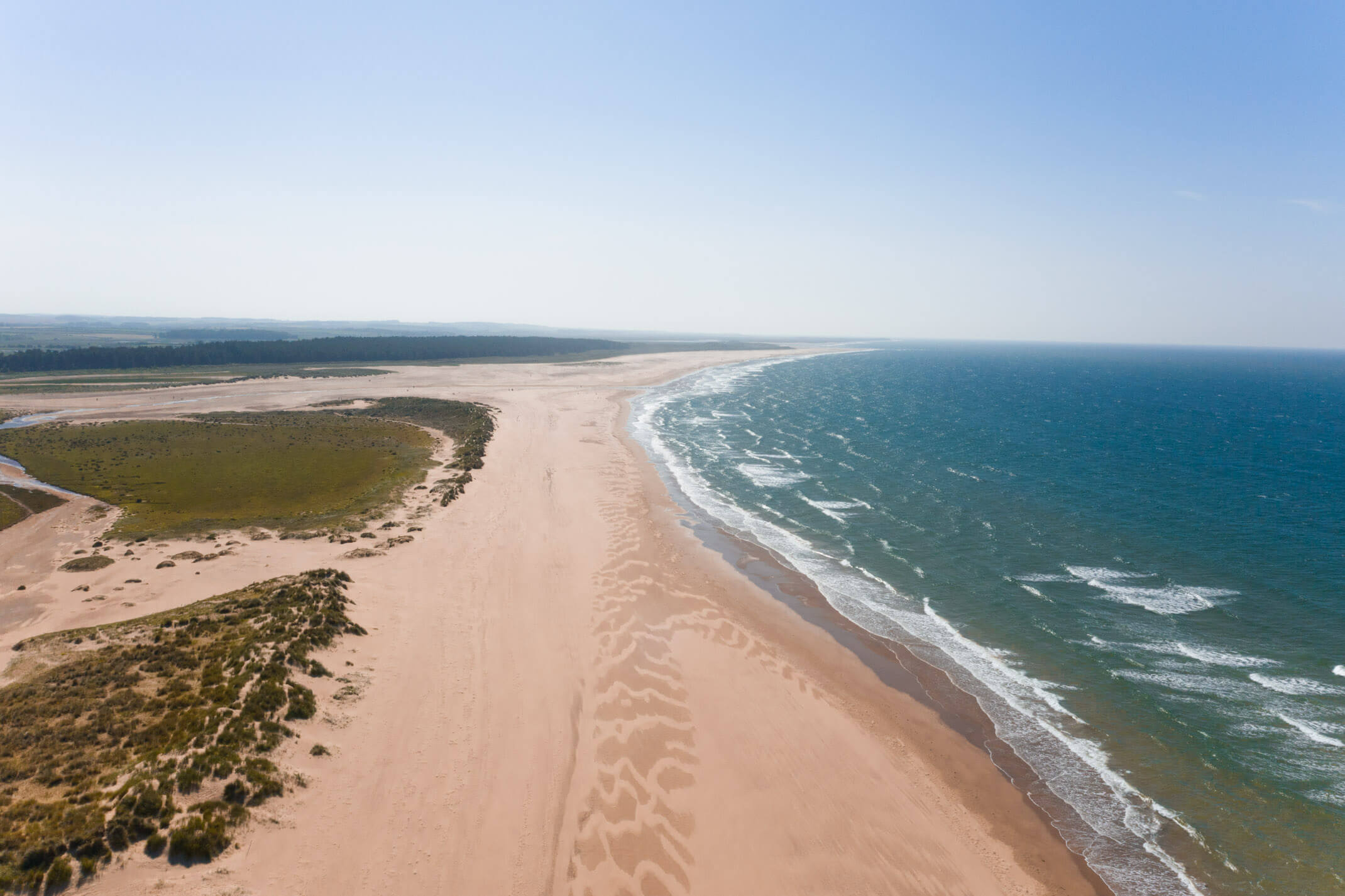 Did you miss my weekend in Norfolk? See all my photos and what I got up to here.
Where is Norfolk?
Norfolk is a county on the East Coast of England. The county town is Norwich.
How do you get to Norfolk?
Trains run between Norwich and London hourly – check The Train Line for train tickets. National Express coaches also head down to Norfolk throughout the day.
If you're coming from further afield, Norwich City has an airport with domestic flights (although you can connect in Amsterdam for international flights), or London airports are within easy reach by train or coach (Stansted is the closest). Check SkyScanner for good deals on flights!
How do you get around Norfolk?
Buses go regularly throughout the county: check timetables at www.travelineeastanglia.co.uk. Trains go to the larger cities of Norwich, Great Yarmouth and King's Lynn regularly.
To be more flexible, take your car (or hire one) make it a road trip!
If you're staying in one area with accommodation close to everything you want to see, Norfolk is a beautiful area to walk around. Walking is a great way to keep fit and to reduce your carbon footprint!
Where should you stay in Norfolk?
In terms of which area to stay in, if I were you I'd stay near the North Norfolk Coast or the Broads, as these areas are beautiful! But if you want better public transport access and to be nearer the city, Norwich might be better for you.
When I went to Norfolk for the weekend, we stayed in an Oxburgh Lodge at Norfolk Woods Resort and Spa, a gorgeous contemporary resort that is nestled within the Norfolk countryside and around a 30 minute drive from the coast. It was perfect for the girly weekend I'd planned and felt like a luxurious home from home. Check out my whole weekend at the Oxburgh Lodge here.
Best things to do in Norfolk…
1. Go for a walk or hike.
This is such a stunning part of England, it would be a shame to miss out on all the outstanding beauty surrounding you!
One of the best things to do in Norfolk is to make the most of the scenery with a good walk./ hike. We did the insanely gorgeous walk (loop) from Wells-next-the-sea to Holkham beach and back. I'd highly recommend it. A great reward/end to the day is to get fish and chips afterwards in the harbour!
Click here for a variety of Norfolk walks to suit every level of fitness.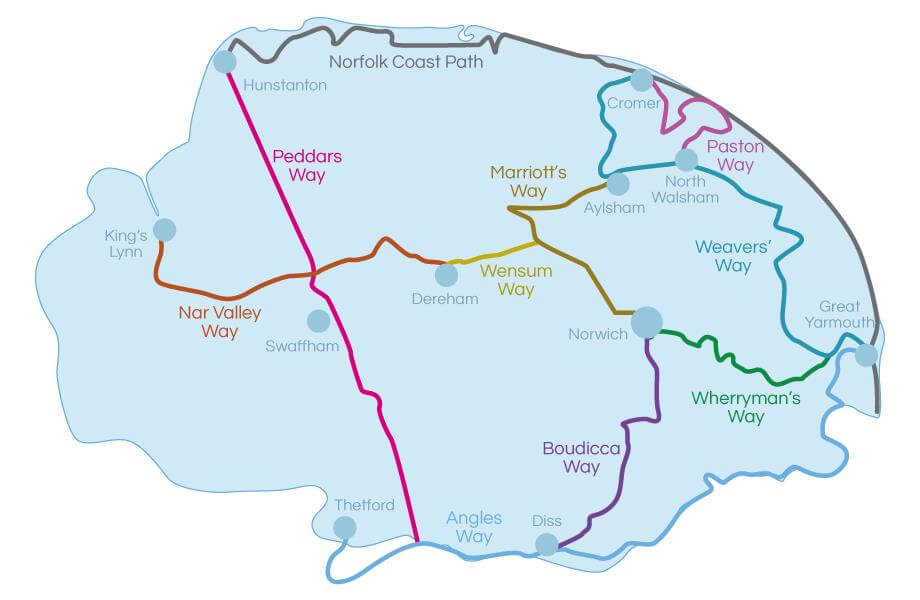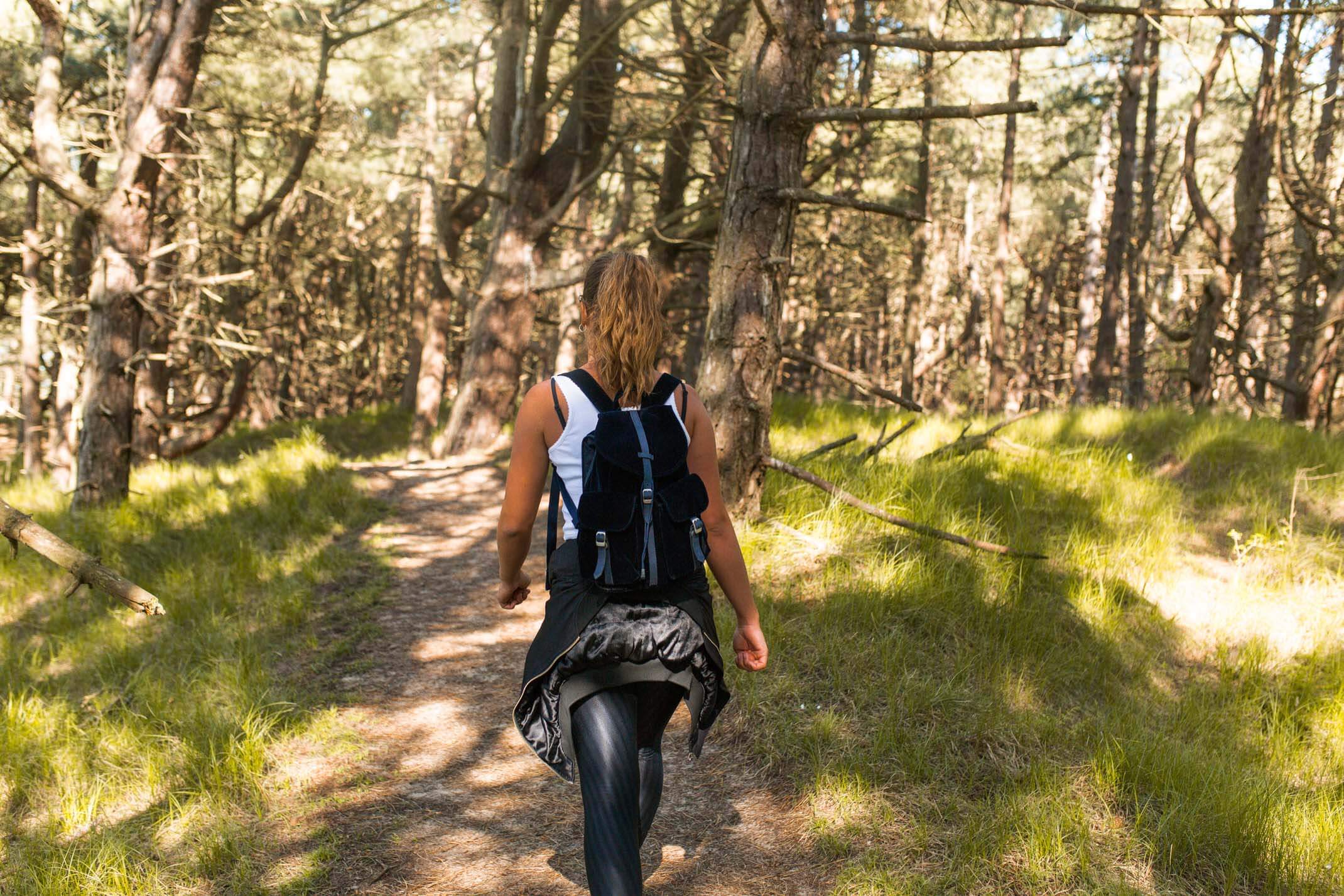 2. Explore a country estate.
Whether it be the famous Sandringham where Kate and William live, or other stunning estates such as Holkham, Blickling or Felbrigg, don't miss out on the opportunity to soak up a bit of British culture.
3. Visit the West Runton woolly mammoth ruins at Cromer Museum
The remains of the West Runton Mammoth were found in what is known as the Cromer Forest-bed Formation West Runton, a 1.5m-thick layer of organic-rich mud that was deposited during the Cromerian Interglacial about 700,000 years ago. This mammoth skeleton is the largest ever found in Britain. It is also the oldest to have been found in the UK (although some older individual teeth and bones exist). The majority of the West Runton Mammoth is in special storage at the Norfolk Collections Centre at Gressenhall Farm and Workhouse (where regular public tours are put on), but there is a dedicated display at Cromer Museum as well as a small display in Norwich Castle Museum.
– Excerpt from Visit Norfolk website. Read more here.
4. Do a boat trip to see the seals at Blakeney Point or Horsey Beach.
Blakeney Point is home to England's largest Grey Seal colony and many summer breeding birds. A boat trip to see the seals is one of the best things to do in Norfolk. Book early, bring your binoculars and your camera and get to Norfolk!
The best way to get close and personal to the wildlife on Blakeney Point, is to book a trip on one of the locally operated ferry trips departing from Morston Quay.
Book with one of the following companies:
Note: it is not possible to walk to see the seals on Blakeney Point.
5. Attend a choral service at Norwich Cathedral.
The Christmas services are said to give you goosebumps!
6. Walk through the lavender fields.
Obviously being careful not to tread on any flowers!
While you're in the area, go to the Norfolk Lavender tea rooms and grab yourself a cuppa and some souvenirs. I loved it here.
7. Visit Norwich Castle and see an art or history exhibition.
8. Shop around the Maddermarket, Norwich.
A super alternative part of the city with lots of charity shops, indie cafes and kooky pubs.
9. Explore The Broads.
"Norfolk is possibly most famous for the man-made Broads, a National Park with over 125 miles of navigable lock-free waterways set in beautiful countryside and studded with charming and picturesque towns and villages."
-Visit Norfolk
10. Catch a gig in Norwich at The Waterfront or The LCR
See what's on here.
P.s. there's also a drive-in cinema at Norfolk Showground (Dereham Road, Costessey, Norwich, NR5 0TT)
11. Wander around Burnham Market.
Located in North Norfolk, Burnham Market is the perfect place to shop, dine or simply stay awhile and revel in being part of the traditional village atmosphere.
One of the best things to do in Norfolk is to eat dinner/lunch at Hoste, a cosy eatery famous for its food! They are also dog friendly!
12. Walk Holkham beach at sunset
Honestly, we could have been in Australia! The sun was out and the landscape is overwhelmingly spacious, in a good way. It doesn't feel like England at all. One of the best things to do in Norfolk is to catch Holkham beach at sunset. Holkham beach has been voted the best beach in the UK, and it's easy to see why.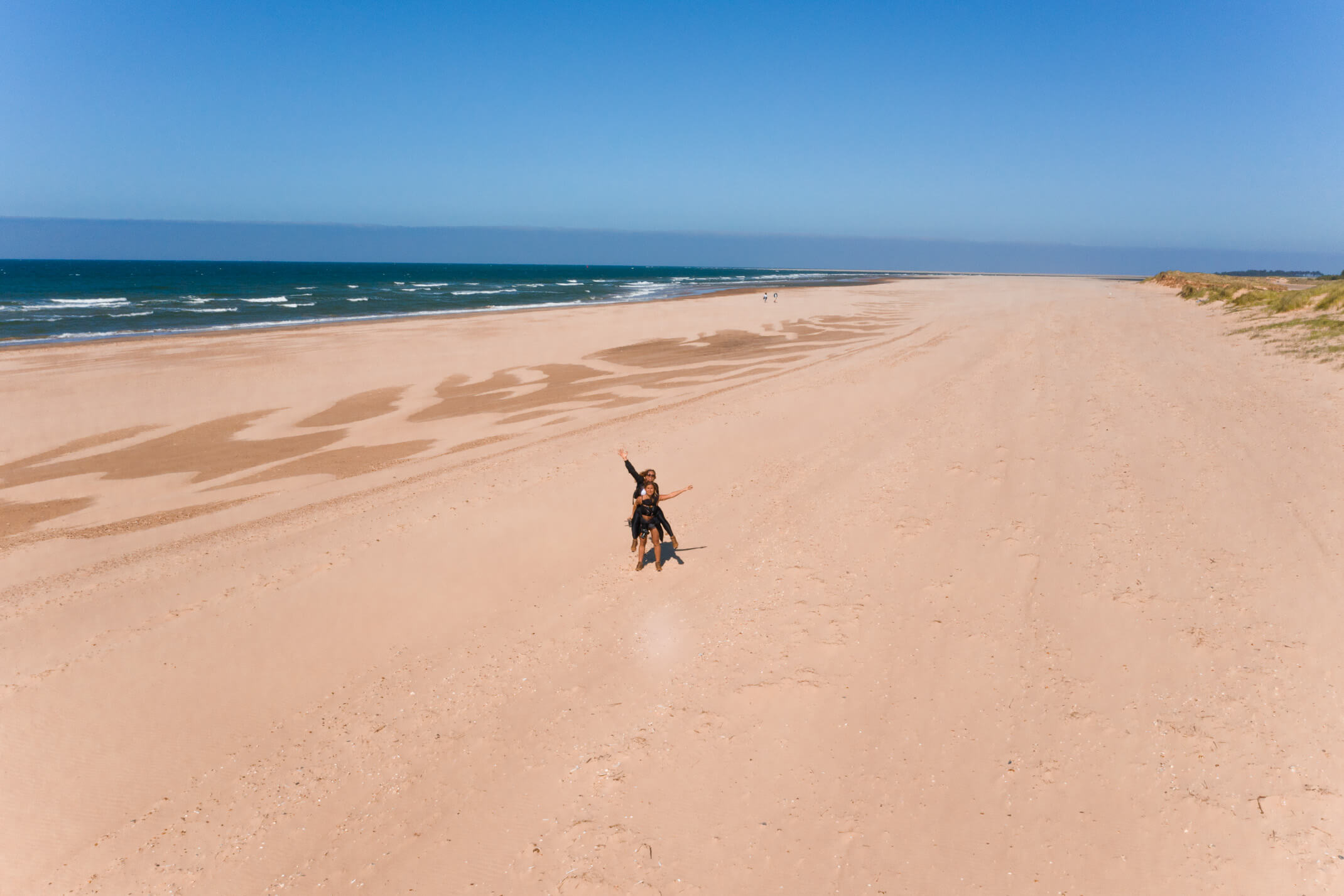 13. Ride a bike and enjoy the countryside.
Need I say more? There's so much countryside to enjoy in and around Norfolk. Pack a day bag with some lunch in and head off on a cycling adventure!
14. Embrace your inner child and enjoy the rides on Great Yarmouth seafront.
16. Try a local beer from a microbrewery.
17. Explore Cromer.
Sandy beaches, museums, great food, and access to the Coastal Walking Trail make this a great destination for a holiday on the Norfolk Coast.
18. Kitesurf at Hunstanton Cliffs.
The famous red and white cliffs are particularly beautiful at sunset.
19. Have a picnic on Beacon Hill, the highest point in the county
Beacon Hill is the highest point in the English county of Norfolk. Take a picnic, climb to the top and enjoy the view!
The hill is located 0.75 miles (1.2 km) south of the village of West Runton on the North Norfolk coast. At its summit, the hill is 103 metres (338 ft) above sea level. The hill is also known as Roman Camp.
20. Stargazing.
Look up at the sky at night! There's so little light pollution in this area of England, so you can see all the twinkling little stars in all their glory.
21. Hire a beach hut at Wells-next-the-Sea, Hunstanton or Cromer.
Such a dreamy idea for a day out in Norfolk. These famous little huts are just the most picturesque sight as you walk back them on the walk from Wells-next-the-sea.
Grab some fish and chips from French's, Wells-next-the-sea. They have vegan battered sausage and chips too!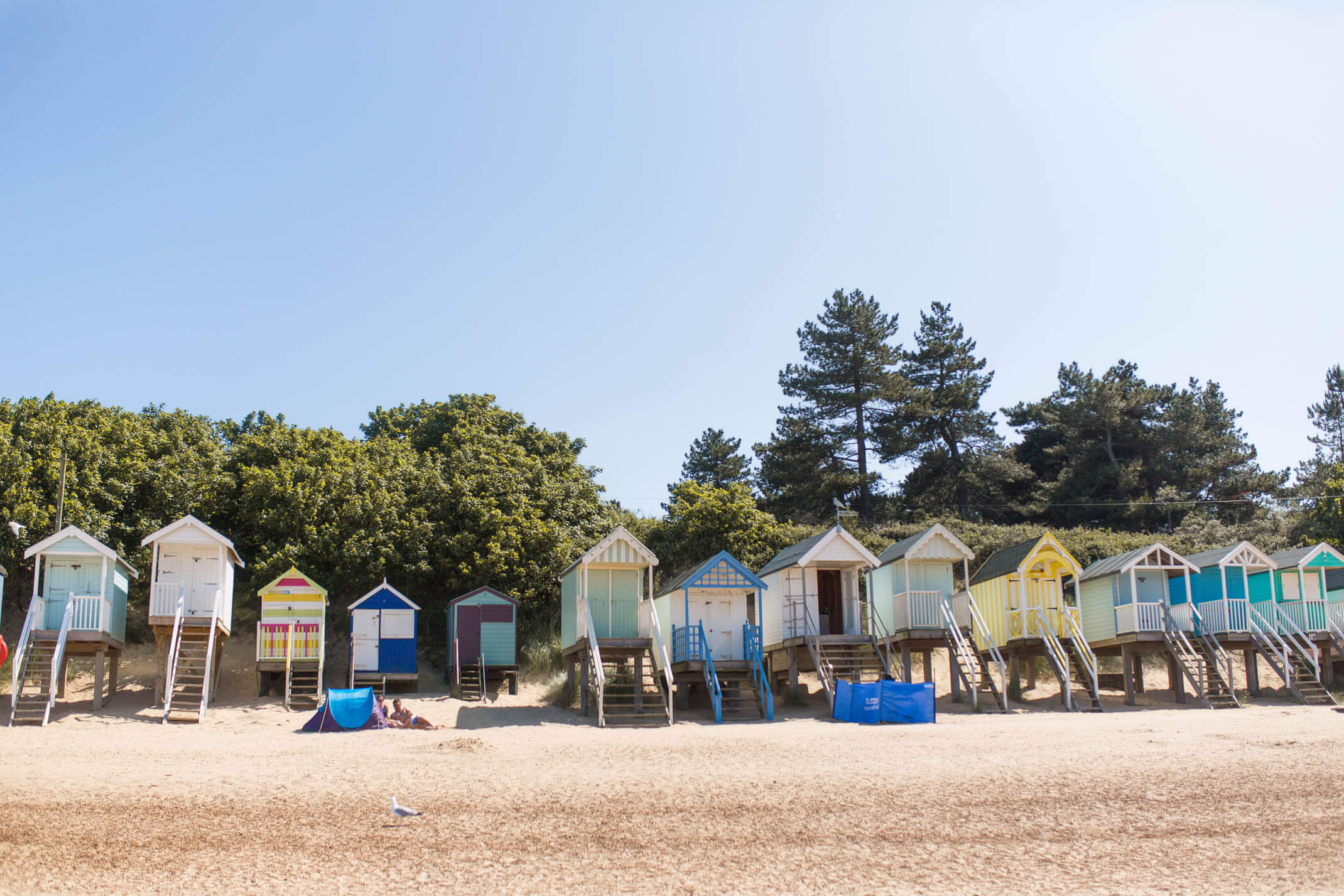 Places to eat and drink in Norfolk…
Have you been to Norfolk?
What were your favourite spots? I'd love to know!
Love as always + happy adventuring,
Did you find this post helpful? I'd love you to share it for me.
I can't do this without you.
Pin and save this blog post for later…