If you're heading to Northern Ireland and you're looking for the best places to go and visit, this blog post is for you.
Northern Ireland is a really underrated area in the UK and one I've not explored as much as I would like. The beautiful, green, countryside landscapes and the dramatic views across the coastline, as well as the culture and history on offer, draw me in and really make me want to go over in my van as soon as I can! See my van adventures here.
I visited Belfast a few years ago, which was great fun and was an amazing city break! Derry-Londonderry is also worth a visit, especially if you like the TV series Derry Girls. For Game of Thrones fans, Tollymore Forest Park, the Dark Hedges and the Glens of Antrim are well worth exploring. The Giant's Causeway is world-famous for its mythology, as is the adrenaline kick when you walk across Carrick-a-Rede's rope bridge.
After a lot of reading and research on the famous areas and the hidden gems, this is my Northern Ireland bucket list: all the places I want to visit in Northern Ireland, and all the places you should visit too!
Other travel guides we know you will love:
Here are 21 of the best places to visit in Northern Ireland…
1. Belfast
You can't come to Northern Ireland without visiting Belfast! The capital of the country might be small, but it has so much to offer. There are the inner city museums such as HMS Caroline, Titanic, Crumlin Road Gaol prison, W5 and the Ulster Museum, as well as getting involved with the food scene at St George's market, and learning about the Troubles on the Black Cab Tours, mural tours and at Peace Wall. If you aren't feely too tired from the amazing nightlife Belfast has to offer, make sure you include a hike up Cave Hill in your visit to Belfast for a panoramic view of the city. Belfast is also an amazing city for sport, so if you're into rugby or ice hockey, this is definitely a city to put on your Northern Ireland bucket list!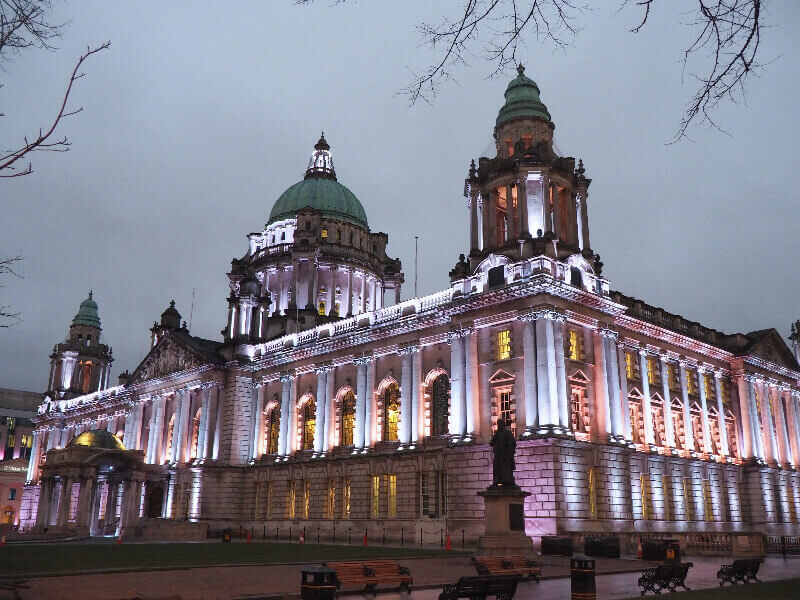 2. Derry-Londonderry
Derry-Londonderry is the only completely walled city in Ireland and it was the UK's first city of culture. Take a walk around the city walls and then get an insight into the 'legenderry' food scene and history the city has to offer! Be sure to visit the symbolic Peace Bridge when you visit.
3. The Giant's Causeway
This UNESCO world heritage site makes your mind battle over science and legends. The rocks, made from volcanic eruptions 60 million years ago, are said to be from the battle between Ireland's giant Fionn mac Cumhaill and Scotland's giant Benandonner, and this path was created for them to meet. Safe to say the Irish giant won! Whatever version you choose to believe, the Giant's Causeway makes for some pretty epic pictures and has stunning views across the northern coastline. It's also free to visit (if you don't go to the visitor's centre) – bonus!
4. Potrush Whiterocks beach
It's hard to believe this slice of paradise is actually in the UK… it looks tropical! This blue flag beach is popular with hikers, dog walkers, horse riders and beach bums alike. With views across the coast, soft sand, and beautiful white cliffs, it's not difficult to see why this is one of the most popular places to go in Northern Ireland.
5. The Mourne mountains & Ring of Gullion
The Mournes is an area of outstanding beauty in Northern Ireland, and really is one of the most beautiful places to visit in Northern Ireland. It really has a bit of everything!
On the coastline, the town of Newcastle has a beautiful beach to offer those who want to be near (or in!) the water.
Further inland, but still in touch with nature, you have Tollymore Forest Park and Murlough nature reserve, full of walking trails through the trees or along the river bank. Within Murlough nature reserve you also have NI's famous sand dunes to explore!
If you like hiking, while this isn't the highest mountain in Northern Ireland, Slieve Binnain offers some of the best views across multiple counties. If you want a full challenge, hike the highest mountain in Northern Ireland, Slieve Donard. For something truly beginner friendly, try the Slieve Gullion forest park trail. When you get to the top there are stunning views and even a Bronze Age tomb!
6. Rathlin Island
Rathlin Island is Northern Ireland's only inhabited offshore island! Just a 40-minute ferry from Ballycastle, this island is an RSPB seabird centre. I'd love to visit in puffin season, between April and June! Rathlin Island also boasts a beautiful lighthouse, stunning sunsets and wonderful walking trails, making it one of the most beautiful places to go in Northern Ireland. It's the perfect destination if you're looking to get off the grid a little, put your technology away, and really get up close and personal with nature.
7. Carrick-a-rede
This wouldn't be a list of the best places to visit in Northern Ireland without mentioning that famous rope bridge. Built by fishermen over 250 years ago, this 20-metre rope bridge connects mainland Northern Ireland to the tiny island of Carrickarede.
8. Glens of Antrim
A visit to the nine glens is a must do on your Northern Ireland bucket list! They all look stunning, but in particular, I'd like to walk through Glenariff forest park and reach the charming Glenoe waterfalls. Meander through the narrow paths to get to this sight of natural beauty. You could go for a swim there, but be prepared for it to be a bit chilly!
9. Carrickfergus Castle
Another day trip from Belfast, this is the most famous castle in Northern Ireland. It might be busy when you get there, but the castle and the surrounding area are stunning and the views are to die for!
10. Dunluce Castle
Another one for princes and princesses alike, these medieval castle ruins are one of the best places to go in Northern Ireland. The castle has a free app that you can download so you can learn about the dramatic history as you explore!
11. The Old Bushmills Distillery
It wouldn't be a trip to Northern Ireland without trying some whiskey! Take a tour around the oldest whiskey distillery in the world, learn about the ancient whiskey traditional and try some of the best whiskey you'll ever set your tastebuds on. Check out the website and buy tickets here.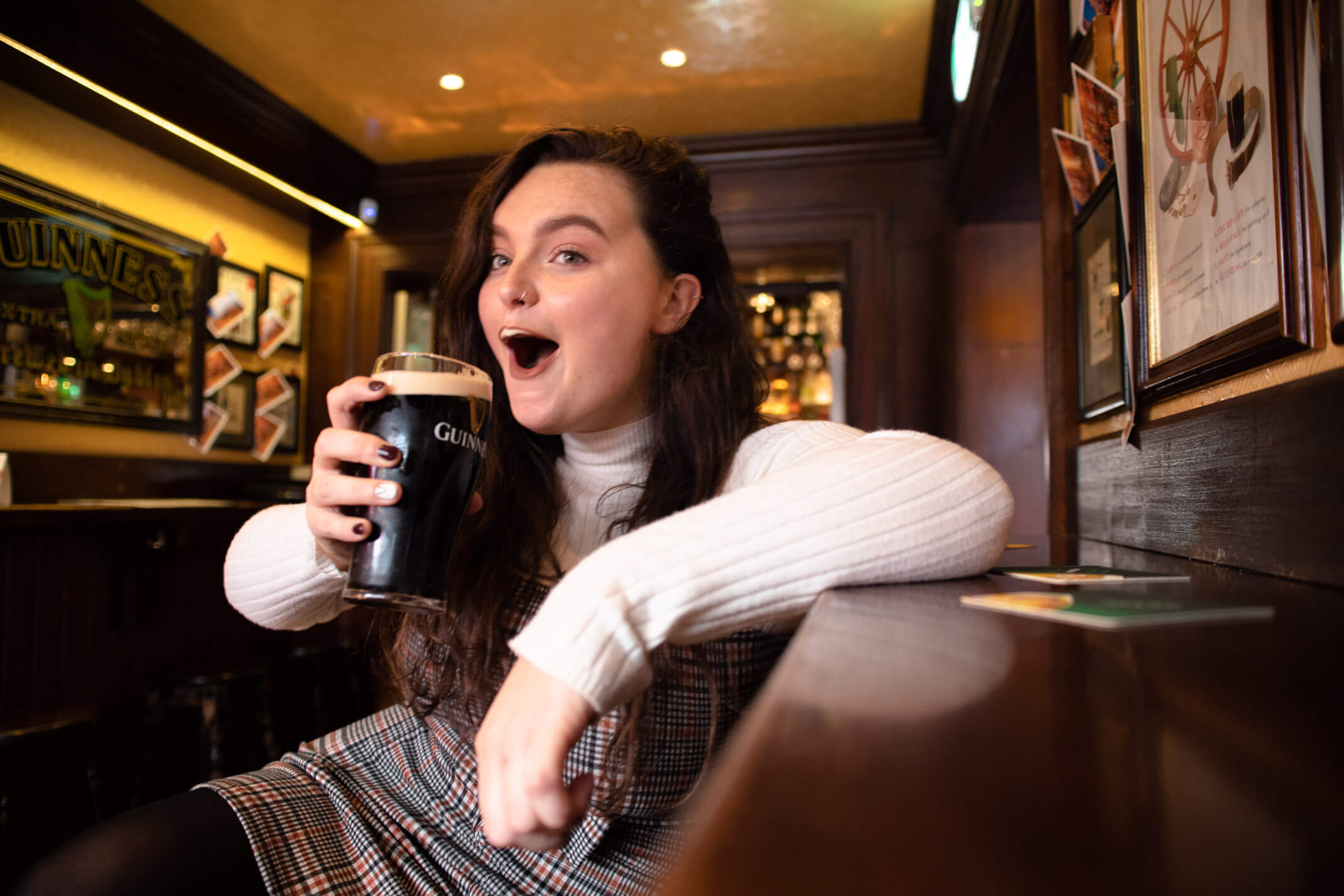 12. The Sperrins
Get your hiking boots out, because this mountain range near Derry-Londonderry is well worth a visit. They're a walking paradise, but also popular with cyclists, horse-riders and even skydivers!
If you've never skydived before but want to give it a go when you visit Northern Ireland, here's a guide to skydiving.
13. Kinbane Castle
Located between Rathlin Island and Carrick-a-Rede, this castle boasts stunning views across the north coastline. It's a bit of a walk down to the castle but the views of the cliffs will be worth it.
14. Lough Neagh
Lough Neagh is the biggest lake in the UK & Ireland. Walking round the lake would be a big challenge, approximately 125km, but there's nothing stopping you from taking on some of the walking trails in the surrounding forests, having a picnic on the shoreline or taking part in some water sports on the lough. You can swim in the lough, but it's quite cold!
15. Ulster American Folk Park
Learn the stories of the Irish immigrants who took the trip across the Atlantic in the 18th and 19th centuries. Thatched cottages, schoolhouses and an emigrant ship bring the stories to life as you immerse yourself in and learn about this important part of Irish history.
16. Marble Arch Caves
Discover subterranean Northern Ireland as you wander through this epic cave formation that has been around forever; the limestone is 330 million years old! Booking your tour in advance is advised; see the website here.
While you're there, check out the wider Geopark too: watersports, walking trails in the forests, and Blackslee waterfall!
17. Cuilcagh Boardwalk
Northern Ireland's 'stairway to heaven' is one of the most popular places to go in Northern Ireland for good reason. The boardwalk allows you to explore Northern Ireland's blanket bog area, with views across the lowlands from the viewing platform on Cuilcagh mountain.
18. The Gobbins
This cliff path at Islandmagee is great for any avid adventurers! Lace up your walking boots and fasten your hard hat as you get ready to take on this network of walkways and bridges, with views that rival the best in New Zealand. Book your spot on Europe's most dramatic walk here.
19. Downhill Demesne & Mussenden Temple
At the top of a dramatic cliff lies Mussenden Temple, within the beautiful Downhill Demesne area. Take time to enjoy the beauty of the area, marvel at the ocean views and admire (from a safe distance!) the cliff edges, as well as admiring this beautiful building.
20. The dark hedges
One of Northern Ireland's most photographed areas, this avenue of beech trees was planted in the 18th century and makes for some epic snaps! They even made it to Game of Thrones!
21. The causeway coastal route
If you want to see it all, you can! You all know how much I love a road trip and this itinerary looks epic. Start in Belfast and explore the beautiful coastline for 200 miles, driving through all the coastal landmarks (including many I've mentioned in this post, and more!) and finish up in Derry-Londonderry. I cannot wait to do this route in my van! Check out Discover Ireland's route map here.
Have you been to Northern Ireland?
Where are your favourite places to go in Northern Ireland? I'd love to know!
Love as always and happy adventuring,
Did you find this post helpful? I'd love you to share it for me.
I can't do this without you.
Pin and save this blog post for later…