While Moscow isn't always at the top of everyone's Europe bucket list, it's certainly one of the best places to visit in Europe if you're looking for a more alternative adventure! In this blog post I plan on sharing some of the free things to do in Moscow, as well as the best places to visit in Moscow, so that you can enjoy some of the best things to do in Russia!
Moscow, the capital of Russia, sits in the European part of the country. It's an incredibly beautiful city, which I personally found to be more beautiful than Saint Petersburg (which is often people's preference). The capital is certainly a lot busier, and less laid back than Saint Petersburg, but it's a much more colourful and vibrant city, full of stunning and unique architecture.
Visiting famous landmarks such as The Kremlin and St Basil's Cathedral, enjoying some of the green space in Gorky Park, watching a ballet in the Bolshoi Theatre… these are just a few reasons that you should visit Moscow! On top of that, because of visa restrictions (we'll get onto that later), it's also one of the most unique destinations in Europe.
There is a common misconception that Moscow is a dangerous city, but now that I've visited, I don't believe this to be true. I would say the same rules apply here as to other large cities: avoid walking in dark areas alone at night, keep an eye on your belongings on public transport, and be streetwise. There's no reason to avoid visiting this energetic city and miss out on these amazing things to do in Moscow!
It would take months if you wanted to truly explore Moscow because it's a huge city, but I'm going to share some of my favourite things to do in Moscow and places to visit in Moscow so that you can prepare for your upcoming adventure! Even if you're only there for a few days, you should be able to fit in these highlights from my trip.
Other blog posts you might be interested in...
Where is Moscow?
If you're wondering 'Where is Moscow, Russia?' then you've come to the right place! Moscow in in west Russia, the European part, and it's the capital city.
Top tip: Getting around Moscow
If you want to get a taxi, use the local taxi app "Yandex" which is similar to Uber. Definitely avoid taxis waiting in tourist spots, as they can charge you ridiculous amounts of money for a very short ride.


16 best places to visit in Moscow...
The most iconic building in Russia and one of the most iconic buildings in the world. St Basil's Cathedral is one of the best places to visit in Moscow, if not the best!
St Basil's is situated on Red Square, where you'll also find many other popular places to visit in Moscow. In my opinion this still stands out against them all. There's something about the multi coloured domes against the Moscow skyline that I found quite spectacular.
Although I'd already been in Russia for several days, it wasn't until I was at this amazing piece of architecture that I really felt I was in Russia.
The cathedral was built by order of Ivan the Terrible, and apparently after the architect completed it, Ivan blinded him so that he could never build anything more beautiful. Whether or not this story is true, it certainly adds a bittersweet feeling as you stand admiring the beauty of St Basil's Cathedral.
Inside is a museum displaying many historic items once used at the cathedral, which costs 700 rubles to enter. In my opinion it's worth the entry fee, as simply seeing the ornate interior walls is a spectacle in itself.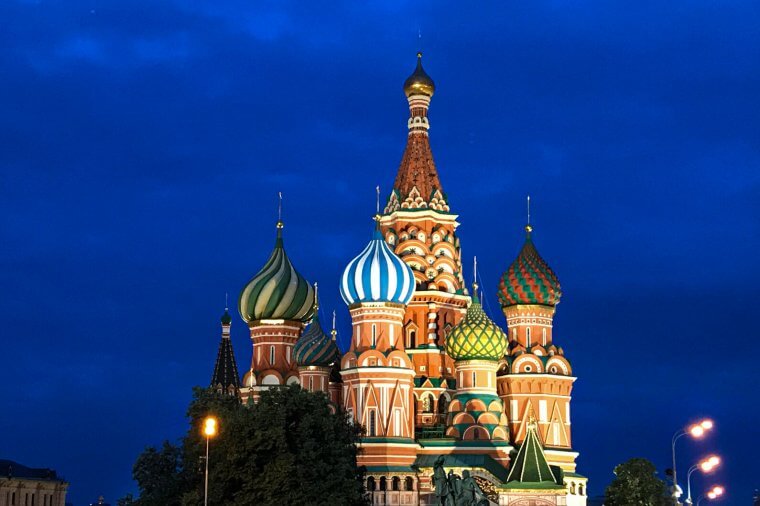 This historic fortress that sits on Red Square is probably the largest landmark and one of the most popular places to visit in Moscow. It's the official residence of the President, although he doesn't actually live there. It's been rebuilt many times since it was first constructed in 1147 out of wood, before Ivan III the Great ordered it to be made from stone, which is the Kremlin you'll recognise today.
This place is huge, and there's quite a lot to see. The first problem I had was finding where the entrance was. Even though I had a pre-booked ticket, I was then told I still had to visit the ticket office to exchange it for another ticket. I also needed my passport, so make sure you have yours if you plan to visit the Kremlin. After a lengthy queue I finally had a ticket I could use to enter the Kremlin, and had to go through security. The security here is thorough, so make sure you don't take too much in with you. I had my pockets full, and it was a nightmare emptying them and explaining each item, before I was finally allowed in. Once inside you can pay for extra tickets to visit the various museums, however there's also quite a lot to see simply on the grounds if you don't want to spend too much.
See more tips for travelling on a budget here.
There's so much to see here, including The Assumption Cathedral, Ivan the Great Bell Tower Complex, the Grand Kremlin Palace, the Armoury Chamber and Diamond Fund. There is also the Tsar Cannon (a huge artillery cannon), and the Tsar Bell. The Tsar Bell is the largest bell in the world. An incident with a fire and water being poured over the bell caused it to crack and for a slab to break off from it, which can now be seen propped up next to it.
As you walk around the grounds you'll hear the sound of whistles. The guards patrolling the area will blow a whistle at anyone walking where they shouldn't. Even if it's just on the grass, or towards more restricted areas. This can sometimes be funny to watch, as often the tourists will be in a world of their own whilst a guard is blowing a whistle at them. Sometimes a guard will be stood face to face with a tourist angrily blowing their whistle before the tourist realises they need to get back onto the main path.
This is perhaps one of the more unusual places to visit in Moscow! Gum is a huge department store situated on Red Square. It's an interesting department store to walk around, with several levels, although the shops inside are certainly quite pricey. It's a beautiful building when it's lit up at night, and it seems to fit in nicely amongst the other famous sights on Red Square. Even if you don't plan to buy anything here, one of the best things to do in Moscow is to take a quick look inside, although bear in mind there are usually security checks before entering.
4. State Historical Museum
The large crimson building on Red Square is now the State Historical Museum. It was originally the first pharmacy in Russia, and later a University before finally becoming the museum it is today.
Unfortunately I didn't go inside as my time was limited and there was so much else I wanted to see, but if you have the time I think it would be one of the best things to do in Moscow. There are items dating back to the 6th century, and maybe even further. There's also a library inside storing many ancient manuscripts and the largest coin collection in Russia.
Bolshoi means big in Russian, so it roughly translates to large theatre. The Bolshoi Theatre is one of the foremost ballet companies in the world. The exterior of the building is an impressive sight, one of the most beautiful places to visit in Moscow, and it's certainly worth admiring from the outside. There are guided tours of the interior, but if you really want to experience the theatre, one of the best things to do in Moscow is to watch a ballet here.
I was torn between booking a seat, but the ballets were very expensive. I'd have liked to have seen "Swan Lake", (as at least I may have recognised some of the music). Unfortunately there were no performances on the days I was in Moscow, so I decided to pass. But if I return to Russia, then watching a ballet will be on my list of things to do.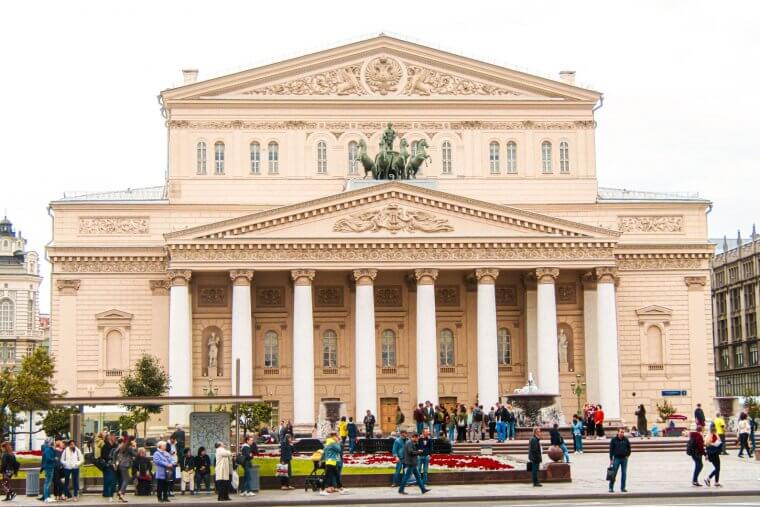 If you want a good view of the city, then Sparrow Hills is one of the best places to visit in Moscow. It's a bit of a trek outside of the centre, but if you have the time then it offers an escape from the hustle and bustle of the busy city. There's a viewing platform here which gives you fantastic panoramic views of Moscow.
Nearby you'll see the magnificent Moscow State University building, which is one of the seven sisters of Moscow.
Whilst in Moscow, you'll no doubt notice these magnificent soviet skyscrapers dotted around the city. At the time of construction they were the tallest buildings in Europe, Moscow State University being so until 1997. There are, as the name suggests, seven in total, which are: Hotel Ukraina, Kotelnicheskaya Embankment Apartments, the Kudrinskaya Square Building, the Hilton Moscow Leningradskaya Hotel, the Ministry of Foreign Affairs, Moscow State University, and the Red Gates Administrative Building.
If you visit Sparrow Hills, then you'll come across Moscow State University, but I'm certain as you explore the city, you'll see more of these giants against the Moscow skyline. One of the best things to do in Moscow is to see if you can locate all seven as you wander round the city!
The start of this street is found by Red Square. It's one of the most prominent pedestrianised streets in Moscow, filled with shops, restaurants and bars, so one of the best places to visit in Moscow if you're looking for a bite to eat or some souvenirs!
What makes this street extra special are the thousands of bright lights in the sky above. After dark it looks simply magical with the many colourful lights overhead as you walk beneath them. One of the best things to do in Moscow is to visit Nikolskaya Street after dark and see them for yourself. It almost feels like Christmas in London!
There is another street nearby which also features similar lights, "Kuznetskiy Most", which is also quite beautiful, but I thought "Nikolskaya Street" was ever slightly more impressive.
9. Izmailovo Kremlin and Izmaylovskiy Bazar
Did you know that The Kremlin in Red Square is not the only Kremlin in Moscow? Kremlin actually means a type of fortress, so there are many in Russia.
The Izmailovo Kremlin is a fairly new addition to the city, having been built in 2007 as a cultural centre. With its multitude of colours and historic style, it has a real fairytale feel to it. There are several small museums here for you to explore, devoted to subjects such as Russian folk art, vodka and bread (yes, bread). Visiting these is definitely one of the more unique things to do in Moscow!
It's a little way out of the centre, but it's an interesting place to visit in Moscow to see something a little bit different, and it won't be as overcrowded with tourists.
Next to the Izmailovo Kremlin is the best market in Moscow for souvenirs. You'll find good and poor quality items, but you'll certainly pick up a bargain if you take your time and haggle for a good price. Many of the items here you'll get for half the price you would in souvenir shops in the city centre. It's here that I picked up several Matryoshka dolls for a very good price. I think I'd have paid more than double, or possibly even triple if I'd have bought them elsewhere.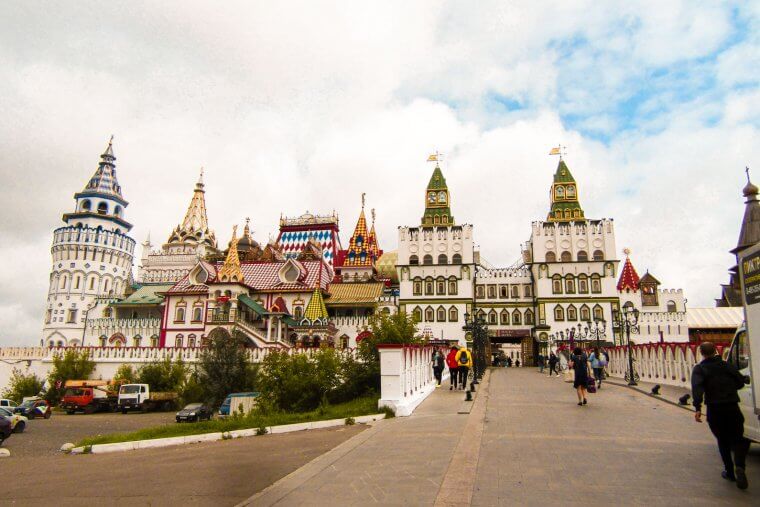 Not too far from Izmailovo Kremlin you'll find this huge park, one of the prettiest places to visit in Moscow. It's easy to get lost here, so try to make sure you keep track of where you entered if you plan to go back the same way. There's a lot to see in this park, a round pond, ferris wheel, playgrounds and sports grounds, shooting galleries, cinemas and a skate park.
There are often festivals, concerts and exhibitions at the park, on top of firework displays and dance parties.
The main reason I chose to visit the park was to find the painted trees. A local artist "Yevgenia Khlynina" has been painting on trees in this park, and one of the best things to do in Moscow is to explore the park looking for them. One of the most famous pieces of hers is the "Hedgehog in the Fog" from a famous soviet cartoon.
The most famous park in Moscow is named after the writer "Maxim Gorky". Although it's likely you've heard it mentioned in the song "Wind of Change" by "The Scorpions".
There's lots to do and see in the park with sports facilities and exhibitions. During the summer months this is one of the best places to visit if you're looking for things to do in Moscow; there are often open air concerts and an open air cinema. There are many statues and sculptures in the park, including a small sculpture park area which features many interesting pieces.
One piece of advice: don't visit Gorky Park or any other parks on 2nd August if you're in Russia. 2nd August is Paratrooper day, which usually encourages a lot of drinking in the park, which is not always very welcoming.
One of the oldest and busiest streets in Moscow, and the most famous pedestrian street in the city. Arbat is one of the most popular places to visit in Moscow. There are several shops including many dedicated to souvenirs, but although these will have a good range of goods, they will be quite expensive . You may see street performers and buskers, and there are often poets reciting famous works, if not their own works.
It's within walking distance from the Kremlin, which should only take around 10 minutes.
There are actually two streets with this name, Old Arbat Street and New Arbat Street. Old Arbat Street is where you'll find the pedestrianised area. New Arbat Street is a separate street which runs alongside a main road, filled with many bars and restaurants.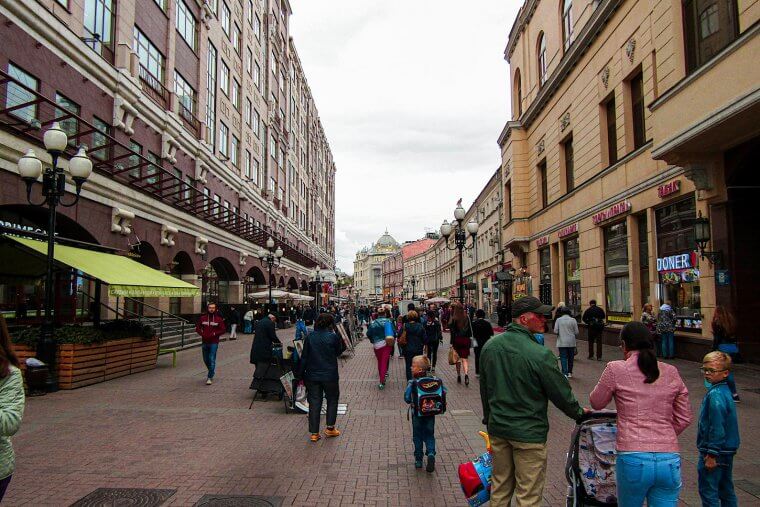 The best way to get around Moscow is by using the metro, and the metro is a tourist attraction in itself.
Although I obviously didn't visit every metro station, I believe that every single station is unique in its own beautiful way. Many of the stations I passed through were impressive, quirky or simply jaw dropping. You'll more than likely pass through many of them on the way to other sights, but I'd recommend the following: Komsomolskaya, Novoslobodskaya, Mayakovskaya, Teatralnaya, Arbatskaya, Prospekt Mira and Ploschad Revolutsii (be sure to pet the dog statue for good luck).
There are of course many others for you to explore, but these are the ones I considered to be some of the most impressive places to visit in Moscow (even if they're only metro stations!).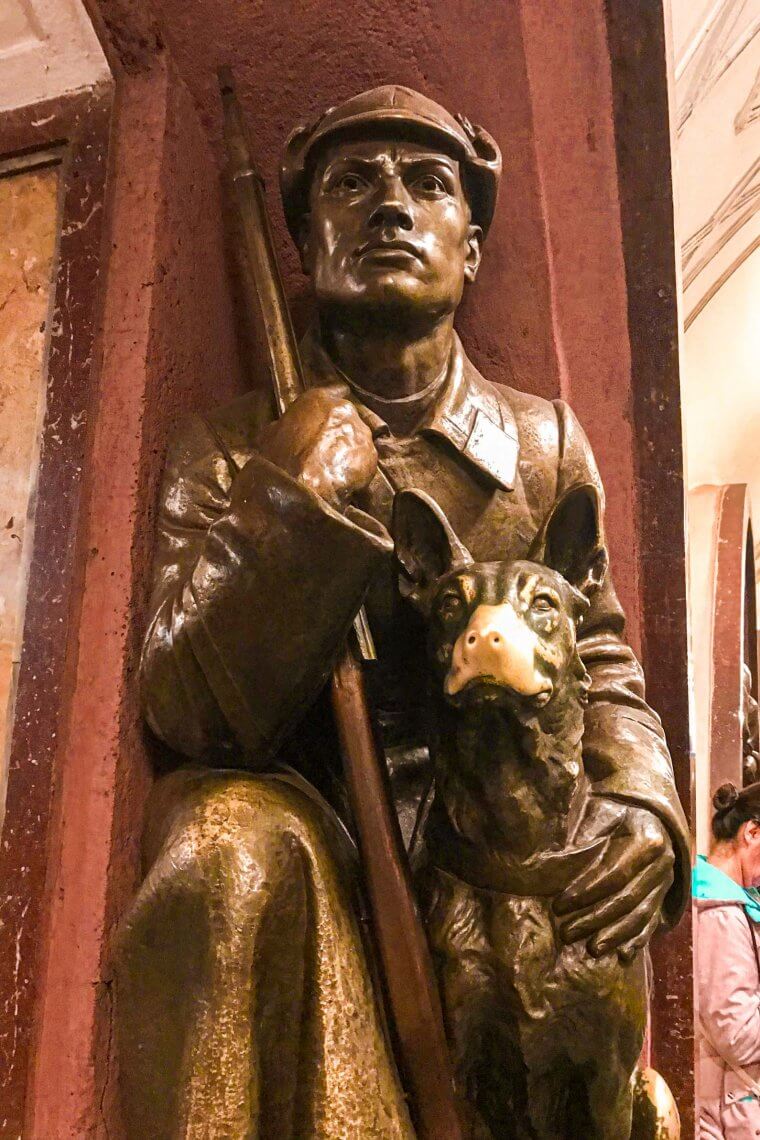 VDNKh is an exhibition centre with many monuments and museums. Now that it's combined with the Botanical Garden and Ostankino Park, one of the best things to do in Moscow is to spend the day at this recreational centre enjoying a mix of nature and culture. The most popular museum in the complex which you shouldn't miss on your trip to Moscow is the Museum of Cosmonautics.
Despite requesting to be buried with his mum in St Petersburg, it is at the foot of the Kremlin on Red Sqaure that you will find Lenin's Mausoleum, where Vladimir Ilych Lenin has been frozen in time since 1924. It's only open for a few hours a few times per week. Photography is not allowed, and you should line up on the western corner of the square (near Alexander Garden) to wait you turn to see the embalmed body.
Novodevichy Convent, on the UNESCO World Heritage List, is one of the most beautiful places to visit in Moscow. Located south west of the centre you'll find this stunning monastery. Inside you'll find a cathedral and several churches, surrounded by high walls and 12 towers.


Where are your favourite places to visit in Moscow?
What about the best things to do in Moscow? Anything you'd add?
Love as always and happy adventuring…
Did you find this post helpful? I'd love you to share it for me.
Pin and save this blog post for later…