Are you planning on going backpacking in Indonesia? If you're looking to go a bit off the beaten track when backpacking South East Asia, then you might be looking for some of the best things to do in Batam, Riau Islands…
Well, my friend, this is the blog post for you! In this post, I am going to share some of the best things to do in Batam with you, and as someone who lives there, I've got all the local secrets that you need to know when visiting this part of Indonesia.
Batam is a beautiful city that one must visit when travelling to Indonesia. Being offbeat and more close to nature, there are tons of exotic things to do in Batam. I've lived there for 8 years and this guide reveals my secrets to having the best summer vacation in Batam.
One good reason to visit Batam is for its calm and clear beaches. Unlike Bali, resorts here like the Nongsa Point and Nuvasa Bay are never crowded with tourists. Only a handful of fortunate people know about this island and that's what keeps it authentic and more down to earth. For someone who like to be super away from the hustle-and-bustle of big cities or crowded bucket list destinations, and for anyone who wants to experience calm beaches and be closer to the local community, Batam is one of the best places to visit in Indonesia.
The locals here take you to crystal clear snorkelling spots to experience the untouched parts of Indonesia's rich coral reefs. Not to mention, Batam is easy to get to and also, everything costs less here! As someone who's lived here for almost a decade and checked out what's best to do and what not to do, here are all the top things to do in Batam from a local's perspective.
Get your pen and paper at the ready, by the end of this post you're going to know the best things to do in Batam, the best places to visit in Batam and the best adventures to add to your Indonesia bucket list.
Blog posts you might find useful include…


How to get to Batam, Riau Islands…
The Batam Riau Islands are only 20 kilometres from Singapore. You can take a 1-hour ferry from Singapore's harbour front, Singapore straight to Batam Centre or Sekupang. There are some ferries to choose from here like SindoFerry, BatamFast, and WaveMaster. I've always found the BatamFast ferry to be the most reliable one. It costs anywhere between 17-30 SGD for a one-way trip to Batam from Singapore.
Another way to get to Batam is by taking a non-stop flight from Jakarta to Hang Nadim Airport in Batam. But honestly, I'd recommend taking the ferry. It's cheaper and takes less time. Also, who doesn't like watching the water splash hard on the sides of a big boat!
Check out flights on skyscanner here.
Where to stay in Batam, Riau Islands…
For accommodation, some year-round resorts here are the Harris Hotel (Waterfront), Nongsa Point Beach, and KTM resorts. For budget stays, there's plenty to choose from inside the city. But a resort stay by the beach is something you don't get every day, so I'd be willing to spend on it even as a budget traveller.


The best things to do in Batam, Riau Islands, Indonesia...
1. Walk on the Barelang Bridge and eat street-side grilled corn.
The Barelang Bridge is something you mustn't miss out on when you visit Batam. If Batam's known by an icon, it's this very bridge. Oh is it pretty! The Barelang Bridge that hangs by its cables is the first of the seven bridges to many other smaller islands. Make sure you don't visit on the weekends as this place gets crowded (naturally, as it's one of the best places to visit in Batam!) and can cause traffic for hours. The evenings are the best time to visit the bridge.
Speaking of corn, right after you pass the Barelang Bridge, you'll find many small stalls selling grilled corn by the road side. These come in different flavours and are a must-try in Batam. I never miss out on the corn when I visit Barelang and you shouldn't either!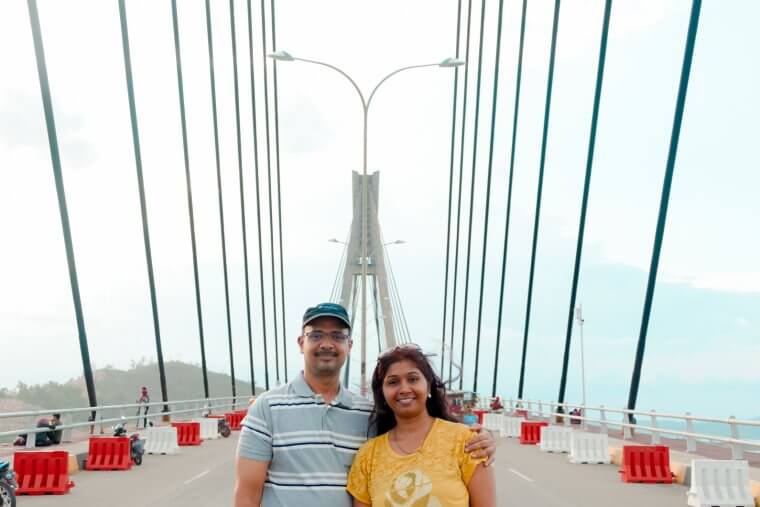 2. Try some water sports!
With more people visiting every year, there are a number of places to choose from for water sports, and they're one of the best things to do in Batam. You've got everything from superfast banana boat rides to waterskiing and parasailing. While many beach resorts also offer watersport facilities, it's better to opt for them separately as they cost more on the resorts for the very same experiences.
For those looking for scuba diving, check the availability, as not all of the water sports companies offer it.
If you want to go snorkellin in Batam, keep reading. There's a very specific spot to go for the best snorkelling in Batam, and it deserves its own special mention…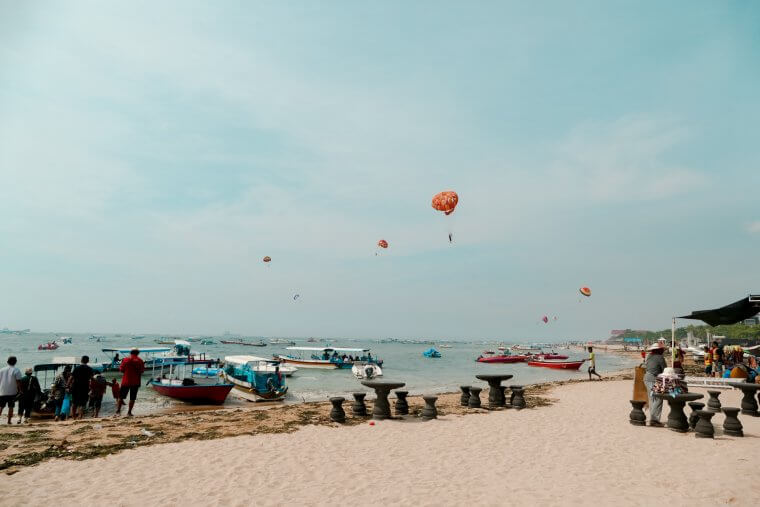 3. Snorkeling on Abang Island
Abang Island is a small local island that's a short boat ride away from Batam. It's one of the best places to visit in Batam if you're looking for an adventure, especially in the water! Snorkelling here is one of the top things to do in Batam and something that you shouldn't miss out on when you visit. I daresay it might even be one of the best things to do in Indonesia!
You can book a 1-day snorkelling package in Abang Island. They'll pick you up directly from your resort or Batam Center mainland. As many tourists are unaware of this spot, the waters they take you to are super clear. It's an aquatic paradise with countless species of corals and sea animals. The snorkelling gear, flippers, timings for your dive, instructions, are all taken care of within your package.
4. Have Indonesia's authentic Nasi Padang meal for lunch
This isn't an attraction, but it's a dish to check out for food lovers out there and trying it is one of the best things to do in Batam! Nasi Padang or Padang Rice is a local speciality and you can find this in most parts of Indonesia. It originates from Padang Island and consists of rice that you eat along with various pre-cooked sides. Note that this is a not a vegetarian dish.
Having Nasi Padang in a restaurant and ordering it to takeaway are wholly different experiences. It's best to eat it at the restaurant. You get to see and pick the sides as they're served hot and fresh. There are many places that serve Nasi Padang in Batam. But for the best quality, get it from Sederhana. The food here is sure to make your mouth water!
5. Sunbathe on the beaches of Batam
Without a doubt, one of the best things to do in Batam is to catch some sun!
For sunbathing and going for a dip in the ocean, go for Batam's well-known beaches. The Nongsa beach, Pantayi Melayu, and Palm Spring beach are the most well-known beaches. In the evening, you can walk long stretches into the ocean when the water's shallow and locals collect shells here. It's a sight to capture!
Many resorts by the beach are great to stay in, have great swimming pools, and even have photogenic waves hitting against its sands. But most people don't go to play in the water here. Tides are higher and it isn't as safe – I'd recommend only taking pictures here and sticking to the beaches above for swimming!
6. Visit the Buddhist Temple, Maha Vihara Duta Maitreya
I've visited this temple dozens of times and it never gets old. The Maha Vihara Duta Maitreya Monastery is the largest and most popular Buddhist temple in Batam, and one of the best places to visit in Batam. I'd recommend visiting it in the evenings before the sun's down. The statues at the entrance are just marvellous to take pictures with and the place gets cooler in the evenings as you stroll through from one room to another observing various majestic statues.
Apart from the statues, the food is amazing here in the evenings and the temple is quiet at all times. As a kid, I loved the evenings here as many stalls and vendors with vibrant lit toys came around the temple entrance. It's a must-do in Batam!
7. Stay at Nongsa Point Marina Resorts for the weekend
I always go to the Nongsa Points resort at the weekend in Batam. From private large chalets laid across on the hill by the beach, you get beautiful sunset views on the balconies through floor-to-ceiling glass doors. Yep, it's exactly how it sounds – magical. The chalets, the small paths over the hills, the large swimming pool, and the delicious breakfast they provide, make it totally worth the money you'll spend.
Many of the other best things to do in Batam tend to get busy and chaotic on the weekends, so it's best to save those for during the week, book this resort for the weekend and relax to your heart's content!
8. Eat seafood at Golden Prawn
There are many seafood restaurants in Batam to try, but Golden Prawn just has finger-licking good stuff. I've been to the restaurant quite a few times and here you get to choose your crabs and other fish. How cool is that?! With the Golden Prawn restaurant being an authentic popular seafood place, they've expanded to more than one resturant in Batam. But I'd recommend the main restaurant, the Golden Prawn 933, that's by the seashore.
Feeling the sea breeze while you savour the flavours of crabs, prawns, and shrimps is a whole ecstatic vibe and one of the best things to do in Batam. Anyway, the prices at Golden Prawn are high but it's worth it once in a while.
9. Have fun at some water parks!
With the island being humid day and night, why not check out some of the water parks in Batam? These places are great for kids and are no doubt just as fun for adults.
The best water park I've been to in Batam is Batu Ajji Waterpark in the Top 100 mall. This water park was so vast that we spent a whole day playing here! Make sure to check you're heading to 'Batu Ajji Top 100' when you're visiting as there's another Top 100 mall that it can be confused with. The water park is located right behind the shopping centre.
Another popular waterpark here is the Ocarina Waterpark, also called Coastarina, on the east coast of Batam Center. Apart from the water park, you can also go here to simply the enjoy the coastline, another one of the best things to do in Batam.
10. Go crazy for clothes at Batam's shopping malls
With more visitors and Singaporeans coming to Batam, nearly a dozen mega shopping malls have emerged here. Be it a traveller taking back souvenirs from Batam, looking to buy cheaper clothes, or simply have food – they've got it all covered!
Speaking of clothes, Indonesia is one of the major players in the textile industry. Clothes get exported from here to different parts of the world. As resources and labour are cheap here, garments cost less. For clothes, some malls that are best to check out are BCS (pronounced as Be Che Es in Indonesian), Mega Mall, Top 100, and Kepri Mall. Look for Matahari in these malls as they're known to maintain quality products at affordable rates.


What are your top things to do in Batam?
Where are your favourite places to visit in Batam? Anything you'd add?
Love as always and happy adventuring…
Did you find this post helpful? I'd love you to share it for me.
Pin and save this blog post for later…