If you're planning a trip to Dorset and are wondering what your Dorset road trip could look like or what you should do with your time there, you've arrived at the right blog post. In this blog post, I am going to share the best places to visit in Dorset with you, jam-packed with all the best adventure on offer in this beautiful place to visit in England.
Picturesque seaside towns, tasty seafood, colourful beach huts, dramatic cliffs – which are part of a UNESCO World Heritage Site – breathtaking views of soaring seagulls over turquoise water, the excitement of finding dinosaur fossils, watching the sunset in front of the ruins of a Norman castle, a garden full of the contemporary sculptures… This is Dorset, a south-western county of England! If you are looking for a longer getaway in the UK, this blog post will convince you to choose one of these best places to visit in Dorset, a paradise of nature and other attractions.
Of course there is the impressive Jurassic Coast and its famous landmarks such as the awe inspiring Durdle Door and Lulworth Cove, and the famous city of Bournemouth, but there are so many more things to do in Dorset too! With rolling hills that offer miles upon miles of views, stunning English villages, and art and culture on offer too, you won't be short of things to do in Dorset by the end of this blog post.
There are so many beautiful places to visit in Dorset, whether you decide to embark on a UK road trip or just do a day trip in Dorset, there's plenty of adventure to be had. If you're planning a road trip in Dorset, I advise you to enjoy both the coast and countryside because I assure you, you will not be disappointed! Check out our Dorset road trip itinerary here. Make sure you check out our UK road trip planning guide and our UK road trip checklist so that you are fully prepared!
This blogpost will highlight all of the best things to do in Dorset, as well as the best places to visit in Dorset and the best adventures to go on. This is the blog post for you whether or not you are looking for the best things to do in England, the best places to visit in England, or the next destination for your UK road trip.
Other blog posts you might find useful…


The best places to visit in Dorset, England...
1. Bournemouth: a seaside town that can't be missed!
Bournemouth, the biggest seaside town and one of the best places to visit in Dorset, is known for having award-winning Blue Flag beaches and Green Flag gardens that make up 20% of the entire town. Bournemouth was voted the happiest place in the UK and when you're looking at the nature it offers, it's easy to see why people feel a bit happier here. They're even willing to pay a huge sum for properties just to be closer to all the natural wonders Bournemouth offers.
Things to do in Bournemouth…
Walk from Bournemouth Pier to Boscombe Pier. Each pier has some old pictures and descriptions of how life by the sea used to be, and how it has developed.
Russell Cotes Art Gallery – for art and Victorian artefact lovers.
Visit St. Peter's Church, where Frankenstein author Mary Shelley is buried.
The Oceanarium (sea animals) and Monkey World (an ape rescue centre about 20 miles outside of Bournemouth) for families and animal lovers. See more day trips in Dorset here.

Stroll around the parks and gardens.

There are several parks and gardens in Bournemouth to have a beautiful stroll around and admire the flora:

The Lower, Central and Upper Gardens, located in the heart of Bournemouth town centre, have plants and trees from all over the world.
The Alum Chine Tropical Gardens and Pinecliff Gardens (which will make you feel like you're in Spain with its Mediterranean plants).
Stour Valley, providing a villagey atmosphere with the calming sounds of the flowing River Stour.
Meyrick Park and Queen's Park – big green spaces for golf lovers.
Check out our complete list of the best things to do in Bournemouth in this blog post.
Places to eat in Bournemouth…
Cafés:

Moka Pot, Mark Bennett Patisserie, Petite Prince, M's Bakery, Flamingo Café, Boscanova (vegan and vegetarian dishes)

Fancy restaurant:

Brasserie Blanc in Bournemouth (Raymond Blanc restaurant with seasonal dishes and a sea view)

Restaurants on a budget:

Antepli (Turkish cuisine), Sim Sim (Mediterranean dishes, and the best falafel salad ever!)

Best fish & chips:

Chez Fred

Best pizza:

El Murrino, Da Mario
One of the best things to do in Dorset is to rent a bicycle (for example here) and cycle to the nature reserve called Hengistbury Head – a scenic headland and a site rich in wildlife and archaeological excavations of international importance. While riding alongside the seafront, admire the colourful beach huts which you can rent for a day.
If you like cycling and you want to extend your trip to Hengistbury Head… keep cycling to Mudeford Sandbank! Mudeford Sandbank is a sandspit separating Hengistbury Head from Christchurch. The sandspit is covered with colourful beach huts which can be rented overnight.
These beach huts are in high demand and the prices of these beach huts are comparable to 3-4 bedroom house prices, despite not having toilets or running water inside! One of them was recently sold for £350k (hard to believe, I know)! This is how much people are willing to pay to have a small beach hut in an area not spoilt by civilization' and with a view over the sea with the Isle of Wight in the background.
There is a ferry frequently running from Mudeford Sandbank to Mudeford Quay, from which you can visit the historic town of Christchurch, one of the top places to visit in Dorset. While there, visit the Priory – an 11th century monastery that survived the rule of Henry VIII – admire the ruins of the 12th century castle and Constable's house, and climb the 176-step tower to see a panoramic view of the town. If you are a foodie, check out the annual Christchurch food festival.
Places to eat in Christchurch: Harbour Hotel, Nusara Thai and James & Whites
While in Dorset, make sure you visit Poole – another seaside town and one of the best places to visit in Dorset. It's known for having the biggest natural harbour in Europe, where you can go paddleboarding or kitesurfing. It's from here that you can also get the ferry to Brownsea Island, and take a boat tour around parts of the UNESCO World Heritage Site of the Jurassic Coast, such as Old Harry Rocks. While you're in Poole, take a look at Sandbanks, a posh area which is reported to have one of the highest land values by area in the world, and make sure you try some freshly caught seafood at the exquisite Guildhall restaurant.
A National Trust site and home to scouting, the rare red squirrels, peacocks and an abundance of wildlife, this island near Poole Harbour isn't something to miss and it's definitely one of the best places to visit in Dorset. Usually open from March – October, you can catch a boat to the island from Poole Quay or Sandbanks. Visit the outdoor centre for information about the wildlife you might spot during a self-guided walking trail. For more information, click here.
The ruins of Corfe Castle, built by William the Conqueror in the 11th century, are most beautiful when admired from a neighbouring hill (quite a climb, but totally worth it!). If you're lucky, you'll experience sunset colours passing through the ruins of the castle; hiking here is definitely one of the best things to do in Dorset!
The houses in the village of Corfe Castle were made of the stones taken from the castle, and you can book onto a group tour of the castle ruins. You can also admire castle views while taking a ride on the historic steam locomotive called the Swanage Railway, which will take you on a 12-mile trip through the Purbeck countryside.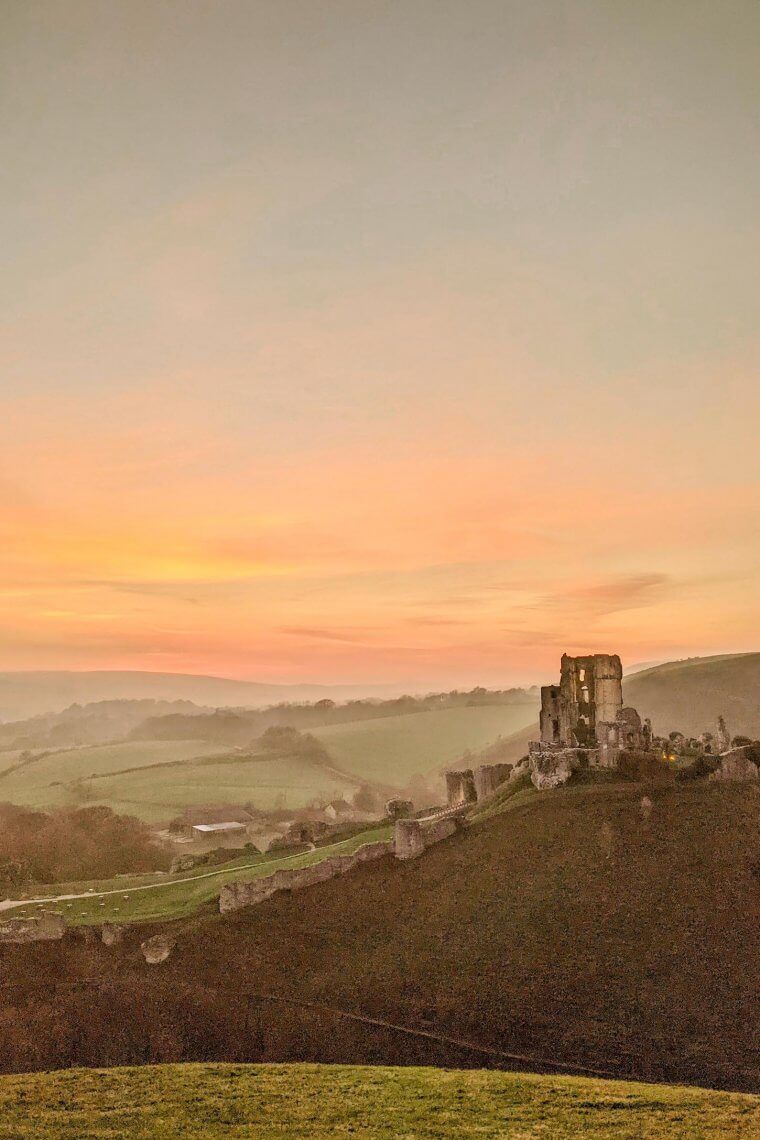 8. Old Harry Rocks & Swanage
Not far from Corfe Castle, while you're in Dorset don't forget to visit the neighbouring seaside town of Swanage, which was where smugglers used to leave illegally-smuggled goods. Later on it became a popular holiday destination for Victorian families.
Swanage is very close to Old Harry Rocks, one of the best places to visit in Dorset, so you can enjoy quite a challenging climb to these iconic chalks in the sea. Another must-see place located one mile from Swanage is the Durlston Country Park, with the best panoramic view of the coast and the historic Great Globe.
9. South West Coast Path & Jurassic Coast
It feels like I know the cliffs of the Jurassic Coast by heart, as I've walked miles and visited many different parts of this UNESCO World Heritage Site, whose cliffs, rocks and fossils can tell you the story of the Earth across 185 million years! Here are some of the best walks you can take along the Jurassic Coast:
Lulworth Cove to Durdle Door – the iconic arch of stone (full blog post here)
Old Harry Rocks to Swanage beach and back (full blog post here)
Worth Matravers to Chapman's Poole (full blog post here)
Cliffs in Britport (the filming location of famous crime TV series Broadchurch – if you haven't watched it yet, don't wait any longer, it's amazing!)
Golden Cap in Seatown – the highest point on the Jurassic Coast at 191 metres – again, quite a climb, but the views are totally worth it!
Kimmeridge Bay to Mupe Bay
There are also plenty of walks from Poole towards Cornwall on the South West Coast Path, which stretches for 630 miles around Dorset, Cornwall and Devon!
10. Lulworth Cove & Durdle Door
Even if you're not into hiking or walking, this is one of the best places to visit in Dorset (and definitely one of the most popular, so I'd recommend coming when it's not peak summer holiday season!). Lulworth is one of the best places in the world to study geology and it's at Lulworth Cove that you can walk through the Fossil Forest and see the famous stone arch that is Durdle Door. From rock-pooling to watersports, from hiking to coasteering, from swimming to eating ice cream, there are plenty of reasons why Lulworth should be on your UK bucket list!
The Isle of Portland, just 5 miles south of Weymouth, is the most southerly point in Dorset, and is joined to the mainland of Dorset by Chesil Beach (a long shingle bank). It's one of the best places to visit in Dorset and is famous for its importance in both World Wars. Today it's a place of tranquility, full of wildlife, and home to a beautiful lighthouse.
While in Portland, make sure you visit:
The biggest man-made harbour in the world (of great importance during the First and Second World Wars).
Drive to the viewpoint to admire views over the whole peninsula.
The stunning red and white Portland Bill Lighthouse.
16th century Portland Castle (one of England's best preserved castles from that period!)
A coastal feature located just next to the Bill Lighthouse called Pulpit Rock, formed in the 1870s. Be careful not to get splashed by the water!
Weymouth is close enough to Portland that you could visit both places in one day. Weymouth will steal your heart with its traditional seaside charm, amazing seafood (make sure you try a mackerel burger at Bennett's Fish & Chips), boats and yachts, and colourful houses whose doors are decorated with nautical knockers. With its shallow waters and sandy beaches, it's one of the best places to visit in Dorset and one of the most popular holiday destinations in the UK!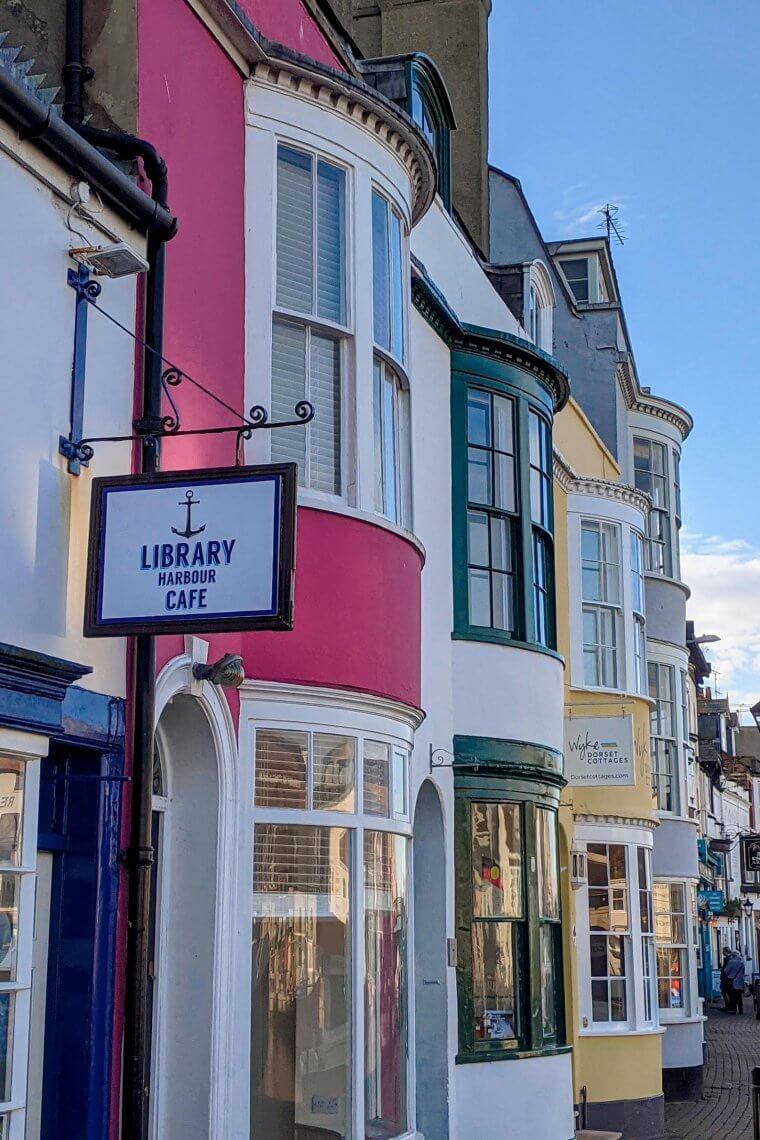 13. Sculpture by the Lakes
I swear, this spot cannot be missed: a must-see hidden gem in Dorset that should immediately appear on your bucket list. The park belongs to one of Britain's most talented contemporary sculptors, Simon Gudgeon, and features over 30 of his monumental sculptures placed by a lake in Dorchester. Walking among monumental sculptures and nature and admiring the artistry and precision of the sculptor will really touch you. It's one of my favourite places to visit in Dorset!
Note: children under 14 are not allowed at the site due to the surrounding water.
A National Trust treasure near Wimborne, with beautiful and extensive Japanese gardens and monumental cedar trees is a perfect place for a family day out and a picnic and definitely one of the best places to visit in Dorset. Art lovers will not be disappointed after visiting the mansion of William John Bankes who was an avid collector of artefacts from all over the world and who transformed his house into a Venetian-style palace, and a basement with a surprising collection of Egyptian troves.


What are your favourite places to visit in Dorset?
What are your favourite things to do in Dorset? Anything you'd add?
Love as always and happy adventuring…
Did you find this post helpful? I'd love you to share it for me.
Pin and save this blog post for later…