Antigua is a likely starting point for your Guatemalan adventure, and spending a few days sightseeing here is one of the best things to do in Guatemala! If you're looking for the best things to do in Antigua and the best places to visit in Antigua, or wondering what to do and see in Antigua, this is the Guatemala travel guide for you.
Antigua was the capital of colonial Guatemala, but the capital because Guatemala City in 1773 after a huge earthquake. You can still see some of the pre-earthquake architecture when you visit, such as the Ruins of the Church of Candelaria, the Ruins of Santa Rosa, and Capuchins Monastery! If you're looking at learning more about Guatemala's colonial past, make sure that you don't miss Santa Catarina Arch, Iglesia de la Merced, and Cerro De La Cruz, a stunning hilltop viewpoint.
Antigua really is a special city and reminds me a lot of San Cristobal… just bigger. The locals are so friendly, the architecture is stunning, and the surrounding nature is mind-blowing. The Mayan culture is so interesting, and no one can deny the magic that is hearing Volcan Fuego erupt on occasion while you're basking in the sunshine!
From losing yourself in the colourful streets to day trips to Macadamia farms, from the Acatenango volcano hike to a guided walking tour of Antigua… there are so many fun things to do in Antigua! Other fun things to do in Antigua include shopping at the local market, visiting the Chocolate Museum, or taking a picnic to Central Park. So rich in culture and guaranteed to capture your heart, Antigua is absolutely somewhere you must visit in Guatemala.
I cannot wait to share this Antigua travel guide with you. Even if you're heading to Guatemala and set on enjoying the lakes, volcanoes and coastline, may I highly recommend that you spend at least a couple of days exploring Antigua and the surrounding area.
In this Antigua travel guide, I am going to share with you the best things to do in Antigua, the best places to visit in Antigua, the best places to eat in Antigua and the best day trips from Antigua.
Blog posts you might find useful include…


The best things to do in Antigua, Guatemala
1. Take a photo at the iconic Santa Catalina Arch
The Santa Catalina Arch, or Arco de Santa Catalina, is one of Antigua's most iconic landmarks, and a must-do on your list of best things to do in Antigua. Built in 1694 to provide a hidden pathway on a bridge between a convent and a school (nuns couldn't be seen in public), and heavily damaged in the earthquake of 1773, this is one of Antigua's most impressive pieces of architecture. There isn't a school now, but there is a hotel, and you'll find plenty of people snapping photos of this historic landmark. On a clear day you can even see the Volcán de Agua through the arch!
One of the best things to do in Antigua has got to be taking in the atmosphere, wandering around the cobbled streets and soaking up the city! I'd say that Antigua is very similar to San Cristobal in Mexico; there's life, there's Mayan culture, there's magic. It's slightly bigger, the streets are wider, and it once was the capital of Guatemala, so it's got a bit more of a city vibe, but the way the city is surrounded by stunning nature and filled with lovely local people makes it feel really special. Admire the beautiful buildings (including pre-earthquake architecture), stop for a bite to eat and a Guatemalan coffee, and take this beautiful colonial city all in.
3. Order Guatemalan ceviche and margaritas at Maxan
Ceviche, pronounced "seh-vee-chay", originates from Peru, but is really popular in Guatemala. Ceviche is a seafood dish made with fresh raw seafood, cured in lime juice and mixed with chopped onions, coriander/cilantro, tomatoes and other herbs and spices. Maxan is one of the best places to have ceviche in Guatemala; not only is the food amazing, but the service and atmosphere is too. Wash the food down with a few excellent margaritas and you're all set for a fun evening out!
One of the best things to do in Guatemala, never mind one of the best things to do in Antigua, is a volcano hike. Did you know that there are 37 volcanoes in Guatemala, three of which are active?! Guatemala is on the edge of two tectonic plates, so there's no shortage of awesome volcano hikes and stunning scenery here!
Whether you want to try the Acatenango day hike, the Acatenango and Fuego overnight hike (where you can see Fuego erupt with your own eyes!) or a day hike up Volcán Pacaya, which is still active, there are plenty of volcano hikes in Antigua to put on your Guatemala bucket list. Volcan de Agua is also a volcano near Antigua, and technically you can hike it, but there are a lot of reviews saying it is not safe (there is a lot of crime localised to one part of the ascent), so go with a guide, and take all the right precautions.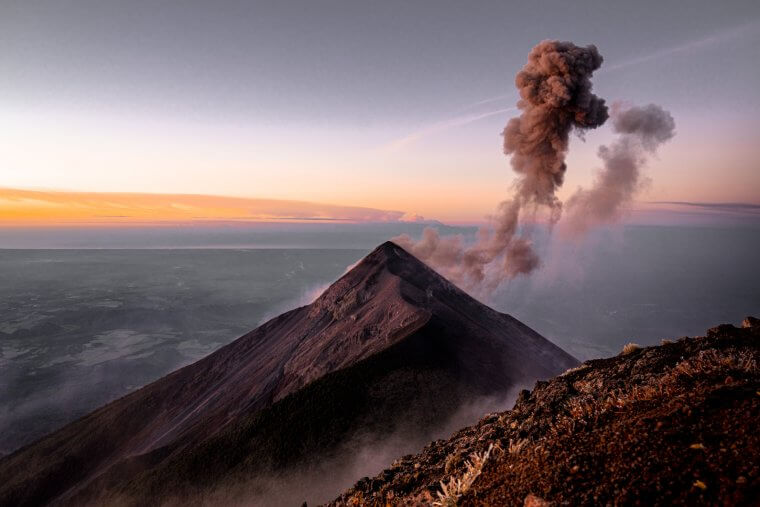 5. Visit the local market for supplies!
No matter where you travel in the world, exploring the local markets is a must. I absolutely love exploring the markets in London, but they've got nothing on the market in Antigua!
The main Mercado in Antigua is huge, and you really can find everything here. Local produce, clothing, meat, fish, fruit & veg, homeware, gifts… you name it, you'll find it, and at bargain prices too! The market is open every day from 7am – 2pm, but the busiest days are Monday, Thursday and Saturday (which are the main market days). , you'll find everything from produce to clothing, to freshly butchered meats and fish. Unless you don't like crowds, one of the best things to do in Antigua is to experience a proper market day!
6. Explore the local artisan market
If you're looking for fun things to do in Antigua and you're thinking of taking souvenirs home, you absolutely have to visit an artisan market. There are lots of artisan markets all over Guatemala, selling everything from Mayan woven crafts to Guatemalan coffee and chocolate, and more knick-knacks to take home and remind you of your travels. And you'll find that everything is really reasonably priced too, which is surprising given that Antigua is quite a touristy area in Guatemala! You can find the artisan market in Antigua near the Santa Catalina arch.
7. Hike up for a view at Cerro de La Cruz
Cerro de la Cruz means "Hill of the cross" and it's a short, 30-minute hike up from the city centre of Antigua. One of the best things to do in Antigua is to watch the sunset at Cerro de La Cruz. Even if you can't make it there for sunset, it's still worth it during the day for some absolutely stunning views across the whole city. You can see all the volcanoes (and get some stunning drone footage!), as well as buy drinks and snacks while you take in the panorama.
8. Dine at a local Guatemalan restaurant
Food is an essential part of the culture wherever you travel, and Guatemala is no exception! Guatemalan cuisine is unique in that is has a mix of Mayan, Spanish, Mexican and Caribbean influences. One of the best things to do in Antigua is to try some local Guatemalan food at some of the restaurants here. As well as the ceviche I mentioned earlier, you should definitely try pepian (chicken stew). Rincón Típico is an epic local restaurant, and cheap too, for those of you travelling on a budget!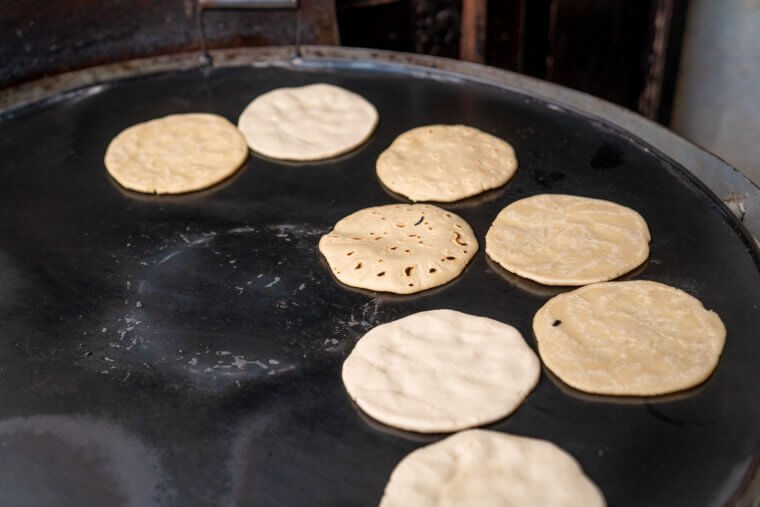 9. Listen out for Volcan Fuego's eruptions!
Is that heavy rain? Is it thunder? No, it's Fuego! Even if you don't opt-in for the volcano hike in Antigua, you are close enough to hear the volcanic eruptions! and on a clear day you can just about see Fuego from Antigua. It's the perfect option for anyone who doesn't want to do the Acatenango volcano hike.
10. Wholefoods smoothie and brunch at Union cafe
If you're looking for premium Guatemalan coffee, delicious smoothies & juices and amazingly healthy food (including vegan options)… one of the best things to do in Antigua is to enjoy a wholefoods smoothie and brunch at Union Cafe! I promise you won't be disappointed!
11. A guided tour of Antigua
Yes, you could wander the streets of Antigua yourself, marvelling at the architecture and culture, and then head back to your accommodation. Or, you could support a local by booking onto a guided tour of Antigua and learn even more about the history and culture of Guatemala than you could possibly imagine! Whether you're looking for a general walking tour of Antigua, a church tour, a historial tour, a cultural tour or something else, there are loads of different tours available in this amazing city.
12. Day trip to Hobbitenango
If you love Lord of the Rings, or really want to visit Hobbiton in New Zealand, this might just be the place for you! On the mountain tops outside Antigua you'll find Hobbitenango, a hobbit-themed eco park, restaurant and hotel. It's one of the best things to do in Antigua with kids, and you'll find local families here too. Here you can wander around and take hobbit-themed photos, stay overnight in a hobbit house, try axe throwing or archery and more, all with stunning views of the surrounding volcanoes.
13. Spa day at Santo Domingo
If you're looking for relaxing things to do in Antigua, this should definitely feature on your list. Santo Domingo Monastery was once one of the most important religious institutions in the Americas, but is now a hotel and spa. I fully recommend making a reservation for this reason, as they often hit capacity.
At just £30 for a day pass, it's an absolute bargain. Within the spa you've got a sauna, steam room, lots of beds, cocktails… it's just absolutely gorgeous! It's the perfect to relax and bathe after the Acatenango volcano hike!
14. Cheers at one of the rooftop bars
Since you're in a city with such stunning architecture and surrounded by such beautiful nature, one of the best things to do in Antigua in the evening is to go for a drink (or dinner!) in a rooftop bar! Some of the best rooftop bars in Antigua are…
Lava Terrace
Cafe Sky
El Mirador
Rooftop Antigua
15. Have brunch at a Macadamia Farm
Lawrence Gottschamer, owner of Valhalla Macadamia Farm, has massively helped the Guatemalan community by donating macadamia trees to local farming communities and encouraging sustainable farming practice of these nuts. Located just outside Antigua, Valhalla Macadamia Farm & Restaurant is organic and sustainable, and one of the best things to do in Antigua is to enjoy an amazing lunch there and support a good cause!
Wherever you are in Guatemala, you'll find knowing even a little Spanish will help you get by and connect with the locals.
One of the best things to do in Antigua is to start learning the language. It's one of the best places in Guatemala to learn Spanish, as there are classes everywhere in Antigua, and they're fairly cheap!
Another way to learn Spanish on the road is to download the Duolingo app – it definitely helped me! See more useful travel apps here.
Some basic phrases to get you started…
Hola = Hello
Adiós = Goodbye
Por favor = Please
Gracias = Thank you
Lo siento = Sorry
Sí = Yes
No = No
Disculpe = Excuse me
¿Dónde está …. ? = Where is …. ?
Yo no comprendo = I do not understand
¿Habla inglés? = Do you speak English?
Quisiera … = I would like…
¿Cuánto cuesta? = How much does it cost?


What do you think the best things to do in Antigua are?
What are your favourite things to do in Antigua? Anything you'd add?
Love as always and happy adventuring…
Did you find this post helpful? I'd love you to share it for me.
Pin and save this blog post for later…