Whether you're gone for 2 weeks or embarking on a 6-month road trip in the USA, driving across America is an unbelievable experience. From the USA national parks to the bustling cities, you can customize your trip to fit your personal adventure. If you're wondering how to plan your USA coast to coast road trip, or looking for USA road trip top tips, this is the post for you.
You've heard aout it in books and drips… a road trip across the USA is a dream for many. On this USA road trip not only will you cross state borders, but you'll experience different cultures, climates and landscapes too. It's not all about ticking the experience off your bucket list, though… planning a USA road trip from coast to coast requires a lot of work!
For me it was a dream to drive from the East Coast to California, so when the opportunity presented itself, I packed my bags and hit the road! Starting September 1st, the car was packed, I had my camping clothes and for the next 3-months I would be living in my truck, taking in the vastness and wonder of America. Departing from the sleepy beach town of Cape Cod, MA, I embarked on my journey to California. This USA coast to coast trip entailed a lot of driving, coffee, adventure and discovery.
I'm going to use my experience to share my top tips for a USA coast to coast road trip, and help you plan your USA coast to coast road trip, so you're more than ready to hit the road and enjoy the view!
Other blog posts you might enjoy: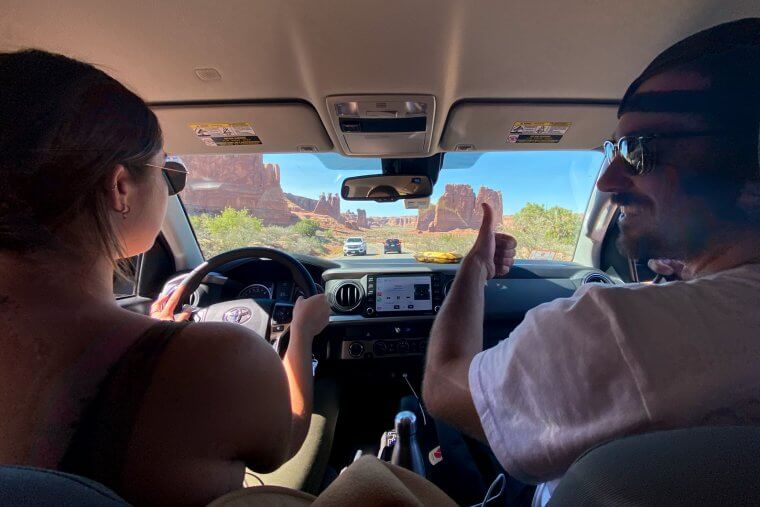 USA coast to coast road trip: 10 top tips and things you need to know...
1. Decide your route and where to start.
The first and most important part of your USA road trip is deciding your route. If you're currently living in America, plan on starting from your hometown. If you're living in a different country, plan on flying to a city with a big international hub. New York, Boston or Philadelphia are great places to start your trip on the East Coast, while Los Angeles, Seattle, Portland or Denver are great options for the West Coast.
2. Plan how long and when your USA coast to coast road trip will be.
How long you depend on being on the road determines how many places you will visit on your USA coast to coast road trip. I would always suggest staying at a location for 3-5 days, so you have time to relax and discover. It took me about 6 weeks to get from Massachusetts to California and I had 9 stops between locations. If you're flexible with time, stop as much as you can. If you're in a time crunch think about must-see destinations and plan accordingly.
If you're wondering when the best time for a USA coast to coast road trip is, favourites are spring and fall. These times of year aren't as hot, and are low season, so you tend to get better prices and fewer crowds.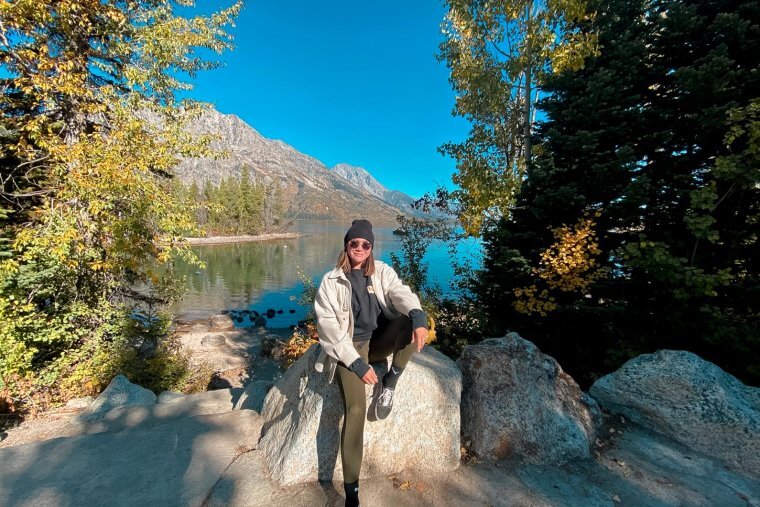 3. Plan your stops and driving time.
One of my biggest top tips for a USA coast to coast road trip is knowing your comfort level of driving. I was traveling with 2 other people, and we all decided the longest we wanted to be in the car was 8 hours. So, when we planned our stops we calculated the distance we were willing to travel and how close we were to our desired location. Between switching drivers, resting and eating along the way, knowing your limits is very important. But let's get to the fun part, planning your dream USA coast to coast road trip!
Make sure you also consider where you're going to stop for petrol/gas on your road trip too, so that you don't get stuck!
4. Make sure you don't miss out on the best cities in the USA.
One of my favorite things to do while planning my trips is deciding on the activities and places to visit.
On my USA coast to coast road trip, apart from seeing the classic cities like San Francisco and Las Vegas, I was surprised by how much I truly loved Denver and exploring the small towns like Jackson Hole, WY. While the big city life is fun, when you visit a small town, you get a sense of old time American life. You get the feeling of that town's history, the people and culture that surrounds you.
Cities and towns to visit on your USA coast to coast road trip:
New York City, NY
Boston, MA
Denver, CO
New Orleans, LA
St. Augustine, FL
Chicago, IL
Jackson Hole, WY
Annapolis, MD
Las Vegas, NV
Kansas City, MO
Portland, OR
San Diego, CA
Santa Barbra, CA
San Francisco, CA

5. Make sure you visit some USA National Parks!
However, in my eyes, a USA coast to coast road trip isn't complete unless you go to some of the USA National Parks. After living here for a few years, I personally believe this is the most important and beautiful part of seeing America. I spent about 2 weeks in Utah, and it has become my favorite state. Arches and Zion National Parks are breathtaking, and the scenery is captivating. With numerous hikes, bikes and adventure to be had you have options to see so much and experience new and momentaneous milestones.
The best USA National Parks to explore on your USA coast to coast road trip:
Arches, Ut
Canyonlands, Ut
Brice Canyon, Ut
Grand Canyon, AZ
Acadia, ME
Yosemite, CA
Joshua Tree, CA
Sequoia, CA
Red Wood, CA
Grand Teton, WY
Yellowstone, WY, MT, ID
Rocky Mountain, CO
Glacier, MT
See our bucket list of 15 USA National Parks you must visit here.
6. Do your research for each destination.
Whether it's activities, restaurants, must-see attractions or something else, doing the research before you embark on your USA coast to coast road trip is going to save you a lot of time and mental energy when you arrive at your destination! When you arrive, asking locals for any of their recommendations is also a winner too!
7. Book accommodation in advance and consider the cost/weather when planning your USA road trip.
I was fortunate enough to convert my truck into my home on wheels. If this is possible I highly recommend doing so, but this can be expensive. On average nightly accommodation came to about 40 dollars a night for a camping site. When planning your USA coast to coast road trip, make sure to look at peak and off peak seasons as the price can differ, and double check with weather conditions as many places close down for the winter season.
One of my top tips for a USA coast to coast road trip if you're looking to save money is to try camping! While camping is a great option, weather and destinations sometimes make this harder than expected. If you choose to camp during your road trip, national parks, state parks, campgrounds and Hit Camp should be booked before arriving. When staying at state or national parks look at government recreation camping sites as they are cheaper. Camping is an affordable fun way to see America and, while it brings you back to basics, it's adventurous and very affordable.
If you still want to stay in campgrounds and parks but want to elevate your accommodation look into renting a camper van. Outdoorsy and Escape Camper Vans are great options to rent for a road trip and still live the Nomad life on the road. There are some free camping zones, but that is something you need to search for by state.
Not a fan of camping? Do you want to live a little more luxurious during your road trip? As always, hotels can be booked and you can always look into an Air BnB.
If you're camping (in a tent or a van) remember to leave no trace. Check out top tips for sustainable van life here.
8. Before you leave, make sure your vehicle is ready.
One of my top tips for planning your USA is to make sure your vehicle is ready for a road trip! You want to make sure that you've checked fluid levels, tyres, brake pads and more. Depending on what needs to be checked and how old your vehicle is, you might want to go to a mechanic or you might be able to do some of the checks yourself.
Make sure that you've got all the right vehicle / travel insurance too! And it's definitely worth learning how to change a tyre yourself (if you don't know already), so you don't end up waiting for road side assistance for hours!
See our top tips for essential vehicle checks before a road trip here.
Depending on your USA coast to coast road trip itinerary, you might hit points where you don't get good phone signal and you can't rely on the GPS on your phone. Having a paper map will help!
10. USA coast to coast road trip itineraries...
If all that's left to plan on your "how to plan a USA coast to coast road trip" checklist is the itinerary, here are some USA road trip itineraries that you should definitely consider!
Interstate 90: Seattle to Boston
Crossing 13 states and 3,085 miles
Interstate 80: San Francisco to Teaneck, New Jersey
Crossing 11 states and 2,902 miles
Pacific Coast Highway
Crossing 3 states and 1,650 miles
Route 66
Probably the most famous USA coast to coast road trip! Crosses 8 states and over 2,400 miles
Beth's customized USA coast to coast road trip itinerary
Cape Cod, MA – Columbus OH – Kansas City, MS – Denver, CO – Moab, UT – Jackson Hole, WY – Yellowstone, MT – Zion, UT – Grand Canyon, AZ – Las Vegas, NV – Yosemite, CA – San Francisco, CA – Big Sur, CA – Santa Barbra, CA – Los Angeles, CA – Joshua Tree, CA – San Diego, CA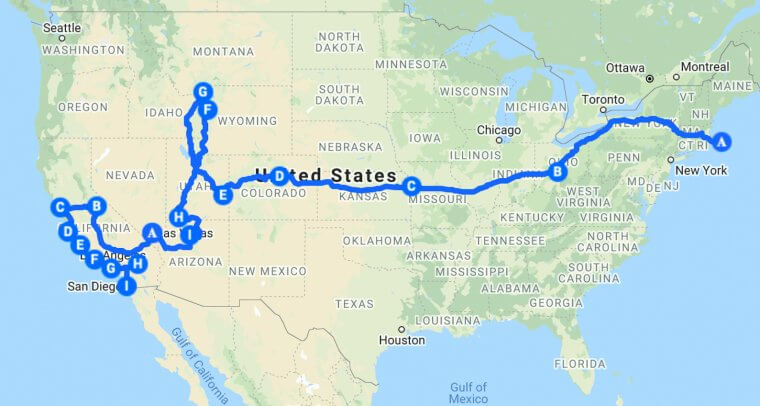 What are your top tips for a USA coast to coast road trip?
Any advice for planning a USA coast to coast road trip? Anything you'd add?
Love as always and happy adventuring…
Did you find this post helpful? I'd love you to share it for me.
Pin and save this blog post for later…