Las Vegas is debatably one of the most iconic cities in the United States. The name and reputation of Vegas has permeated its way into every corner of mainstream culture with Blockbuster movies like the Hangover and Oceans Eleven and episodes of popular TV shows like Friends. Even timeless musicians like Elvis have shared with the world how this remarkable city will likely 'set your soul on fire'. Safe to say there is plenty of hype around what this city has to offer. But what is it really like to experience 'Viva Las Vegas'?

Well, on my most recent America road trip, I decided to make the trek to see what all the fuss was about. In two jam-packed days, I took myself on a cultural tasting platter of sorts to experience the best things to do in Vegas. From the bottomless brunches to the one-off unique attractions and all the iconic 'Vegas' experiences in between, I have created this Las Vegas travel guide. Whether you are looking for the best things to do in Vegas, the best place to stay in Vegas, the best hotels in Vegas, and the best free things to do in Vegas, I have you covered with this Las Vegas travel guide.
Other blog posts you might enjoy:


Vegas is located in the deep of Nevada and so is best accessed via plane, car or bus.
There are a few airports to consider but the main one to check out flying into (if you're heading to the Boulevard) in Vegas is Harry Reid International Airport, just 2 miles from the strip itself.
When you arrive, it will soon become clear just how big this city is. The strip itself is just a fraction of the city, so it's best to have a car or a budget set aside for uber's and taxis while you are here.
Best place to stay in Vegas
When it comes to the best place to stay in Vegas, the answer is twofold depending on your budget and the things you want to see and do while you're in town…
Overall, the Main Strip is the best place to stay in Vegas for easy access to the top attractions like the Bellagio fountain, high-end casinos, and many of the other best things to do in Vegas. The best hotels in Vegas can be found on this "main strip" between Sahara Avenue and Russel Road. However, these are higher-end and thus come with a higher price tag.

The other option would be to choose to stay a little further away in Downtown Vegas, centred around Freemont Street. This will be further from the casinos and, as such, significantly cheaper. While this means you will be further from many of the typical Vegas attractions, you will be a little closer to some of the best free things to do in Vegas, such as walking through Freemont Street.
If you do choose to stay in Downtown Vegas, just be sure to account for the fact that you will likely have to pay a little extra in taxi fees to get to and from the strip to see the other major attractions.


The best things to do in Las Vegas
So what exactly are the best things to do in Las Vegas?
Well, in short… there are a lot. From my two-day adventure, I have put together my favourite experiences and attractions to check out in Las Vegas in this Las Vegas travel guide. Let's dive into the best things to do in Vegas (including the best free things to do in Vegas) on your upcoming adventure to Sin City.
One of the best things to do in Vegas (and the best free things to do in Vegas) is to take a walk along the Vegas strip. However, don't be deceived. The strip itself is around 6.8 km (4.2 miles) long, and many of the attractions and best things to do in Vegas are much further than you think. When I first arrived, I saw everyone in sneakers and was a little confused. After all, isn't Vegas about dressing up and going out on the town?
In short – no. Unless you are planning a night in one hotel alone, or are happy to spend a few hundred dollars on Uber and taxis from place to place, then you may want to consider joining these trendsetters in their comfortable walking shoes. As you do, you can comfortably explore the best hotels in Vegas, including the Bellagio, Ceasers and more (without the blisters!).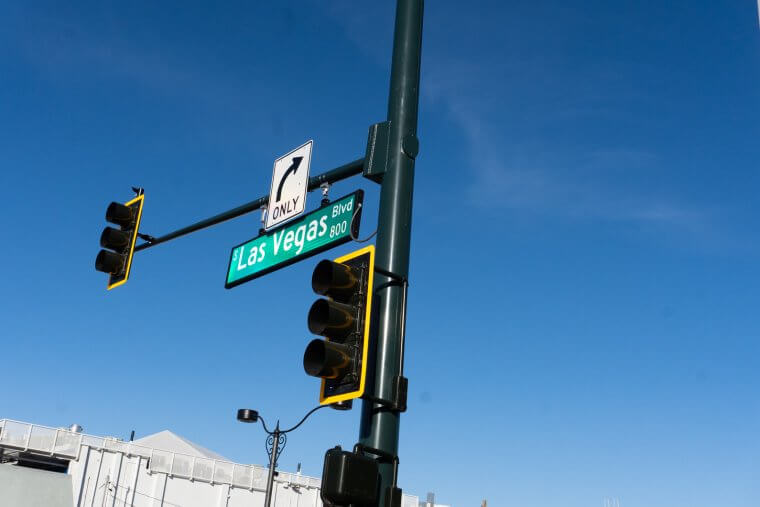 2. Visit the museum of Selfies
The modern era of selfies has been immortalized through the Vegas Museum of Selfies.
This interactive museum offers a series of designed sets where you can make-believe a little and creates some pretty interesting selfies. From the first-class aeroplane stage to a fake mirror room, there are plenty of fun sets to explore.
While this was a relatively short experience, it was actually incredibly fun and the perfect chance to let your inner child run wild.
3. Brunch at the Bacchanal
The Bacchanal Buffet is located in Caesars Palace (another top contender for the best place to stay in Vegas) and was easily one of my top experiences and the best things to do in Vegas. As a personal foodie and lover of unique food experiences, this buffet truly blew my mind.
After walking through the maze of Ceasers Palace hotel, we made our way to the back, where the buffet is held. After paying for entry, you are led to your table. From here, you are free to explore the 10+ dining areas – including an Asian buffet, antipasto station, smoothie bar, Mexican area, waffle bar, seafood station, and more. When you're done with your mains, the party doesn't end there! There is also a dedicated dessert station where you can choose a selection of tiramisu, gelato, cakes, mousse, cupcakes and more – all in perfectly bite-sized servings so you can sample as many as you want without wasting a bite! Entry was a steep $50 USD per person – which I hesitated on for a while. However, after having had this experience, it was worth every penny.
Another top contender for buffets in Vegas is the Wynn, said to be a little more intimate – but is a little further down the strip.
What happens in Vegas stays in Vegas… except if you decide to mark the occasion with a tattoo. This city of lights and misdemeanours has gained notoriety for its wedding bells and shotgun weddings. However, as of late, tourists are swapping out wedding bands for tattoo guns with the famed '$10 tattoo'.
Koolsville Tattoo has crowned itself the home of the $10 tattoo and offers a menu of small and memorable tattoos to choose from – all under $10. While this isn't technically ranked among the best free things to do in Vegas, it is definitely one of the cheapest experiences in Vegas.
If you have an inkling toward tattoos and want a way to remember your Vegas adventure without the legal hassles, then make your way to get in line for one of these cute little keepsakes.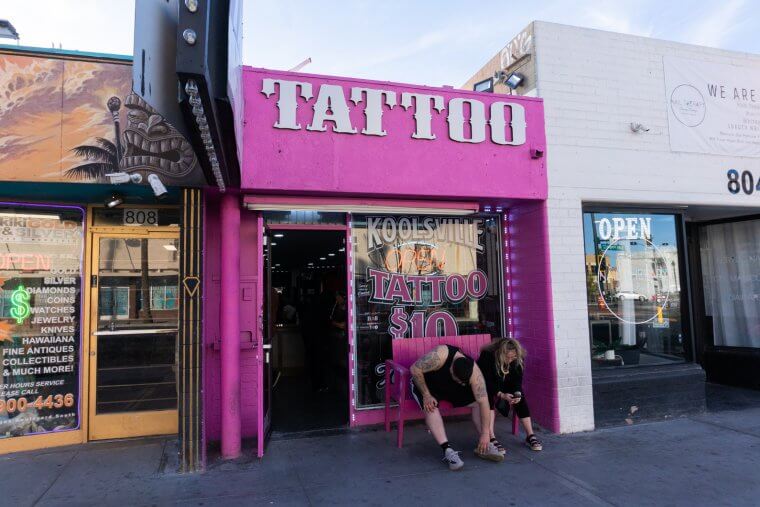 5. Stop by the Bellagio Fountain
If you have ever watched the Oceans movies, you will already have a sense of how grand the Bellagio Fountain attraction is. This fountain show was unlike any fountain display I have ever seen. With over a thousand fountains dancing as high as 460 feet in the air, accompanied by a magestic music and light show, it was truly mesmerising.
This is also often ranked as one of the best hotels in Vegas, and I can see why! If you wander past the fountain, the interiors of the hotel itself are awe-inspiring.
6. Try your luck in a Casino
Whether you're a lover of gambling or particularly unfazed by the practice, it would be amiss not to at least wander through a casino while in Vegas. I tried my hand at a pokie and, of course, lost the whole two dollars I bet. Safe to say, I don't think I'll take up the practice, but it was definitely an experience sitting in the casinos and seeing them up close in person.
Overall, if you want a more high-end casino experience, check out the Bellagio or Ceasers.
If you are looking for something a little more low-key and casual, check out the casinos downtown in the Freemont Street Experience.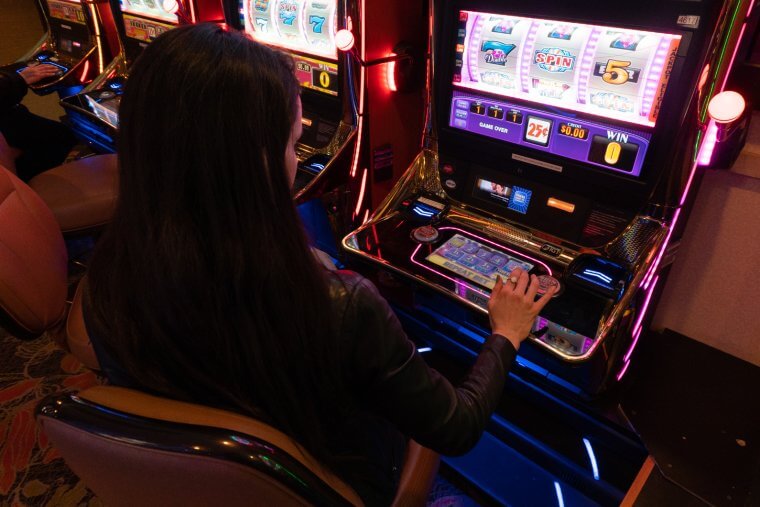 7. Wander through Freemont Street Experience
The Freemont Street Experience is another one of the best free things to do in Vegas and a sight not to be missed.
Unlike most of the other big experiences, Fremont Street is tucked away in Downtown Vegas – around 20-25 minutes from the main part of the strip, where you will find the Bellagio and others. Here you can take flight on the SlotZilla Zipline, treat yourself to the Downtown dining, and marvel at the street acts and concerts. The most interesting part for me was the Viva Vision Light show.
There is a giant screen that runs down the length of Freemont Street, which comes alive with a light show featuring anything from intergalactic scapes to themed shows (I was there on St Patricks Day, and so it was dancing with pots of gold, rainbows and four-leaved clovers!).
A few other notable experiences to check out whilst in Las Vegas...
There are honestly endless attractions and things to do in Vegas. You could easily stay here for weeks and never see and do it all. A few of the top things to do in Vegas that I didn't get around to but absolutely will check out next time include:
Watch a show
There are regular showings of Cirque du Soleil and comedy shows at the Laugh Factory that I saw endless rave reviews for! Plus, this city often hosts world-famed musicians on tour, so check the calendar – you never know who may be playing.
Visit the Strat to ride the X-scream and more
The Strat is home to a number of thrill-seeking rides located on the top of the building – roughly 860 feet above the ground. Prices start at around $29 USD for a single ride and entry, all the way up to $45 USD for admission and unlimited rides.
Omega Mart
This eclectic art installation is a whacky and whimsical experience brought to you by the creators at Meow Wolf. Omega Mart is an interactive art installation set in an 'extra'-ordinary supermarket that will have you exploring surreal worlds and mind-bending narratives. This attraction is located in Area 15 – around 20 minutes by car far from the strip. So you will have to pay for a cab to get there and back from the strip or from Downtown Vegas. Also – this attraction is best to visit during the day as it closes quite early (as was my mistake!).
Eat at a 5-star restaurant
No Las Vegas travel guide would be complete without mentioning the incredible food scene on offer in Vegas. When planning your adventure and when deciding on the best place to stay in Vegas, I would definitely consider the food experiences available! There are countless 5-star restaurants to check out.
Overall, Vegas felt like one giant carnival with an adult twist. Whether you love a good party or not, this place is a unique corner of the states worth the visit. Regardless of whether you are choosing to spend your night at a casino or simply explore all the incredible attractions and eateries, you will definitely want to visit with a healthy budget of a few hundred dollars to really experience this unique city. In the words of Elvis, even "if I wind up broke, I'll always remember I had a swinging time'.


Are there any other best things to do in vegas that you would add to this Las Vegas travel guide?
Do you have any tips for the best place to stay in Vegas or recommendations for the best hotels in Vegas? Or other free things to do in Vegas that should be on this Las Vegas travel guide? As always, happy adventuring.
Love as always and happy adventuring…
Did you find this post helpful? I'd love you to share it for me.
Pin and save this blog post for later…