Welcome to the enchanting and mystical island of Ibiza, located in the sparkling Mediterranean Sea. Famous for its vibrant nightlife, stunning beaches, and breathtaking natural beauty, Ibiza has established itself as one of the most popular European destinations for travellers seeking a unique and unforgettable experience. Whether you're a party lover, a nature enthusiast, or a history buff, this Balearic gem has something to offer for everyone. In this blog post, we will explore the best things to do in Ibiza, ensuring you make the most of your time on this magical Balearic island.
Located in the western Mediterranean Sea, Ibiza is one of the Balearic Islands, which are part of Spain. Its strategic position off the eastern coast of Spain and its stunning natural beauty have contributed to its popularity as a sought-after destination.
Contrary to its reputation as a non-stop party hub, Ibiza offers serene and tranquil areas that cater to travellers seeking a more relaxed and peaceful experience. Beyond the pulsating nightlife and energetic beach clubs, the island boasts pockets of tranquillity that are perfect for unwinding and reconnecting with nature. Inland villages like Santa Gertrudis and San Juan offer a slower pace of life, charming local markets, and idyllic countryside views.
Ibiza is also a paradise for outdoor enthusiasts, with a multitude of hiking trails and nature reserves waiting to be explored. From the rugged cliffs and pine forests of Es Vedrà Natural Park to the picturesque coastal paths of Ses Salines Nature Reserve, Ibiza offers a wealth of options for hikers of all levels.


The best time to visit Ibiza
The best time to visit Ibiza largely depends on the activities and experiences you seek.
For party enthusiasts and those eager to immerse themselves in the vibrant nightlife, the peak season from June to September is ideal. During this time, world-renowned DJs take over the island's clubs, making it the perfect moment to dance until sunrise and revel in Ibiza's legendary party scene.
However, if you prefer a more relaxed and tranquil atmosphere, consider visiting during the shoulder seasons of spring (April to May) and autumn (September to October). These periods offer pleasant weather, fewer crowds, and an opportunity to explore the island's natural beauty and cultural sites. Whether you want to enjoy the pristine beaches, hike the scenic trails, or delve into the historical charm of Ibiza Town, planning your visit during these off-peak seasons allows you to experience the best of Ibiza without the hustle and bustle.
Getting to Ibiza is relatively easy, whether you choose to travel by plane or by car. If you're looking for a quick and convenient option, flying to Ibiza is your best bet. Ibiza Airport is well-connected with direct flights from major cities in Europe, including numerous airports in the UK. With a flight duration of around 2 to 3 hours, you'll find yourself stepping off the plane and onto the island in no time
On the other hand, if you prefer the flexibility of driving and want to embark on a road trip adventure, reaching Ibiza by car is also possible. You can catch a ferry from mainland Spain, such as Barcelona or Valencia, to Ibiza.
There are a number of options for travellers to get around in Ibiza and explore the island:
Renting a Car:
Renting a car gives you the freedom to discover Ibiza at your own pace. There are several car rental companies operating on the island. With a car, you can easily navigate the island's winding coastal roads, visit remote beaches, and explore charming inland villages. Just keep in mind that parking can be limited in popular areas during peak seasons.
Taxis:
Taxis are readily available in Ibiza and can be hailed on the street or booked via the phone. You can find all relevant taxi number companies here. Taxis are a convenient option for shorter trips within one part of the island as fares are quite high during summer. If you're relying on taxis to explore all the different parts of the island, then be aware that costs will really add up! Fares can be higher, especially during late-night hours or in remote areas.
Public Buses:
Ibiza has an efficient public bus network that connects major towns, beaches, and attractions across the island. The buses are affordable and offer regular services, making them a convenient option for getting around. The main bus station is located in Ibiza Town. That being said, the buses aren't the most convenient way to reach most remote beaches in the island worth visiting, so those wanting to truly explore the hidden and less known parts of the island can't rely on the buses to get there.


The Best Things to Do in Ibiza, Spain
1. Stroll through Ibiza Old Town
Exploring the old town of Ibiza, known as Dalt Vila, is undoubtedly one of the best things to do on the island. This UNESCO World Heritage Site is a treasure trove of history and charm, with its ancient stone walls, cobblestone streets, and magnificent architecture. As you wander through the narrow alleyways, you'll discover a tapestry of intriguing shops, art galleries, and inviting cafés.
The highlight of Dalt Vila is the majestic Ibiza Cathedral, offering panoramic views of the town and the sparkling Mediterranean Sea from its elevated position. Whether you're a history buff, a lover of architecture, or simply seeking a captivating stroll, exploring the old town of Ibiza is an experience that will transport you back in time and leave a lasting impression.
2. Watch the sunset at Es Vedra
Watching the sunset at Es Vedrà is truly one of the best things to do in Ibiza.
Picture this: you're perched on the rugged cliffs, gazing out at the mystical islet of Es Vedrà as the sun starts its breathtaking descent. The sky transforms into a mesmerising kaleidoscope of colours – hues of pink, orange, and gold that will leave you in absolute awe. It's like nature's very own firework show!
This mystical rock formation rising dramatically from the sea creates a mesmerising backdrop for an awe-inspiring sunset. Whether you choose to witness this magical spectacle from a nearby beach, a cliffside viewpoint, or on a boat tour, the sense of wonder and tranquility that fills the air is incomparable.
3. Join the drumming party in Cala Benirràs
Cala Benirrás in Ibiza is renowned for more than just its pristine beach and turquoise waters—it is also famous for its mesmerizing drumming sessions. Every Sunday evening, as the sun begins to set, a group of passionate drummers gathers on the beach, creating an infectious rhythm that reverberates through the air. Experiencing the vibrant drumming sessions at Benirrás Beach is undeniably one of the best things to do in Ibiza.
4. Visit the Hippie Markets
When exploring the bohemian culture of Ibiza, visiting the island's iconic Hippie Markets is a must. Get ready to immerse yourself in a world of bohemian bliss, where vibrant colors, handmade crafts, and laid-back tunes create an unforgettable experience. Two of the most renowned markets are Las Dalias in Sant Carles and Punta Arabí in Es Canar.
Going to Las Dalias on a Wednesday is one of the best things to do in Ibiza as it's Namaste night. Namaste Night at Las Dalias Market in Ibiza is one of the best nights in the spiritual part of the island as the market brings together spirituality, arts and music. Get there early to avoid queues and stroll through the market stalls!
Punta Arabi, also held on Wednesdays, is the largest and oldest hippie market in Ibiza. This market is for those seeking to shop. As you step into its lively and bustling atmosphere, you'll find yourself surrounded by a kaleidoscope of colours, unique artisanal crafts, and a diverse array of international vendors. Explore the stalls filled with handmade clothing, accessories, artwork, and exotic treasures from around the world.
5. Take a day trip to Formentera
Including a visit to Formentera Island during your trip to Ibiza is an absolute must for those seeking an unparalleled experience of pristine beaches, turquoise waters, and serene natural beauty.
Just a short ferry ride away, Formentera welcomes travellers with its breathtakingly beautiful beaches, crystal-clear turquoise waters, and untouched natural landscapes. Rent a bike, a boar or just a sun stretcher and enjoy the island for the day.
To get there, you'll find there are regular ferries from Ibiza Town's port to Formentera's main port in La Sabina. The journey takes only around 30 minutes – so easily a day trip vibe!
Depending on where you're staying, you can also take ferries to Formentera from other Ibiza ports like Playa d'en Bossa and Sant Antoni de Portmany. From these spots, the journey is slightly longer journeys at around 45 minutes to 1 hour but still, not far at all!
Tips:
Book ferry tickets in advance online, especially during peak summer months. You can book with companies like Aquabus or Trasmapi.
For those looking for some watersport fun, one of the best spots to go kayaking is at Cala Xarraca. Paddle along the rugged coastline, explore hidden caves, and discover secluded coves. The tranquil surroundings and stunning natural beauty create an idyllic setting for kayaking enthusiasts of all levels.
7. Go for a hike along the coastline
If you thought Ibiza was all about the party scene, think again – because this stunning island has some epic hikes that'll blow your mind!
One of the best hikes in Ibiza is the coastal trail from Cala Salada to Punta Galera. This scenic route takes you along rugged cliffs, offering breathtaking views of the turquoise Mediterranean Sea.
Another must-visit trail is the ascent to Sa Talaia, the highest point on the island. This hike rewards you with panoramic vistas of Ibiza's picturesque landscapes, including rolling hills, pine forests, and charming whitewashed villages.
And for those seeking a coastal adventure, the coastal trail from Cala d'Hort to Cala Vadella will leave you in awe of Ibiza's rugged beauty. So, grab your backpack, hit the trails, and get ready to witness a whole new side of Ibiza that'll leave you utterly enchanted.
Going hiking in Ibiza is truly one of the best things to do on the island, and there are plenty to choose from so definitely add this to your Ibiza bucket list.
8. Find yourself a yoga class
Yoga is almost synonymous with Ibiza nowadays as it's become such a big Yogi destination. And so, there are countless places where travellers can get their daily dose of Yoga on the island. Some of the best places to do yoga in Ibiza are:
Amante Ibiza, Sol d'en Serra, East
Aiyanna Ibiza, Cala Nova, East
Pure Seven, 7Pines Kempinski Ibiza, Cala Conta, South West
Atzaró Spa, San Lorenzo, North East
Nobu Hotel Ibiza Bay, Talamanca, Ibiza town
For those looking for an extended dose of Yoga, I'd recommend booking a Yoga retreat on the island!
No visit to Ibiza is complete without dining in at least one of their signature ocean-side restaurants. Discovering the finest oceanfront dining in Ibiza is a treat for all your senses! Head to El Chiringuito, a beachside gem with a laid-back atmosphere and scrumptious seafood that'll make your taste buds dance.
For a chic and upscale experience, Sa Punta boasts exquisite Mediterranean dishes against the backdrop of the sparkling sea.
If you're in the mood for a beach club vibe, Nikki Beach has you covered with delectable cuisine and trendy cocktails.
Finally, venture to Amante Ibiza, nestled in a breathtaking cove, where you'll savor mouthwatering dishes while the waves serenade you. From beachside shacks to upscale hideaways, these oceanfront spots guarantee an unforgettable dining experience on this enchanting island.
10. Explore the beautiful beaches
Get ready to soak up the sun in paradise, because Ibiza's got some seriously epic beaches that'll blow your mind!
Cala Comte, a true slice of paradise, boasts turquoise waters and golden sands that will leave you in awe– it's like stepping into a postcard-worthy dream! For a secluded escape, head to Cala Saladeta, a hidden gem with vibrant turquoise hues and a picture-perfect cove. If you're seeking a lively atmosphere, Playa d'en Bossa has it all – beach clubs, buzzing energy, and a long stretch of powdery sand.
11. Embrace the Ibiza Nightlife
Get ready to dance your heart out at some of the best nightspots this island has to offer. Pacha, the granddaddy of clubs, is a must-visit with its longstanding reign as one of the best clubs in Ibiza and top-tier DJs.
Ushuaïa takes it up a notch with its beachside charm and mind-blowing pool parties featuring world-class artists.
And let's not forget the underground haven of DC-10, where you'll experience a whole new level of euphoria! From heart-pounding music to incredible vibes, going out to one (or many more) clubs in Ibiza is one of the best things to do in Ibiza.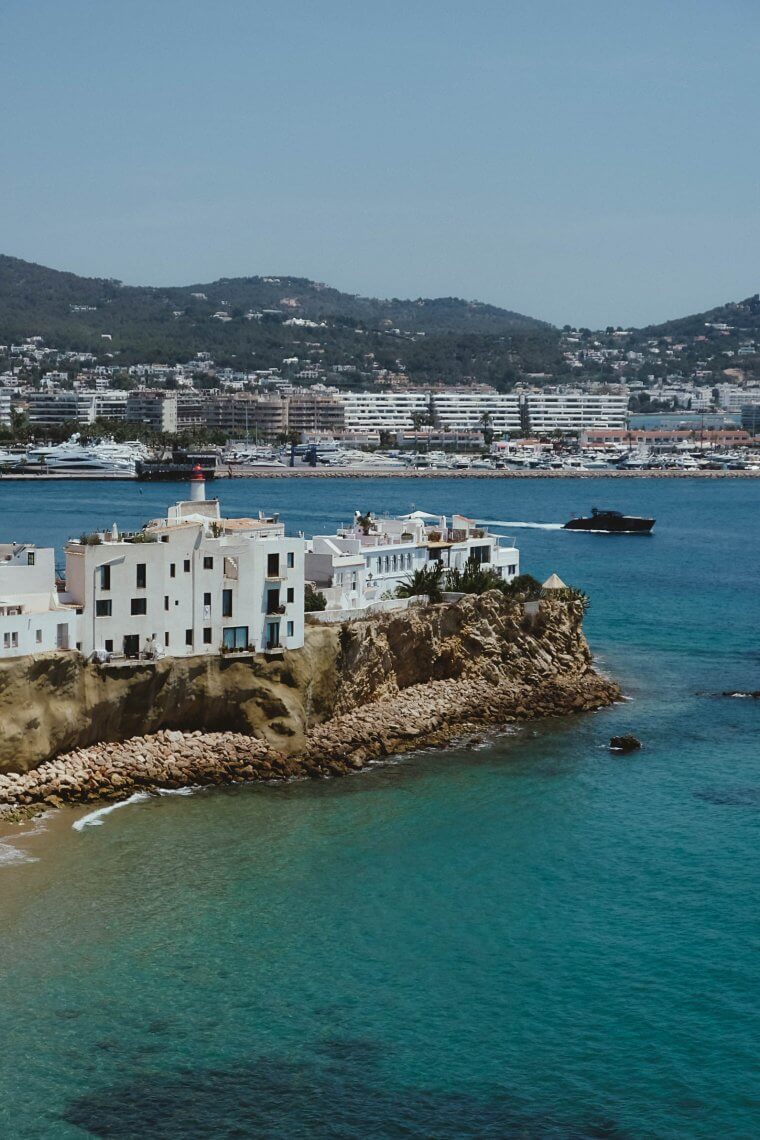 And that is it!
Those are the absolute highlights of everything Ibiza has to offer and the best things to do in Ibiza. I know some people may not think Ibiza is worth all the hype, but honestly, it is! And for everything other than just the nightlife. There are beautiful beaches and hidden coves to bathe and relax in and escape reality for a bit, the hikes that lead to panoramic vistas and allow you to embrace the island's rugged beauty, and the bohemian allure of the iconic Hippie Markets where vibrant colours and handicrafts to get lost in.
So whether you're here to party, unwind, or embark on wild adventures, Ibiza's got you covered. Get ready to fall in love with this island and tick it off your travel bucket list!


What are your favourite things to do in Ibiza, Spain?
Where are your favourite places to visit in Ibiza? Anything you'd add to this Ibiza travel guide?
Love always + happy adventuring!
Did you find this post helpful? I'd love you to share it for me.
Pin and save this blog post for later…