If you're planning a trip to this beautiful island and you're on the lookout for what to do in Madeira, you've come to the right place. In this post, I'll outline everything you need to know, along with some of the very best things to do in Madeira and best places to visit in Madeira.
Madeira has spiked the interest of many in Europe seeking an island recently, and is definitely one of those hidden gems in Europe that is becoming more popular. I was incredibly lucky to have spent a whole month 'living the island life' in Madeira at the peak of summer in 2021. Even after spending an entire month there, I still struggled to tick everything off my bucket list! If you've been thinking of venturing beyond the Portuguese mainland to get a taste of its islands, Madeira is an excellent destination! Madeira is one of the best places to visit in Portugal, and with reason.
This small island sitting in the middle of the Atlantic ocean maybe Portuguese, but it's closer to the coast of Africa, just about the same latitude as Casablanca in Morocco. Being that tad bit closer to the equator makes a big difference in the island's temperature. It's much warmer than the rest of Europe, which is why it's such a popular destination all year round. It's the perfect place for guaranteed sun and good weather. When I visited, the temperature never dropped below 24C, and I never had to check my weather app – each day, I'd wake up to a beam of sunlight coming through my window. Sounds like heaven after the winter we've had, right?
Madeira is a small volcanic island, measuring only 55km in length and just 22km wide. To drive from one end to the other would take less than 4hrs. Don't be discouraged by its relatively small size though – this island really packs a punch. Its unique micro-climate offers a vast level of diversity in landscapes, from black sand beaches to mountain peaks, foggy forests, dramatic cliff drops reminiscent of Hawaii, and the bluest ocean I've ever seen… Need I say more?
By now, you're probably already convinced that Madeira is one the best places to visit in Portugal, and somewhere you need to visit this summer… but we're only just getting started!
In this blog post, I will run you through what to do in Madeira and compile a list of the best places to visit in Madeira. There will be something for every type of traveller:
The best beaches.
The best hikes (Madeira has SO many), it's such an underrated hiking destination).
The best places to stay in Madeira
The best places to eat in Funchal.
There's a reason the Portuguese flock to Madeira on their holidays – it's one of the best places to visit in Portugal, and they know it.
So if you're looking for the top things to do in Madeira, keep reading as I'll be sharing my personal favourites along with the best places to visit in Madeira.
And hey… if I've inspired you to visit, make sure you check out this 7-day itinerary for Madeira to see what your holiday could look like!
Other travel guides you might find useful…




Now let's get to the good stuff… here are 13 of the best things to do in Madeira.
The best things to do in Madeira, Portugal...
1. Catch sunset above the clouds at Pico Ruivo
There's nothing more iconic than climbing to Pico Ruivo, the highest point in Madeira. Being a volcanic island, it's no surprise that tall mountains accompany it, and Pico Ruivo is the pinnacle at 1,862m above sea level. The panoramic views and mesmeric cloud inversions make this hike one of the best things to do in Madeira.
While there are many different routes to the Pico Ruivo summit, the shortest and most popular is just a 6km round-trip that begins at the Achada do Teixeira car park, located high up the mountain. There's a restaurant here if you want to replenish the snacks.
The route is known as the PR1.2 trail, and it's not too steep, with just 260m of incline for the whole hike. The path is well maintained, making it easy to hike in the dark before sunrise or after sunset.
As an eternal sunset lover, I set off a couple of hours before sunset and enjoyed the golden light all the way up, with the final view nothing short of magical. Pico Ruivo is one of the best hikes in Madeira, no doubt!
Now… for the second route up to Pico Ruivo.
Famed as one of the best hikes in Madeira, the PR1 route is known as the Pico to Pico hike. Starting at Pico do Arieiro and traversing the rugged 15km ridgeline that connects to Pico Ruivo. This is such an epic hike that it's not only one of the best things to do in Madeira, but one of the best things to do in Portugal too!
Whichever direction you choose to hike, you'll need to pre-book a taxi to pick you up at the end. Sometimes people forget this small detail on point to point hikes.
I visited both peaks many times but didn't have the legs to tack the Pico to Pico hike myself. However, based on the constant stream of happy faces, I'm sure it's an enjoyable one. Or perhaps it was the sight of their friends waiting with pizza boxes!
Both peaks make the list of best places to visit in Madeira, and the great thing is they're so accessible.
3. Watch the sunrise at Pico do Arieiro
As the third highest peak in Madeira, Pico do Arieiro offers one of the best sunrises views on the island. The drive from the centre of Funchal to Pico do Arieiro is just 30 minutes, and the sunrise is usually around 7:30 am in the summer, so it's barely even an early start. This is one of the top things to do in Madeira, and if you don't believe me check out all of the 5-star reviews on Trip Advisor.
However, the only thing worth mentioning is that due to its accessibility, Pico do Arieiro can get very crowded at sunrise or sunset, so give yourself plenty of time to find a parking spot.
4. Enjoy a sunrise swim at Seixal
You knew my list of what to do in Madeira would include a beach, didn't you? In fact, it includes a few… but let's begin with Seixal.
A sunrise swim at Seixal had to be one of the most memorable moments of the trip and easily deserves a place on this list of the best things to do in Madeira. Seixal beach is one of the few beaches on the island's north-west coast, and it's a special one. This postcard, picture-perfect, black sand beach is one of THE best places to visit in Madeira, and it's the perfect spot for a morning swim.
The beach is pretty small, made even smaller by the ocean cliffs surrounding it, and these Hawaiin-esque backdrops conceal the beach from the main road, making it one of the most secluded spots in Madeira. As far as beaches go, Seixal is definitely one of the best places to visit in Portugal, not just Madeira.
There are a few small hotels and Airbnb's in this area, many of which are within walking distance from the beach, so if you're looking for a quiet spot away from Funchal, then look no further than Seixal. It's one of the best places to stay in Madeira.
If, in the unlikely event you run out of ideas for what to do in Madeira, there are over 25 Levada hikes to keep you busy.
A Levada, or rather, the Levadas, are channels of water that gently slope in and around the forests of Madeira. They bring water from the meandering mountains and act as a natural irrigation system. The Levadas are unique to the laurel forest ecosystem which is unique to the island. This type of vegetation can only be found in three other islands in Europe but Madeira's is the latest in the world, therefore making it a UNESCO World Heritage site. This enchanted evergreen forest draws travellers from all over the world, making it one of the best things to do in Portugal and a must for those visiting Madeira.
Offering stunning views of green lush forests and waterfalls, it's no surprise these walks lead to some of the top places to visit in Madeira.
There's 2,500km worth of Levadas on the island, and so there are plenty of Levada hikes to choose from, but the ones that make the list of best hikes in Madeira are:
Levadas das 25 Fontes
Caldeirao Verde Levada
Levada Faja dos Rodrigues
Lagoa do Vento
Levada do Alecrim
Levada do Moinho
Levada do Rei
The sound of the trickling water while you walk amongst the lush mountain vegetation is almost meditative. Most of the Levada walks are relatively easy, but the more challenging ones like Levadas das 25 Fontes offer even more impressive views. In fact, it's widely agreed this hike is one of the best hikes in Madeira.
Consider hiring a guide or joining a tour if you want to take on the more challenging hikes.
Top tip: Use the WalkMe App to gauge the difficulty, length, and location of hikes in Madeira. This website is a one-stop hub for everything you need to know about hiking in Madeira. Find more useful travel apps here.
6. Soak up the sun on Madeira's beaches
If you google 'what to do in Madeira', I doubt you'll find many articles talking about the beaches… but you know me!
Madeira isn't 'technically' a beach location, but I found that it has a lot more to offer than you might have heard. And as we all know, going to the beach is one of the best things to do in Portugal so it has to be done!
As it's a volcanic island, Madeira's beaches are either black sand or rocky, but there are a handful with the classic golden sand you're looking for. I've compiled a list of my favourite below.
Seixal (black sand)
Praia do Machico (golden sand)
Praia da Prainha (golden sand)
Praia da Calheta (golden sand)
Praia da Formosa (rocky)
Guaraju (rocky)
Praia da Algoa (rocky)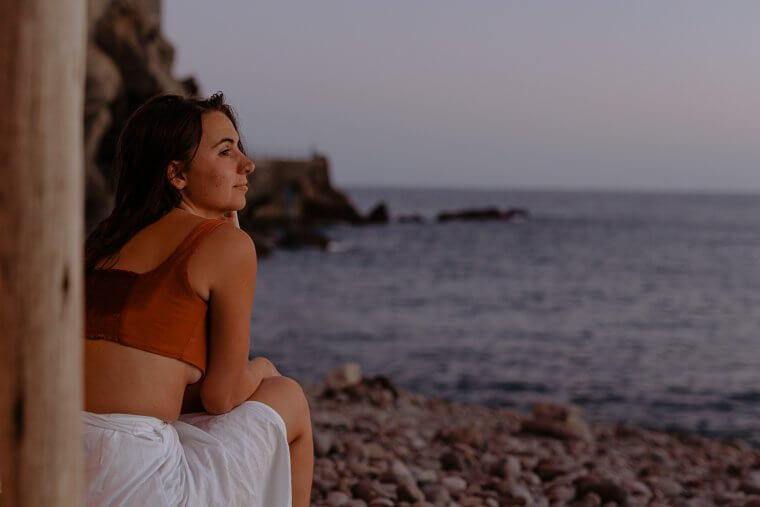 7. Go swimming in the natural rock pools
There's something about natural pools that makes swimming 1000x better. Not to mention when it's on a volcanic island in the middle of the ocean, where the pools are filled with glistening turquoise water.
On the south of the island, near Funchal, Docas do Cavacas rock pools offers a more social spot to swim, with a restaurant and bar often playing Brazilian music. It costs £5 to access, with an additional fee for sunbeds (if you can find one!). This spot is bustling in the summer, so I recommend visiting on a weekday if you want to avoid the crowds.
If boozing it up by a rock pool isn't your jam, then head to the north shore, where you'll find Porto Muniz and Seixal rock pools. These are the two most impressive and definitely high on the list of best places to visit in Madeira.
Porto Moniz is actually home to two rock pools – Piscinas naturais velhas (the old rock pools also known as Cachalote Velhas) and Porto Moniz piscinas naturais (the newer 'official' natural pools). The latter has been privatised, so there's a small entry fee, like those in the south around Funchal and São Martinho.
The official Porto Moniz pools are some-what of a 'beach club meets public pool vibe', with the €1.50 entry fee offering access to showers, changing areas and the sun loungers. These pools lack the natural rocky protection of the old pools, so a lifeguard is always on the lookout for waves rolling in. Swimming here is quite an adventure when the waves are big!
Check the weather before heading to Porto Moniz, as they'll be closed if the swell is too big. You can always visit the old pools next door though. The old natural pools are more popular amongst travellers, in part because they are free but also because of the more 'natural' feel. The rocks aren't painted, and there are no sun loungers, so just pitch up and find a spot to jump on in! Like many pools, they can get crowded, so I'd always recommend getting there early.
I've saved the best for last – Seixal natural rock pools. Located next to Seixal beach, swimming here is one of the top things to do in Madeira.
If you love a good instagrammable spot, then be sure to head to the smaller of the two pools, called Poco das Lesmas. It has an archway where the sun shines through in the morning, creating a beautiful mirror-like reflection… when the water is still.
As my favourite, I'm putting Seixal rock pools on the list as one of the best places to visit in Madeira.
8. Take a sailboat out for sunset
I'm not talking about the party boats, dolphin cruises or around-the-island tours. I'm talking about a private yacht skippered for you while you enjoy dangling your feet off the side of the beat with a glass of prosecco.
This is such a unique experience and by far one of the best things to do in Madeira. Most trips start and finish from Funchal Marina, and the sunset tours are usually private or for small groups, so if you're a group of five, this would be perfect. In terms of cost, they are more expensive than the larger tours but offer a far more intimate experience. Private hire can cost between £300-£600 for the boat.
We had our magical sunset sailing tour with Happy Hour Madeira, founded by two best friends who spent their summers sailing. Alexandre and Luis are ready to welcome you onboard their beautiful yacht, which can accommodate groups of up to 6 people. They'll have a glass of prosecco and small aperitivos ready.
The highlight of this trip was swimming in the impossibly blue water, with nothing but 3000m of ocean beneath.
9. Have a day out in Porto Santo
If you've got this far and you're still looking for what to do in Madeira, then let's get even more adventurous and take a day trip to Porto Santo. This is where many local islanders holiday day to during summer from both Madeira and the Portuguese mainland. And anywhere the locals go, you know as to be good so visiting the island of Porto Santo is one of the best things to do in Portugal.
If you thought Madeira was a small island, well, think again. The neighbouring island of Porto Santo is just 11km long and 6km wide. For context, the airport runway can just about fit across the longest width of the island.
This paradise island is 68km east of Madeira, and I guess it is what Madeira is to the Portuguese – a holiday destination. Even though it has an airport, and the flight is 20 minutes, most travellers choose to take the ferry. For day trips, it's worth taking the earliest ferry in the morning and returning on the latest. You can buy your ferry tickets directly with Porto Santo Line.
The best way to explore the island is on wheels. Be that in a car, a bike, or my personal choice, a mini electric buggy – known as City Bubbles. Your buggy will have GPS and a route already set for you, highlighting all the places worth visiting on the island. It doesn't have enough power for a full lap of the island, but there are many places to charge.
While there's not much room for luggage, whizzing around in a city bubble is one of the most fun things to do in Madeira (Porto Santo).
I recommend heading toward Ponta da Calheta – the most westerly point on the island, where you can park (and charge) your buggy and step onto the most beautiful white sandy beach.
Are you still seeking a bit of adventure? Why not take a sea kayaking tour, exploring the sea caves and hidden coves of Porto Santo's west coast! The tour is about 2 hours, and you can book with Porto Santo Destination Tours for just €25.
If one day at Porto Santo doesn't feel like enough, you can always stay for a night or two. Porto Santo itself is one of the best places to visit in Madeira and one of the best places to visit in Portugal, for that matter, so it's well worth your time if you have it!
10. Take a cable car to a private beach
Madeira is not short of public beaches, but if you're looking for access to a more secluded beach, I've got you covered.
Faja dos Padres beach is only accessible via cable car from the cliffs above, which costs a minimal fee. Once at sea level, the path takes you through a banana plantation archway that opens onto a beautiful quiet beach, albeit a bit rockier than I'm used to. It was still a great spot for a chilled afternoon, with a hint of exclusivity – definitely one of the top things to do in Madeira.
There's one restaurant at the beach, which I'd recommend pre-booking for if you're visiting in the summer as it can get busy. We still managed to show up and get a table, though.
11. Get lost in Fanal Forest
After so much ocean, sand and sea talk, Fanal forest offers a stark comparison for travellers. This moody forest is forever blanketed in a sea of fog, making it exceedingly popular with photographers. It is by far one of the unique places on the island, and based on how many times we returned, I'd say it's another of the top things to do in Madeira.
There are a handful of iconic trees in this forest, shaped in increasingly wonky positions. I challenge you to find the one below.
12. Take the best photograph at Ponta de São Lourenço
Ponta de São Lourenço juts out like a 'dragon's tail' from Madeira's eastern most point. The Vereda da Ponta de São Lourenço hike is one of the most popular hikes on the island and one that offers many stunning viewpoints. It is a 7km route there and back, so it can take up to 3hrs to complete.
Personally, I preferred spending those hours soaking up the sun on Praia da Prainha – a golden sand beach nestled in a bay at the start of the hike.
What Ponta de São Lourenço is most famous for however, is the unique sunrise it can provide. While it can be rare, and we failed to capture it three days in a row, with the right conditions, it is possible to witness sun rays bursting through the cloud in an almost heavenly manor.
13. Dining out in Funchal
I'd be remiss if I didn't write about Funchal in this blog on the best things to do in Madeira. Funchal is the capital, and in fact the only city on the island. However, its beautiful old streets with restaurants sprawled across them make it feel more like a town than a city.
Funchal is one of the best places to stay in Madeira, and where most people will choose to base themselves. It is located 20 minutes from the airport and the aforementioned Ponta de São Lourenço peninsula.
While we chose to stay in the neighbouring São Martinho – the quieter, more upmarket side of Funchal, we still ventured into Funchal countless times to see friends and enjoy the best food on the island. Lovers of fresh fish will have found their home here, but even as a picky vegetarian, I managed to enjoy a lot of good food in Funchal. You've got to try the risotto at Santa Maria!
And that's it folks, all of my suggestions of what to do in Madeira, including the top things to do in Madeira like sailing at sunset, exploring Fanal forest or hiking the Levadas, and of course, where I think are the best places to stay in Madeira.


What are your favourite things to do in Madeira?
Where are your favourite places to visit in Madeira? Anything you'd add to this Madeira guide?
Love as always and happy adventuring…
Did you find this post helpful? I'd love you to share it for me.
Pin and save this blog post for later…