Are you going to Portugal and looking for the best budget-friendly things to do in Porto? Are you considering going on a Portugal road trip itinerary and hoping to see some of the best places to visit in Portugal? Then you're in luck, because these are the 11 best things to do in Porto on a budget.
With its delicious port wine, steep alleys, and colorful Azulejo houses, Porto is one of the most beautiful European cities. Located in the north of Portugal, close to the sea, it's also a great starting point if you're planning a road trip through the gorgeous Portugal.
You can almost be certain that Porto greets you with blue skies and typical Portuguese flair. The alleys smell like sweet pastries and the wind carries a hint of orange blossom.
And the best part of it: There are many budget-friendly things to do in Porto. You don't have to break the bank to have an unforgettable time in the charming city that is home to the famous dessert wine. And in case you may be wondering – yep, even Port wine can be tried on a budget.
This blogpost will highlight all of the best budget-friendly things to do in Porto and free things to do in Porto, as well as the best places to visit in Porto and the best adventures to go on. We've even got some budget travel tips, and advice on when to visit Porto and how to get to Porto. This is the blog post for you whether or not you are looking for the best beaches in Portugal, the best places to visit in Portugal, or the next destination for your Portugal road trip.
So what are we waiting for? Let's dive right into it.
Other travel guides you might find useful…


How to get to Porto…
Porto has its own airport, so you can get there pretty easily. So here comes the first budget-friendly tip: Take the metro to reach the city center from the airport. It's only 2 euros, and much cheaper than taking a taxi!
In case you're living in Europe, or you want to visit Porto as part of a Portugal road trip, you can also drive there. The city is surrounded by amazing countryside, such as the Duoro Valley. So there's plenty to see on the way. You can reach Porto in just 2 hours by car from the Spanish border.
Eventually, arriving at Porto's stunningly beautiful São Bento train station is also a very special experience. But we'll get to that in a bit…
The best time to visit Porto…
You might be wondering when to visit Porto. As a city in a southern European country, the best time to visit Porto is best visited in spring from March to May or in autumn from September to October. During the summer months, it can be extremely hot and in winter a bit cold due to the sea breeze.


Now let's get to the main reason we are all here… here are 11 of the best things to do in Porto on a budget.
The best budget-friendly things to do in Porto, Portugal...
1. Walk across the bridge Dom Luís I
Taking a walk across the scenic bridge that connects Porto's center to Vila Nova de Gaia is a must while you're in Porto. So it takes the well-deserved lead among the budget-friendly things to do in Porto.
You can cross the massive bridge on foot, by taking the tram, and even by car. Although it may be quite a challenge if you're scared of heights, the view from the top is so worth it! From up there you can watch the river flowing into the sea, Porto's hilly neighborhoods, and the other bridges outside of town.
Fun fact: Did you know that the bridge has a famous relative? When you look at it, you may realize similarities to another massive metal monument. Yep, the Eiffel Tower in Paris! Ponte Dom Luís I is actually the result of one of Eiffel's students' designs.
2. Visit São Bento train station
Even though Europe has several impressive train stations, Porto's São Bento is definitely among the most beautiful.
Thousands of typical blue-white painted Portuguese tiles, the so-called Azulejos, cover the gorgeous entrance hall. With this art, the walls tell a story about important moments in the history of Portugal.
To admire the art you only have to enter the entrance hall. As you don't have to buy a ticket, in order to see it, it's one of the best free things to do in Porto.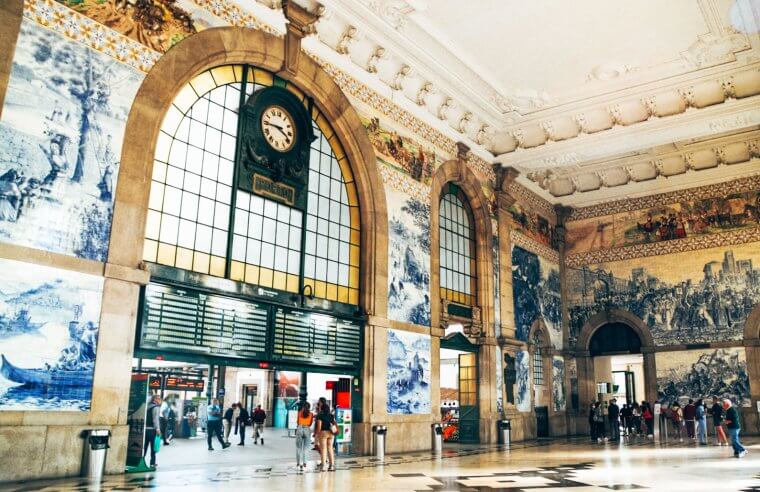 3. Enjoy a budget-friendly port wine cellar tour
What's the first thing that comes to your mind when you think of Porto? Probably Port wine! So what would be a trip to Porto without Port wine?
That's why many port wine producers offer wine tastings and cellar tours. And they aren't even expensive. For only 15 Euros, you can join a port wine cellar tour followed by a small tasting of three wines. This is one of the best things to do in Porto on a budget!
Even better if you're travelling on a shoestring and you're looking for free things to do in Porto, a few cellars offer tours and tastings for free. Just walk along the riverfront in Vila Nova de Gaia and choose the free tour that sounds the best to you.
4. Enjoy the riverfront views from Vila Nova de Gaia
Porto's neighboring municipality Vila Nova de Gaia is right across the river Duoro. As both municipalities have grown together, they seem like one large city and you can easily walk from one to the other. Just officially, they are separate.
Vila Nova de Gaia is the best spot to catch the nicest view of Porto's colorful riverfront with its lively cafes, street musicians, and traditional wooden boats. So it's also the place to go to get a great shot of Porto. Just find a nice spot along the river where you can sit down, enjoy the sun on your skin and watch the hustle and bustle along the river.
Besides, a great viewpoint you can easily walk up to is Mirador do Serra do Pilar. Yay, another tip on what to do in Porto for free!
Every time you pass by a bakery in Porto, the smell of buttery pastry will sneak into your nose. If that already makes your mouth water, wait until you try them!
Pasteis De Nata are the typical Portuguese egg tarts. They're like small puff pastry tarts with a creamy filling, baked in the oven until their tops sizzle. While they're traditionally a breakfast, you can have them any time of the day! Usually, they cost only between 1 – 2 Euros. So why not have two? They're so cheap that even if you're looking for budget friendly things to do in Porto, you can treat yourself!
Also, in many bakeries and pastry shops, you can even watch Portuguese specialists preparing the tarts.
6. Take a free walking tour
Whenever I'm in a new city, I love joining a walking tour. It's the best way to explore the place on foot, get the best insights from locals, and learn about the city's history. And you simply come across hidden corners that would never find yourself.
In case you don't know the concept of a free walking tour, here's how it works: You can book a spot for free, take the tour and afterward pay the amount you think the tour was worth. So, it's not really free, but you have more control over what you can afford to pay!
In Porto, there are several tour operators offering free walking tours. So check out the reviews and select the one you like the most, so that you can enjoy one of the best budget-friendly things to do in Porto!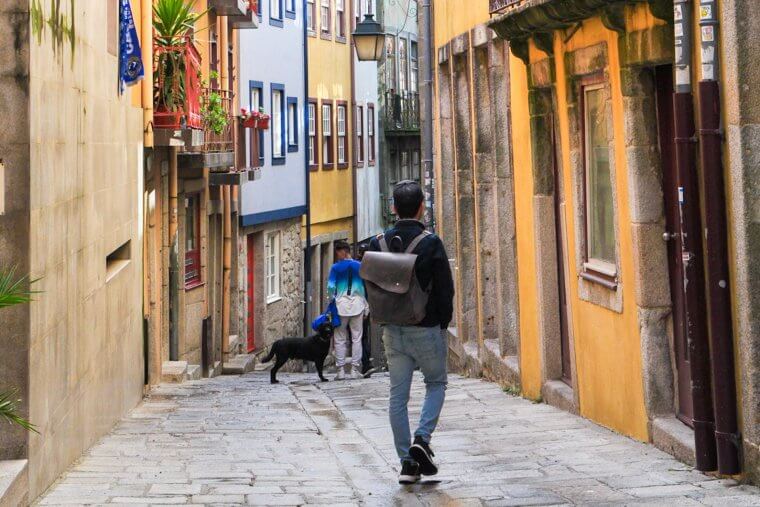 7. Ride the historic tram
Historic trams are a thing in Portugal. You may have heard of the ones in Lisbon that resemble San Francisco's steep tram lines.
While there are also some hills in Porto, it's by far not as steep as Lisbon. Still, you can see old, wooden tram carriages taking locals as well as visitors across the city. A tram ride is quite cheap, and it can even take you to the sea for just 3,50 Euros.
If you're curious about riding the historic tram to the sea, check out this post with more details on a long weekend in Porto.
8. Spend a day by the sea
Because Portugal is quite a small country, you're never really far from the sea. And in Porto, you're super close.
You can enter the beach for free, and there are many ways how you can reach it. Besides the historic tram, there are also several bus lines connecting Porto's city center with the beach. You can also rent bikes for a scenic ride along the river until you reach the sea.
Enjoy the Atlantic Ocean's breeze dancing around your nose and feel the freedom of being on vacation! During summer, don't miss bringing a towel and jumping into the water. Portuguese summers can get really hot, so a day by the beach sounds just right, don't you think?
9. Visit museums for free on Sunday morning
If you're here on a Sunday and you're looking for cheap things to do in Porto, don't miss visiting one of Porto's museums. Even though some of them are fairly pricey on weekdays, on Sunday mornings until 2 p.m. you can visit all national museums for free.
And there's a great variety of museums, such as the Soares dos Reis National Museum, the Tram Museum, and the Photography Museum.
So enjoy some culture before moving on to some more budget-friendly things to do in Porto in the afternoon. In case you already have plans for Sunday morning, don't worry. The Port Wine Museum and the Casa do Infante are free all weekend.
10. Climb up the iconic Barredo stairs
By now you know: The city of Porto is hilly! So when you're strolling around, you always come across some hills to walk up and down, or some stairs to climb.
Among the nicest routes are the Barredo stairs that connect the lovely Ribeira neighborhood and the upper part of Porto's center.
Over here, you're right in one of Porto's oldest neighborhoods. So there's a lot to see when you take a look around. Besides, it's a very authentic area where you can get an idea of how Porto's elderly inhabitants live. Always look out for the colorful Azulejo tiles decorating the pretty houses. Such a beautiful photo motive!
11. Visit the Duoro Valley
If you've got enough time, don't miss a day trip to the Duoro Valley, where the grapes of the famous Port wine grow. It's an extremely picturesque landscape, as the river Duoro waves right through the valley.
You need a rental car to get there, but there are so many viewpoints that you can visit for free that offer spectacular views across the wine grapes, the river and some of the wineries. Already the ride along the riverbank is worth it. So don't miss it!
Don't forget that there are lots more tips for travelling in Porto over on jillonjourney.com!


What are your favourite cheap things to do in Porto?
Have you been to Porto before? Any tips for travelling Porto on a budget that you'd add?
Love as always and happy adventuring…
Did you find this post helpful? I'd love you to share it for me.
Pin and save this blog post for later…