In the last few months, I embarked on a wild cross-country road trip through North America, and along the way, I found myself in the untamed landscapes of Utah. Truth be told, before arriving, I had pretty low expectations of this seemingly desolate interior state. All I knew about Utah was that it was home to Red Bull Rampage, vast desert landscapes and Mormons. It didn't take long for me to realise my ignorance and that there were, in fact, plenty of incredible things to see and do in Utah.
In the month I spent here, I was lucky enough to get a taste of the diverse beauty this strange, middle-of-nowhere state has to offer. While I wouldn't recommend the coffee (Mormons do not drink coffee, so finding a good cup is a serious challenge!) – mountain biking among the mesas, skiing in two feet of bottomless powder in the mountains outside Salt Lake City and driving through the moon-like desert landscapes in the south, have become some of the highlights of my American road trip. As it turns out, there is plenty of incredible things to do in Utah.
Other blog posts you might enjoy: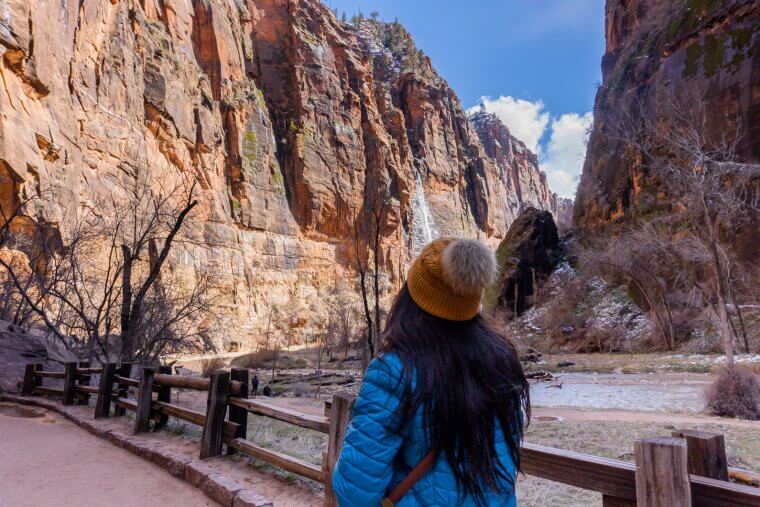 Why should you visit Utah?
Whether you are looking to explore stunning national parks, trek through rugged hiking trails or adventure on the mountains in winter – there's no shortage of outdoor adventure to be found in Utah. If that wasn't enough, Utah boasts a rich history and cultural heritage on display in the iconic Zion National Park and the stunning petroglyphs in Capitol Reef National Park. Last but certainly not least, Utah is a visual smorgasbord. Home to a unique and diverse landscape, there is some kind of magic in this iron-rich, red soil. From towering snowy capped mountains to deep red Navajo rock formations and hot springs, there is no shortage of natural wonders on display in Utah.
In this guide, I will explore the best things to do in Utah, including hiking trails, national parks, scenic drives, and more (encompassing both the best things to do in Utah in the summer and the best things to do in Utah in the winter). Whether you're a thrill-seeker looking for an adrenaline rush or a history buff interested in exploring Utah's past, there is something for everyone to enjoy in this scenic state.
Getting to Utah and around Utah
Utah is big – around 84,899 miles squared big, to be exact. While getting around Salt Lake City and to the local attractions (such as the local ski hills) is possible by transport, many of the best things to do in Utah outside of this city hub are only accessible by car. As such, if you are planning an adventure to explore the best things to do in Utah, I would recommend bringing your own car or hiring a rental car for your trip.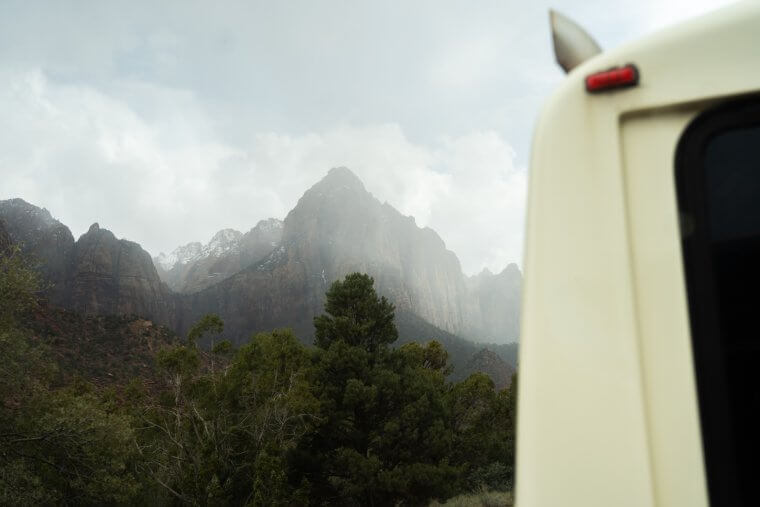 What are the best things to see and do in Utah?
Skiing is easily one of the best things to do in Utah in the winter months. Utah ski season runs between December and April, and there are plenty of stunning resorts to check out. In fact, I would say this is one of the best places to go skiing if you are looking to experience a wide variety of resorts, as there is a high concentration of resorts in a relatively small area. Here are a few of my favourites that I visited during my time in Utah:
Alta and Snowbird
When I first was looking to ski in Utah, I presumed 'Alta Snowbird' was one ski hill. As it turns out, they are not. Snowbird has some of the most diverse terrain and is perfect for intermediate riders and advanced explorers. Alta is the sister mountain to Snowbird and is divided by a ridgeline off the back of Mineral Basin on Snowbird. If you have a dual pass, you can easily access both… only if you are a skier. Yes – you did read that correctly. Alta is one of a few mountain resorts in the states that prohibits snowboarders. Overall this mountain has a really laid-back vibe, and everyone is super friendly. Is this specifically a skier thing? I can't be sure. All I know is that skiing at Alta was an incredibly peaceful day on the slopes and one of the top things to do in Salt Lake, Utah.
Solitude and Brighton
Solitude and Brighton resorts are another set of sister mountains located a short 30-minute drive from Salt Lake City in Utah – making them easily one of the top things to do in Salt Lake, Utah. Unlike the other sister resorts in the area, these welcome skiers and snowboarders alike. Solitude offers some fantastic opportunities for advanced riders to explore the 'steep and deep' terrain, while Brighton is perfect for beginners finding their feet on the snow.
Deer Valley and Park City
While Park City and Deer Valley are not directly accessible from one another, they do share a ski area and are just a few minutes from one another. Just 40 minutes outside of Salt Lake City, Park City is a little more laid-back, while Deer Valley is a little higher end and is another one of the exclusive 'skier only' resorts.
Overall, Utah has plenty of incredible resorts, and regardless of which you choose, riding on these picturesque mountains is hands down one of the best things to do in Utah in the winter.
2. Enjoy a buffet breakfast at Deer Valley
Deer Valley is a great ski resort to visit, but this particular resort deserves its own place on the 'best things to do in Utah' for its food scene. This high-end resort caters to its wealthy clientele by providing an on-mountain experience like no other. If you are exploring the Park City region, do not miss the chance to dine at Deer Valley.
My top pick for the best dining experience is tucked away in the Stein Erikson Lodge overlooking the mid-station of Deer Valley. The on-site restaurant, the picturesque Glitretind Restaurant, is home to one of the perfect intersect of fresh, delicious buffet's for a great price of $25 USD. While visiting, I had this buffet not once but twice! This was the perfect mid-morning ski break – each time just as good as the last. This brunch is one of the best things to do in Deer Valley, Utah and easily one of the best things to do in Utah in the winter.
Utah is home to some of the world's most renowned biking, including the yearly competition Red Bull Rampage held just outside Virgin, Utah. Mountain bikers can expect a range of terrain, including rock, dirt and sand, all the while pedalling to a view of panoramic views of the surrounding mesa formations and mountain ranges. Mountain biking is hands-down one of the best things to do in Utah in the summer.
One of my favourite trails was the Bull Run trail in the Mag Seven area, just outside Moab. This trail was the perfect mix of stunning vistas and flowy berms and easily one of the best things to Moab, Utah. Whether you are looking for the best things to do near Hurricane, Utah or the top things to do near Moab, Utah – be sure to add mountain biking to the list.
4. Visit Zion National Park
Zion National Park is best known for being Utah's first national park, and it has to be up there as the most serene! When I arrived, we parked up in the main lot and made our way to the buses (which run on select days). The bus toured alongside weeping rock, past the winding switchbacks of Angels Landing and down to the watery paths of the Narrows.
On this particular day, the Narrows were closed due to high rainfall a few days prior, so we settled for a walk to view the entrance. If the Narrows hike is on your bucket list, then be sure to watch the weather and check for any updates on the Zion website prior to arrival. For this reason, I would say Zion is one of the best things to do in Utah in the summer when the rainfall is at its lowest.
If you are looking for the best Utah national parks to visit on your upcoming trip, Bryce Canyon deserves a place on your list. This sprawling reserve is best known for its spire-shaped rock formations, spanning as far as the eye can see. When it comes to the best things to do in Bryce Canyon, Utah – I would recommend checking out the Bryce Amphitheatre, driving the scenic drive, and enjoying a day hike among the spires.
While this park is accessible during the winter months, many of the hiking trails are closed. As such, if you are looking to explore the very best things to do in Bryce Canyon, Utah – I would recommend visiting in the warmer months, earlier in the day, when you are able to experience these beautiful formations both from the viewpoints and the hiking trails. Bryce would absolutely be on my list of the best things to do in Utah in the summer.
6. Fifth Water Hot Springs
Utah hot springs are wild and magical in all the best ways. There are plenty of hot springs to explore, but my favourite by far was Fifth Water Hot Springs. These springs are tucked away outside Salt Lake City and are only accessible with an hour-and-a-half hike. When we first pulled in, there were plenty of cars in the car park, and I was a little worried that they would be too crowded. But luckily, everyone hikes at their own pace, and there are plenty of hot pools to go around!
After packing your bag with snacks, water, swimmers and a towel and putting on your best walking shoes (that you don't mind getting muddy!) – it's time to get on the trail. In winter, there is an additional few kilometres that you will have to walk to access the start of the trail. However, there is plenty of signage so you won't miss it. The hike winds its way up the mountain and up through the trees. Eventually, the trail will wind alongside a creek, and when you smell the sulphur, you know you are getting close. Here you will find several natural 'hot tubs' surrounded by stunning mountainscapes and lush bushland. I spent the morning hopping from pool to pool, working up a sweat in the more temperate baths and then cooling off on a nearby rock or a cooler spring further downstream. Whether you are looking for things to do near Salt Lake City, outdoor activities in Utah or just want to check out some of the best Utah attractions, Fifth Water Hot Springs should be on your list. While this is often ranked as one of the best things to do in Utah in summer, I would say it's even better in the winter with a stunning blanket of snow and fewer crowds.
7. Drive through Capitol Reef National Park
The Freemont Street Experience is another one of the best free things to do in Vegas and a sight not to be missed.
Unlike most of the other big experiences, Fremont Street is tucked away in Downtown Vegas – around 20-25 minutes from the main part of the strip, where you will find the Bellagio and others. Here you can take flight on the SlotZilla Zipline, treat yourself to the Downtown dining, and marvel at the street acts and concerts. The most interesting part for me was the Viva Vision Light show.
There is a giant screen that runs down the length of Freemont Street, which comes alive with a light show featuring anything from intergalactic scapes to themed shows (I was there on St Patricks Day, and so it was dancing with pots of gold, rainbows and four-leaved clovers!).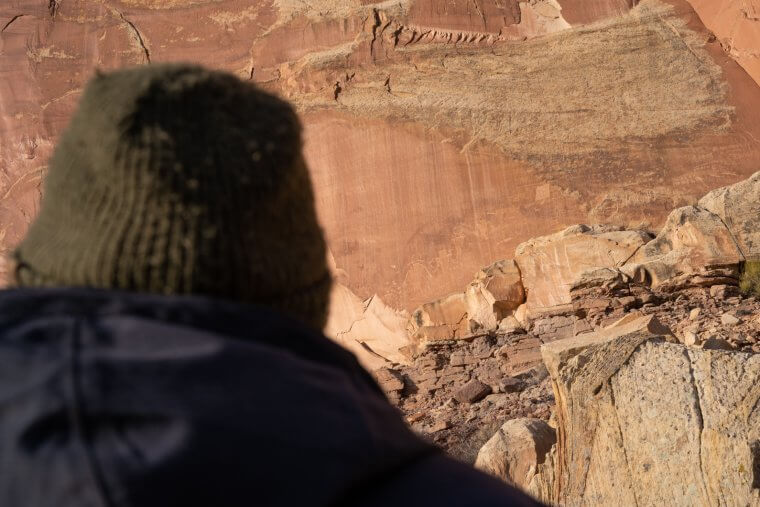 Are there any other best things to do in Utah that you would add to this Utah travel guide?
Love as always and happy adventuring…

Did you find this post helpful? I'd love you to share it for me.
Pin and save this blog post for later…