Amsterdam is one of those cities where you could go back a hundred times, and you'd still find things that are new and things that have changed. It's an ever-changing, ever-growing metropolis that always has more to offer. You can never get bored there, even if you've spent a lot of time seeing the landmarks, doing day trips from Amsterdam, going for brunch in Amsterdam, and enjoying the nightlife Amsterdam has to offer.
Check out my complete guide to exploring Amsterdam here.
However, as I found out on my 4-day road trip in the Netherlands, there is so much more to the Netherlands than Amsterdam. Sure, it's a great city, but while you're there you should take advantage of the transport hub that Amsterdam is and see more of the Netherlands. Amsterdam is fairly central in this small country, in that it only takes about 4 hours to reach most destinations in the country.
One of the best things to do in the Netherlands is to hop in a car or on a train and explore more cities! In this blog post we will look at the best day trips from Amsterdam, including day trips with less than 30 minutes of travel, international day trips, and everything in between!
I've calculated the travel time for these day trips from Amsterdam based on using public transport from central Amsterdam. You can check the best routes based on where your accommodation is using Citymapper. For more useful travel apps to put on your phone, check out this blog post. However all these destinations are also accessible by car (and that may cut your travel time significantly). Weigh up the cost of renting a car (compared to relatively cheap public transport) and the flexibility you get with a car and decide which transport you'd prefer!


The 28 best day trips from Amsterdam...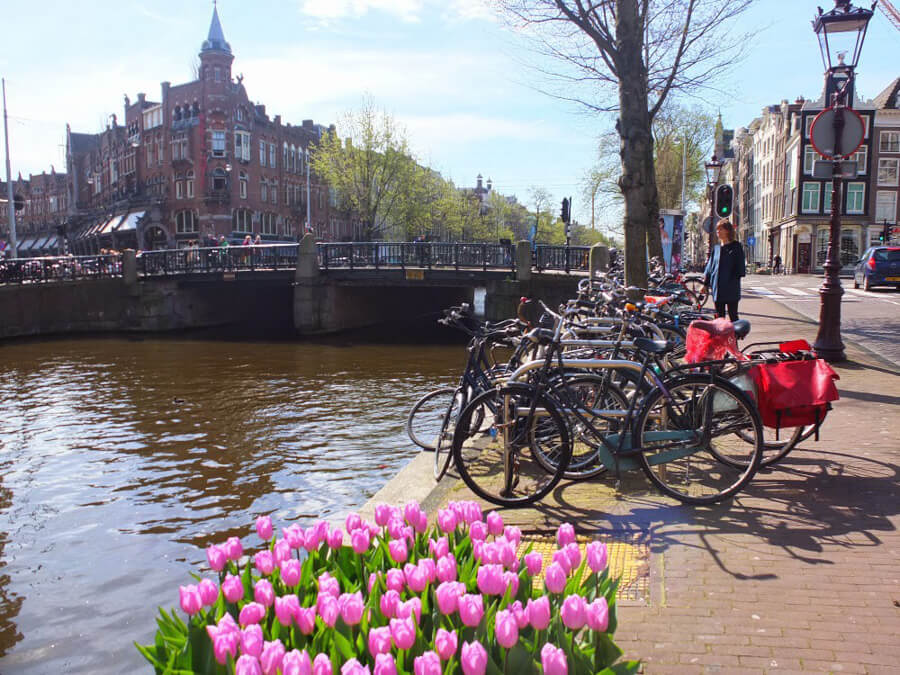 Day trips less than 30 minutes from Amsterdam...
Known for being a 'typically Dutch' village, and one of the cleanest villages in the Netherlands. Take in the pastel-coloured wooden houses as you canoe through the canals or hike through the surrounding hills. The village itself is quite small and could be easily combined with a trip to Volendam or Edam, which are on the same bus route.
This small village is so picturesque it could be a postcard. Visit the working windmills, go cheese-tasting and visit the clog workshop. The village itself is quite small and could be easily combined with a trip to other villages on the east coast such as Broek in Waterland, Edam, Volendam and/or Marken.
Haarlem is one of the most popular day trips from Amsterdam and it's easy to see why. It's much less crowded and touristy than Amsterdam, and you can easily spend a whole day wandering the cobbled streets, dipping in and out of cafes, museums and even a windmill.
Just around the corner from Haarlem is Zaandfort An Zee, aka Zaandfort beach! If you're visiting Amsterdam in summer this is the perfect place to kick back and relax under the sun. Zaandfort is also surrounded by dunes, which you can explore on foot or by bike.
Top tip
If you want to combine your trip to Haarlem with your trip to Zaandfort, use bus 80 (20 minutes) or the train (10 minutes) to travel between the two towns.
I last went to Utrecht as part of my Netherlands road trip. Famous for its iconic 15th century Dom Tower, it's very clear why people love this city in the Netherlands and why it's one of the best day trips from Amsterdam. The completely pedestrianised city centre is surrounded by a beautiful canal and full of gorgeous cafes, bars, shops and bakeries. As well as enjoying the canal-side dining experience, you can explore the canal by electric boat, check out the Saturday flower market, go up the Dom Tower and explore the city centre and surrounding area by bike. Utrecht is so close to Amsterdam so it's perfect for a day trip, but I think it would be an awesome overnight stay too!
See what I did in Utrecht during my Netherlands road trip here.
Although Volendam can be quite touristy, it's a good place to visit if you want to experience somewhere quintessentially Dutch. In this old fishing village you'll see wooden houses and traditional clothing, as well as have the chance to tour the coast by boat.
If you want, combine your trip to Volendam with a trip to Broek in Waterland and/or Edam, which are also on the 316 bus line. Marken is also not that far, and you get there by boat across Markermeer Lake!
If you like cheese you cannot miss this Dutch town! As well as Edam cheese-sampling, you can explore the surrounding countryside, take a boat tour through the canals and camp on Edam's coastline. In summer, don't miss the cheese festival which happens every Wednesday in July and August: you'll see huge golden cheese wheels and locals in traditional dress.
If you want, combine your trip to Edam with a trip to Broek in Waterland and/or Volendam, which are also on the 316 bus line.
Until 1957, Marken was an island. It's since been connected to the mainland, but it's still idyllic. From unique timber houses on stilts (to prevent flooding), to a beautiful harbour, it's the perfect Dutch town for a meader round. From Marken you can get the boat across Markermeer Lake to Volendam to continue your trip, or visit the nearby Edam or Hoorn.


Day trips less than an hour from Amsterdam...
Hoorn is well known for its international trade history. While you're here you're bound to fall in love with the traditional architecture, gorgeous canals, unique history, stunning harbour and wonderful old town.
Alkmaar is known as the city of cheese, but it has a lot more than that to offer. As well as cheese-tasting at the cheese market (kaasmarkt), soak up the beautiful architecture as you wander around the old town and enjoy a coffee on one of the many terraces.
Amersfoort is a city in its own right, but when I visited it felt like a tiny village. Of course, as in much of the Netherlands, you have the canals running through the city. What captivated me more, however, was the medieval city wall that ran around the outside of the city. The character it held within its bricks and castle-style entrances made it feel like I'd stepped into a fairytale.
See what I did in Amersfoort during my Netherlands road trip here.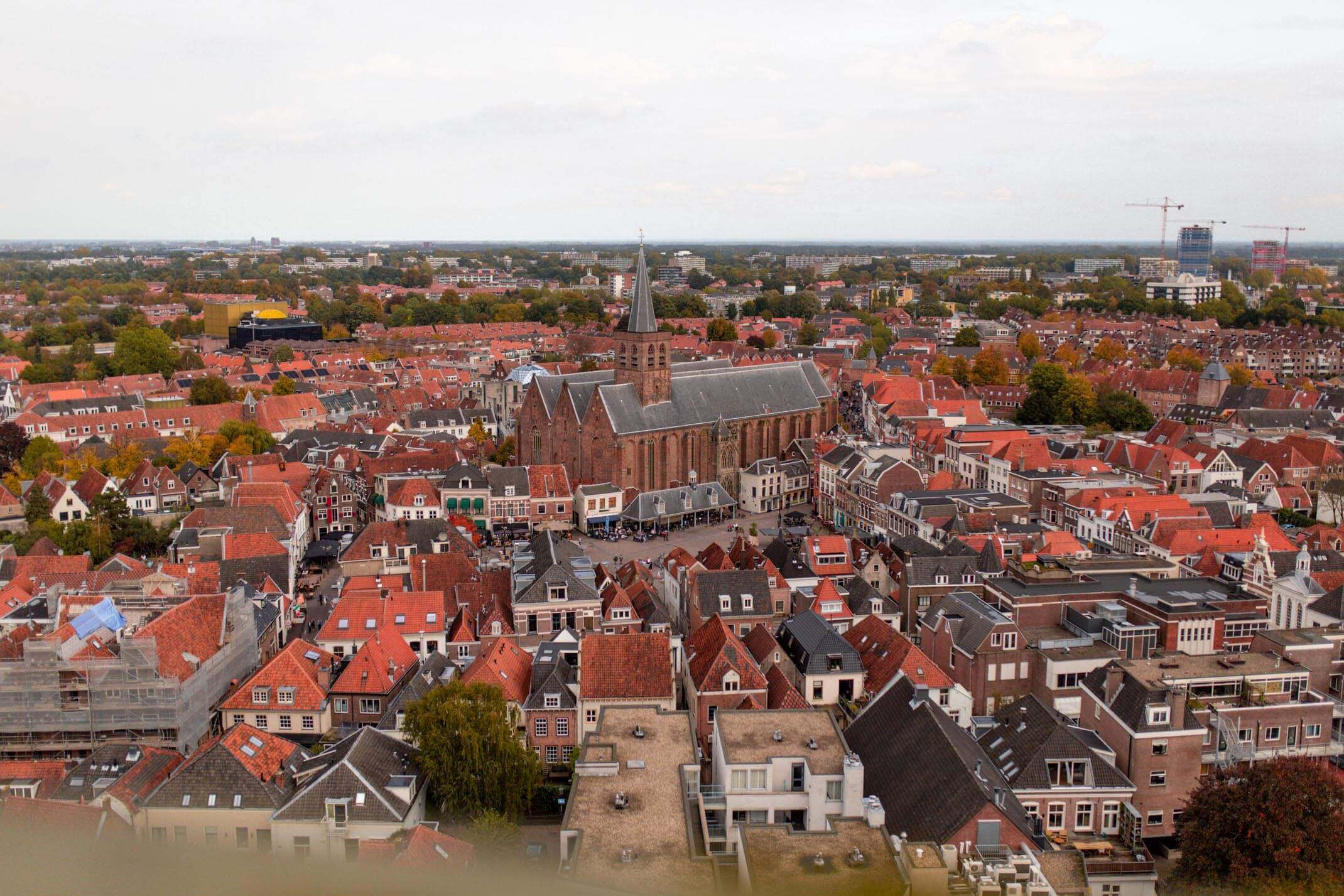 Leiden is famous for its university (and therefore nightlife) and the De Valk windmill, its most famous landmark. As in many other cities in the Netherlands the city is centred around its canal network. Don't miss the market, every Wednesday and Saturday in Leiden city centre. While you're in Leiden, you can download the free 'Leiden Loop' app to step back in time and enjoy a free historical tour of the city.
Much larger than any of the markets in London, Beverwijk Bazaar is the largest covered market in Europe. Camden market is a miniature version of Beverwijk: expect multicultural cuisine and restaurants, fresh flowers, souvenirs, beauty parlours, technology hubs, clothing, shoes and more, all under one roof. Don't expect to see all of the bazaar in one day; you may need a second trip, it's that big!
Open Saturday and Sunday 8:30 – 18:00.
Rotterdam is Europe's biggest port and the Netherlands' second largest city, and it's certainly an up-and-coming place to visit. From free outdoor art galleries to mind-blowing markets, modern cocktail bars to a floating farm, forest and pavilion, Rotterdam is certainly a unique city to visit and one that should be high up your Netherlands bucket list.
What could be gouda than a day full of cheese? A day trip to Gouda is just what you need if you're a big cheese fan. After filling your tummy at the cheese market, you can wander along the canals, check out the historic Red Lion Windmill, and then give into the temptation of stroopwafels.
16. The Hague and Scheveningen
From kite-surfing in Scheveningen and then watching the sunset, to exploring the landmarks in The Hague by bike (museums, miniature models of the Netherlands, the Binnenhof and more!), there's plenty to do in this city-seaside resort combination. Just an hour outside of Amsterdam, a day trip to The Hague and Scheveningen really gives you the best of both worlds: city life and beach life!
See what I did in The Hague and in Scheveningen during my Netherlands road trip here.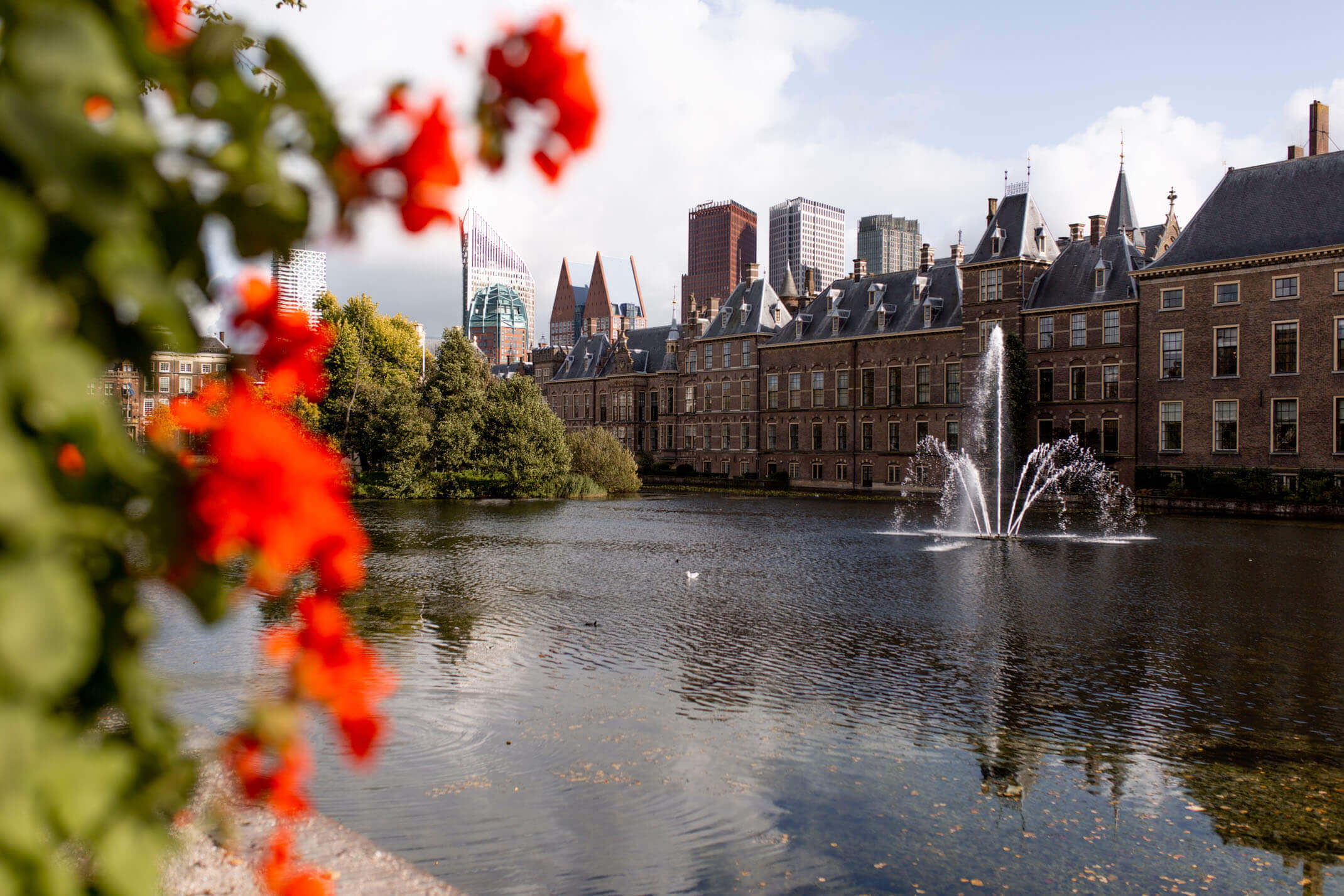 Day trips less than two hours from Amsterdam...
Delft is the perfect place for a day trip from Amsterdam. In this up-and-coming city expect to find cool cafes, designer shops, craft beers, picturesque canals and bakeries whose sweet smells keep you wanting more. It's also full of history and beautiful architecture; make sure you visit the Oude Kerk (old church) and the Nieuwe Kerk (new church). If you're looking for souvenirs from the Netherlands, the famous blue and white Delft pottery is perfect for taking a piece of your adventure home.
18. Bollenstreek: the flower-bulb region
Best visited in Spring during tulip season, Bollenstreek is the name of the flower-bulb region just outside of Amsterdam. Whether you want to hike in the countryside, cycle the paths around the flower fields, take beautiful flowery photos or enjoy a coffee or a drink at a cafe in one of the flower villages, Bollenstreek has it all. If you're looking for the best places to see tulips near Amsterdam, take your pick from one of these 5 tulip hotspots: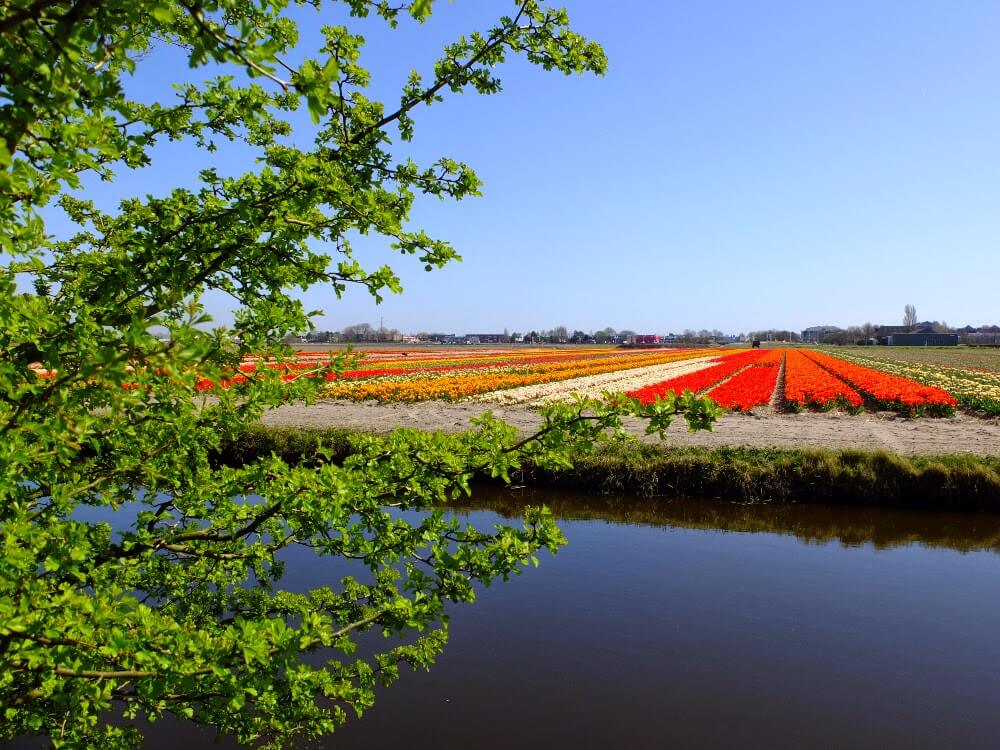 Don't miss Bloemencorso Bollenstreek, the annual flower parade, in mid-April. Hundreds of flower floats take on a 42km itinerary from Noordwijk to Haarlem.
You could even combine your trip to Bollenstreek with a trip to the nearby seaside resorts of Noordwijk or Zaandfort, or the cities of Haarlem or Leiden.
Top tip
If you're short on time, consider renting a car to visit the Dutch tulips. The flower fields are only 30 minutes out of Amsterdam city centre by car, and you'll see a lot more of the region if you can drive from field to field or village to village!
Known as the Venice of the Netherlands, this piece of paradise is just 90 minutes from Amsterdam city centre. Parts of Zeeland and Holland flooded in 1421, creating the island that it is today. Although you can get to Dordrecht by train, car or bus, you can also get the traditional boat across from Rotterdam. While in Dordrecht, enjoy quaint alleyways, painted factories, little independent shops, beautiful canals (of course) and more.
An underdog when it comes to Dutch cities, but a great stop off on your way to Giethoorn (keep reading). Churches, museums, canals, a monastery and a beautiful city park offer a welcome break from the hustle and bustle of Amsterdam.


Day trips two hours or more from Amsterdam...
You could argue that some of these destinations are slightly too far for a day trip, but if you're willing to have a long day, these day trips from Amsterdam are worth the journey! If not, you could do an overnight stay. Get up to £40 off your first Airbnb booking here.
Immerse yourself in a new world at Kasteel de Haar. Surround yourself with beautiful architecture, exquisite gardens, deer, flowers and exhibitions; every detail has its own story. This medieval fortress is the largest castle in the Netherlands.
Top tip
Despite taking much longer to get to, you have to go through Utrecht to get to Kasteel de Haar, and so you could easily combine these into one day trip.
This UNESCO world heritage site features the Kinderdijk windmills, some of the most famous and most photographed windmills in the world. There are 19 windmills on the site, and you can visit two of them inside. The site is huge and can be explored on foot, by bike or by boat.
Giethoorn isn't the easiest to get to by public transport (you halve your travel time if you drive) but it's one of the prettiest villages in the Netherlands, so well worth the journey. A lot of the village can only be accessed on foot or by boat, making it the perfect nature day out away from the city. It'll feel like you've taken a step back in time as you punt on the river, look at the thatched cottages and cross some of the 180 bridges that are in the village.
If you do decide to get the train, you go through Zwolle, so you could combine these both into one day trip.
Top tip
Giethoorn is much easier to get to if you have a car; driving, it only takes 90 mins. Worth considering!


International day trips from Amsterdam...
Well known for its fantastic museums and galleries, as well as its beautiful architecture, make sure you don't miss visiting the chocolate museum or climbing the stairs at Cologne Cathedral during your day trip from Amsterdam. You can also enjoy the sunset on the Rhine river and spend hours exploring the colourful old town.
Cologne have some pretty good Christmas markets if you wanted to turn your trip into a multi-city Christmas market road trip! Check out my Christmas market road trip itinerary here.
According to the locals, Antwerp is the best city in the country. It's the city where you can be anyone and do anything: enjoy fine dining or eat for a couple of euros when you're backpacking; enjoy the culture and the architecture by day and party by night. It also has a great music scene with plenty of venues for live gigs.
I really enjoyed my day trip to Ghent, and would go back in a heartbeat. From the medieval architecture to the beautiful canals and stunning street art, not to mention the Belgian food and beer that is on offer across the country. The Gravensteen is particularly beautiful!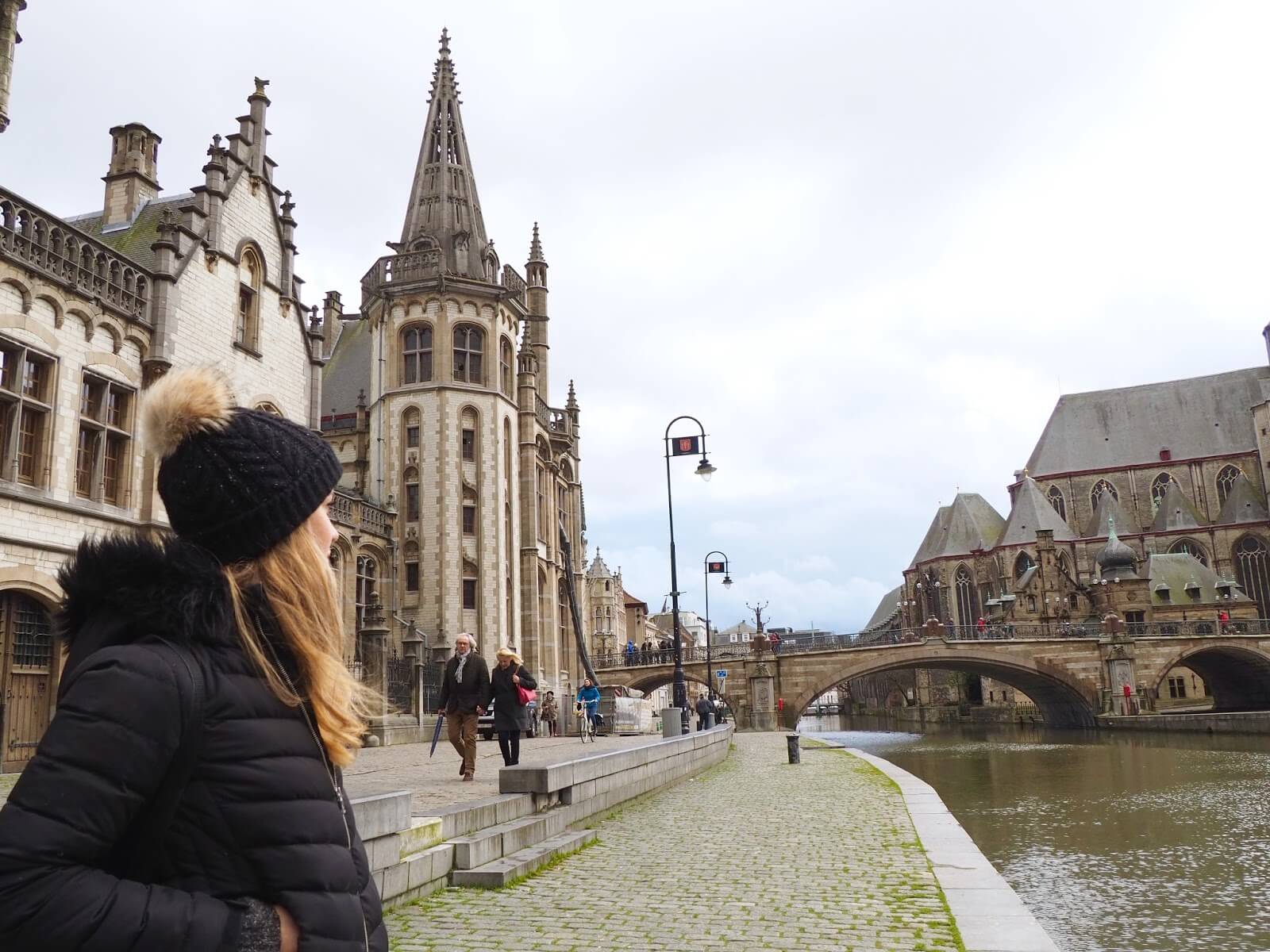 This quaint city is quite far from Amsterdam for a day trip, but doable if you're up for an early start and a late night. Having said that, I loved my day trip to Bruges and wish I could have stayed overnight! From trying the best Belgian hot chocolate to exploring the cobbled streets and canal, it doesn't feel worlds away from Amsterdam, even though you've crossed the border.


Have you been on a day trip from Amsterdam?
Where are your favourite day trips from Amsterdam? Anywhere you'd add?
Love as always and happy adventuring,


Did you find this post helpful? I'd love you to share it for me.
Pin and save this blog post for later…