If you're planning a trip to Scotland and are wondering what your Scotland road trip could look like or what you should do with your time there, you've arrived at the right blog post. In this blog post, I am going to share a 10-day west Scotland road trip itinerary with you, jam-packed with all the best adventure on offer in this beautiful country.
Whether you're coming from London, Scotland or somewhere else in the UK, this 10-day west Scotland road trip is perfect for those who want a real taste for what Scotland has to offer. From the beautiful white sand beaches of Arisaig and Morar to the swiss-like valley of Glen Etive, this 10-day road trip is for travellers truly looking to escape the city.
I will be taking adventures from my best places to visit in Scotland blog post and plotting them on a route that will take you on an epic west Scotland road trip. It will encompass all of the adventures I've been on in Scotland and more: visiting the Isle of Skye, spending time in Loch Lomond National Park, exploring Fort William and swimming in all the lochs!
Of course, this west Scotland road trip itinerary is going to assume you have a car with you. I'm not sure it would be of any use for me to write an itinerary for you whilst staying at your hotel lol. However, if you have booked to stay in one place during your time in west Scotland, you may want to use this post to inspire a day trip in west Scotland or to add an extension to your existing booking.
If like me, you are planning to drive from England to begin your road trip, you can check out my top tips for your Scotland road trip and my Scotland road trip planning guide.
After all, road trips are the best!
Other blog posts you might find useful…



A 10-day road trip itinerary for west Scotland...
I'm going to begin this west Scotland road trip in Loch Lomond and the Trossachs National Park, travel north and then back south, ending this road trip itinerary in Oban. It would be easy to turn this into a loop and drive back to Loch Lomond at the end of the last day, though.
If you're flying into Scotland then you're likely to be flying into Edinburgh, which is only 2 hours from Loch Lomond. If like me, you are planning to drive from England to begin your road trip, you can check out my top tips for your Scotland road trip and my Scotland road trip planning guide.
This is a 10-day road trip itinerary for west Scotland, but there's no reason why you can't adapt it to be a 1-week itinerary, or take your time and spend 3 or 4 weeks completing this route! Now, personally, I think by far the best way to explore this part of Scotland is in your very own home on wheels, so you will find me recommending campsites and overnight parking, rather than hotels. However this trip is equally doable in a car, if you prefer. I'd recommend using Airbnb, Booking.com and Hostelworld for the best accommodation along your route.
If you're looking to spend a bit more time and make some more stops, or if you're looking for the best wild camping spots in Scotland, be sure to check out my Scotland Google Map Legend.


It's Day 1 of this Scotland road trip itinerary and I hope you're raring to go! We're starting this west Scotland road trip at Loch Lomond, one of the most popular places to visit in Scotland. Once you've got all the supplies ready for your road trip (check out my UK road trip checklist and my top tips for road trips in Scotland to make sure you don't miss anything!), explore the area for a while.
Loch Lomond's proximity to Glasgow makes it a popular spot with weekenders and holidaymakers, but that in no way detracts from its beauty. As part of Loch Lomond and the Trossachs National Park, this area is home to some of the best hikes in Scotland, and they range in difficulty so there's something for everyone. Conic Hill is a great one to kick off your trip!
Although I'd recommend arriving as early as possible to squeeze in a hike, chances are you've travelled a long way to get to Loch Lomond and therefore are arriving late in the evening. If so, take advantage of the great overnight parking here, and wake up to a magical sunrise over the water…. although I should warn you, Scotland isn't best known for having the clearest weather.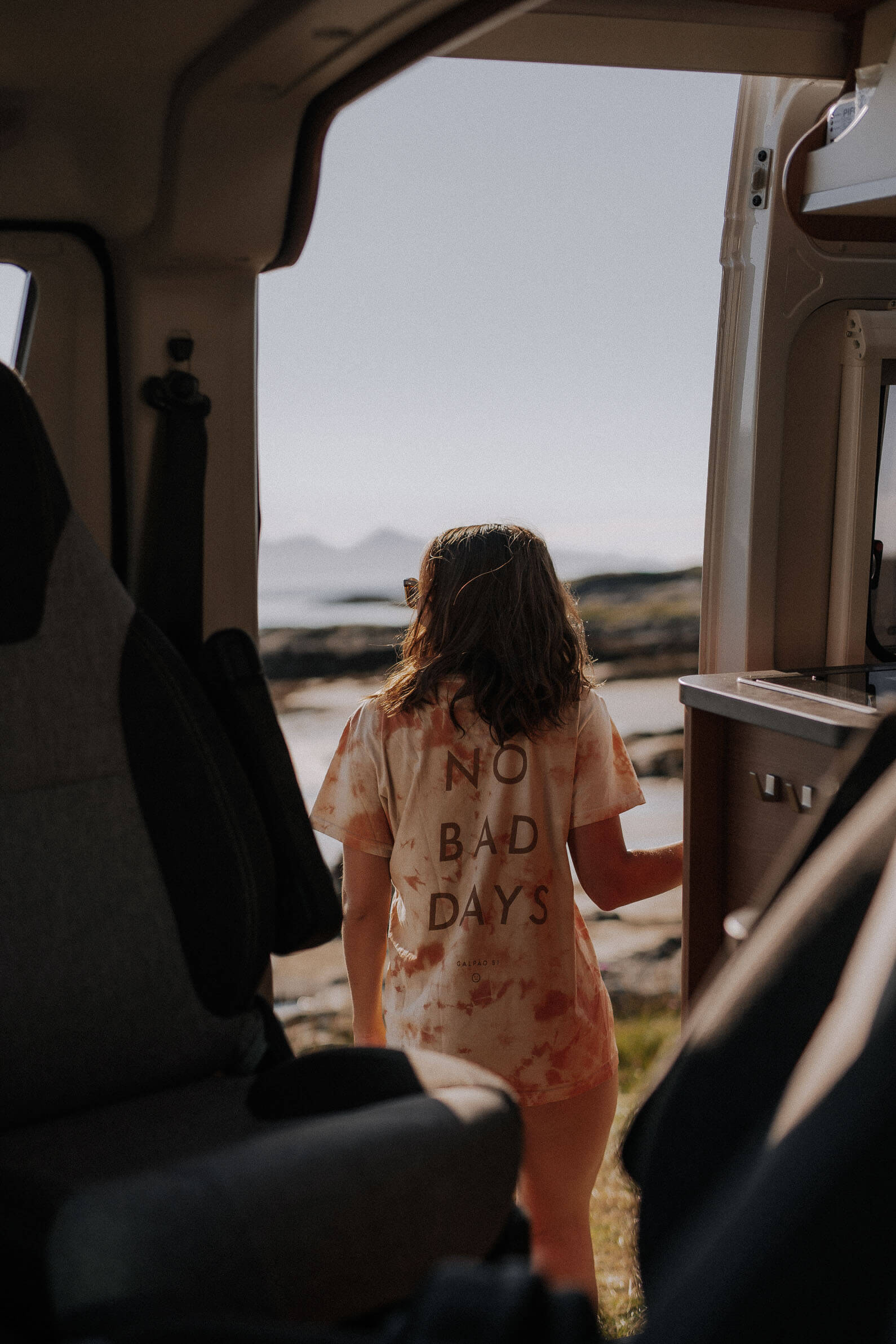 Day 2: Loch Lomond, Falls of Falloch, Glencoe & Loch Achtriochtan
On your second day of your west Scotland road trip enjoy a short boat cruise around Loch Lomond in the morning, or take a dip in the icy water. There's a small hidden bay at Firken Point, just off the A82 where you can swim and get a feel for these famous Highland waters. Always be mindful of where you swim however, as in some areas it can be incredibly deep and there have recently been cases of bathers getting into difficulty.
On from Loch Lomond you'll find the cascade of waterfalls known as Falls of Falloch. There are so many beautiful spots to pull up and enjoy lunch, or even cook if you're in a van! (I've pinned some spots for you in my Scotland Google Map Legend). The falls are a short walk from the car park, and another popular spot for a swim.
In the afternoon, venture north through the jaw-dropping Glencoe valley. You'll want to keep your camera close as there are tonnes of places to stop and capture the most incredible views. It is quite simply breathtaking all the way from Loch Lomond to Glencoe.
Along the way, take a small detour toward (but not all the way) Glen Etive, where scenes from James Bond's Skyfall were filmed (it's even marked on google as James Bond Skyfall Road). This is one of the most scenic drives in Scotland!
Just after passing the Glencoe Mountain Resort is a left turn that will take you down a single-lane road zig-zagging along the river Etive. This valley is reminiscent of the Swiss alps, and one of the best spots for wild camping in Scotland. There are multiple waterfalls and lagoons to bathe in so it's well worth spending the rest of the day here.
After sunset, it's a 40min drive to your next and final stop for the day, right on the shores of Loch Achtriochtan. There's a free overnight car park which is one of the best spots to camp in Scotland and if you snag the right spot, you'll be opening your doors right onto the loch for sunrise. It's definitely another view worth waking up to on your west Scotland road trip.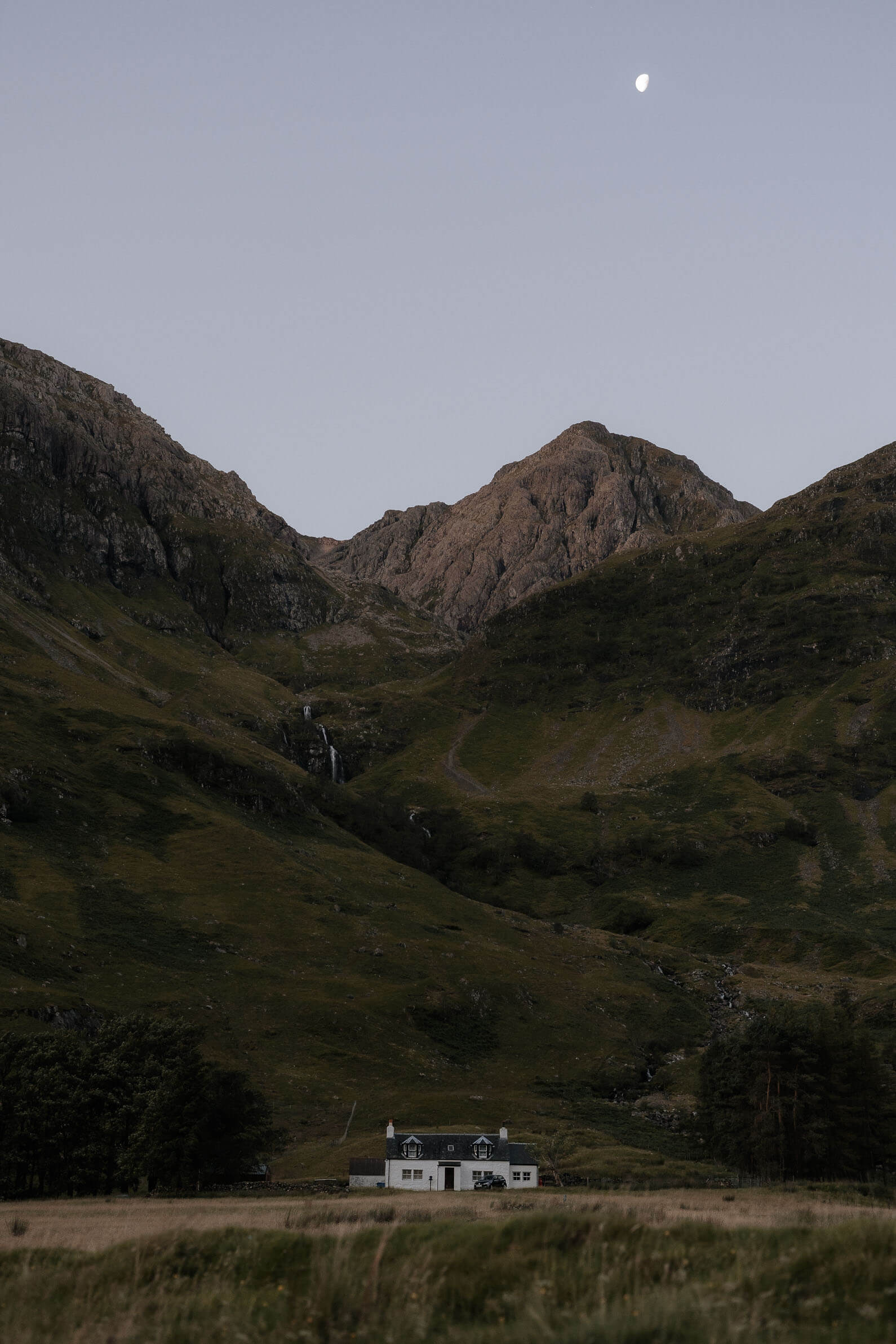 Day 3: Fort William, Glencoe & Glenfinnan Viaduct
I'd recommend swinging by Fort William in the morning to stock up on food and supplies… especially midge spray if you're doing your west Scotland road trip in the summer. These little bugs are a nightmare during the warmer months. See all my top tips for a Scotland road trip here.
Glencoe is one of the best places for hiking in the Scottish Highlands and there are plenty to choose from – catering to hikers of all levels, from leisurely wanderers to expert mountaineers.
Three of the best hikes in Glencoe include:
For those wanting an easy hike that has incredible views, I'd recommend the An Torr/Signal Rock Walk. This hike can be completed in 1.5 – 2hrs, and there's a free car park.
If you're looking to crank it up a notch, try the Lost Valley hike. This takes 3hrs and has a few steep sections, but they're worth it for the view.
If you're really keen then test yourself with the Bidean Nam Bian hike or even attempt the summit of Scotland's highest peak: Ben Nevis. Both are full day hikes. The closest car park for the Bidean Nam Bian hike is the Loch Achtriochtan viewpoint ca rpark, but for Ben Nevis, visit the Bens Nevis Centre to plan your trip.
See all the best hikes in Scotland here.
If hiking in Scotland is the main reason for your trip, then you can easily spend a couple of days here, but in the interest of time… we carry on.
From Glencoe and Fort William, it is a very short detour to one of Scotland's most 'magical' destinations – Glenfinnan Viaduct, where Harry Potter fans can witness the iconic Hogwarts Express train cross the bridge. The best viewpoint is actually at the end of a dirt path, just up the road from the visitors centre. In the high season, from mid-June to late September, there are 4 train times, but in the low season there are only 2 so be sure not to miss it! (Top tip: the train usually passes the Glenfinnan Viaduct 30-40 minutes after it leaves Fort WIlliam).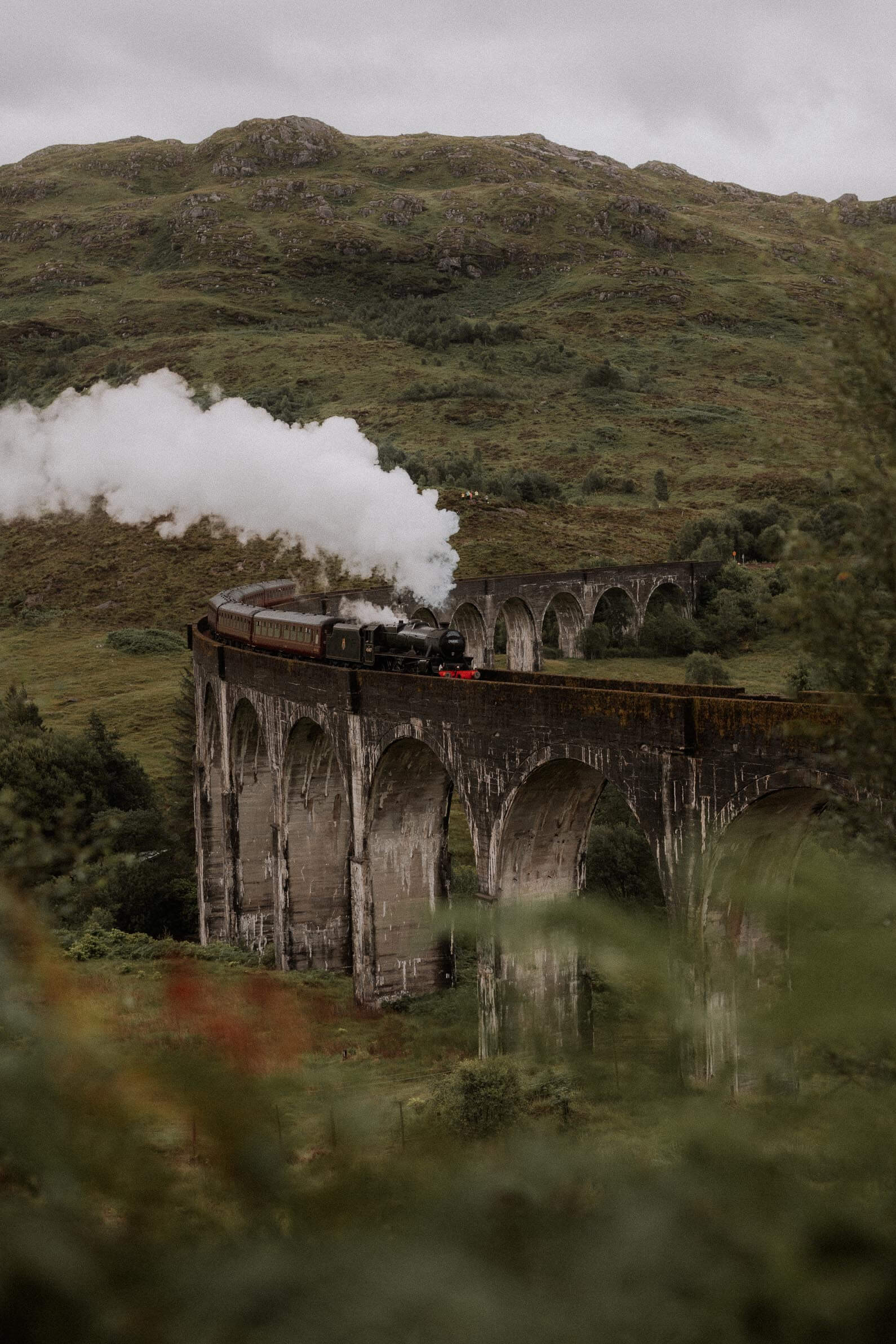 Other must see places to visit in Scotland for Harry Potter fans:
Loch Shiel – the iconic lake which surrounds the entrance to Hogwarts.
Loch Elite, Eilean na Moine island — the exact location where Dumbledore was buried and an absolutely beautiful place to watch the sunset.


Day 4: Lochs, Eilean Donan Castle & the Isle of Skye
Get your playlist ready and hit the road early for day 4 of our west Scotland road trip! Follow the A82 north out of Fort William, before turning onto the A87 where you'll be driving through an endless stretch of lochs: Loch Gary, Loch Loyne and Loch Cluanie (which is especially beautiful). This is honestly one of the best drives of this west Scotland road trip so take it slow and soak in the view.
After about 2hrs, you'll arrive at one of the most famous castles in the West of Scotland: Eilean Donan. It is open from May to October and the bridge is a great spot for an Instagram pic. See my travel photography tips here.
If, like me, you've finished all of the snacks bought in Fort William, then grab a bite to eat at The Clachan or pick up some delicious baked goods at Manuela's Wee Bakery.
Eilean Donan is our last stop on the mainland before crossing over to the Isle of Skye, where the mountains and lochs give way to stunning coastline, white sandy beaches and rugged rocky pinnacles.
After crossing Skye bridge, follow the coastal road east toward Portree. This is the largest town (albeit still very small) on the island, and your best bet for accommodation. However, for those enjoying the campervan life, continue through Portree to the Old Man of Storr. Snag yourself a spot at the overnight car park at the base of the Storr walk. While pay and display in the daytime, at night this car park is free to stay in and provides the perfect place to wild camp in Scotland and begin your sunrise hike to the Old Man of Storr, before the crowds arrive. See all the best things to do on the Isle of Skye here.


You've made it to the Isle of Skye and you're halfway through your west Scotland road trip. Time to really enjoy this historic place and enjoy some of the best things to do on Skye!
Unlike most of the trip, we're now on a very small island so it's much easier to get around and explore! My top 5 things to do on the Isle of Skye are:
Stroll through Portree, the main town on the island and a great place to grab coffee and top up on supplies.
Head to the beach for a swim or enjoy a picnic at either Corran or Coral beaches.
Hike to the infamous Old Man of Storr. The hike starts at this car park and takes 2-3hrs there and back, depending on how long you spend enjoying the epic views.
Take the Quiraing Pass up to the Quiraing Loop Hike. Much like the Storr, this landmark is a needle-like rock formation and one of the most photographic spots on the Isle of Skye. This 2hr walk is actually twice the distance as the Old Man of Storr hike, but without the steep inclines. However, if you're just looking for a good view then it's hard to beat the car park, which is where the picture below was taken.
Sunset at Neist Point Lighthouse. This is the most westerly point of the island, where the wind is gnarly but the views across the Atlantic Ocean are mind blowing.
If you want to set off early in the morning, try and stay overnight on the south of Skye near Armadale, as this is where we are taking the ferry from on day 7 of our west Scotland road trip.


Take the ferry across from Skye to Mallaig on the mainland.
Then take the short drive down to Camusdarach. Spend the night at one of the many campsites that line the beaches here, the most 'luxurious' being Silversands Caravan & Campsite. Many won't in fact have websites to book, so it might be a case of calling around to see what is available. There are lots of great places to swim here, so it's a relaxing day today!


From the coast of Arisaig, it's a 3-4hr drive south to the postcard-perfect Isle of Mull, where beaches like Calgary Bay and Langamull wouldn't look out of place in the Mediterranean. Toward the south-west there are more beaches in Knockvologan, Traigh Gael and Tinkers Bay – all beautiful, secluded places to spend the night. These are some of the most beautiful places to visit in Scotland, so make sure you don't miss these on your Scotland road trip!
Other notable places to visit on/near the Isle of Mull are:
Iona (a small island off the west coast)
The Inner/Outer Hebrides (a small yet striking archipelago of islands, with impressive views!)
Ben More (the highest mountain on Mull)


It's easy to spend a few days on Mull, but we've run out of days on our west Scotland road trip, so it's time to hop back over to the mainland, via Oban. Take the ferry from Craignure to Oban and enjoy a morning stroll through this seaside town, or even book onto their infamous distillery tour!
Most campervan rentals will need to be returned by midday, so from Oban continue south toward Loch Lomond and onto Glasgow or Edinburgh, depending on where you picked up your camper. For those heading back to London or the south, let the long journey home begin.
It is so easy to spend more time in this beautiful part of the world, but this is the end of our ultimate 10-day west Scotland road trip.


Have you been on a Scotland road trip?
Where are your favourite things to do in Scotland? Anything you'd add?
Love as always and happy adventuring,


Did you find this post helpful? I'd love you to share it for me.
Pin and save this blog post for later…