Latvia is a mystery to many, and not the first place on many Europe bucket lists. However, Riga is one of Europe's hidden gems, and in this Riga travel guide I'm going to share my favourite things to do in Latvia, places to visit in Riga, and top tips for visiting Riga! While you may have never considered visiting Riga before, keep reading and hopefully I can change your mind.
Latvia took me by surprise and it's such an incredible destination to explore. If you're the type of traveller who loves old towns, cobbled streets, buildings and history, or maybe you are just looking for a brand new place to explore… Riga delivers. There are so many cool things to do in Riga; you cannot miss this city if you're travelling in Eastern Europe. In fact, I'd go as far as saying that it's one of the best capital cities to visit in Europe.
What makes Riga so special you may ask? Riga is set in the Baltic Sea and is known for its white sandy beaches, wooden colourful houses, old historic buildings, flowers and everything art. One thing I definitely noticed during my visit, was the locals were super friendly and spend a lot of time together on the beaches, eating delicious food and they certainly love to dance!
Whether it's the culture and museums or a relaxing break from your everyday life, Riga has everything you could possibly want from a weekend away in Europe. From wandering around Riga's Old Town to sightseeing on the River Daugava, or from hiking in Gauja National Park to getting the adrenaline pumping on a mountain bike tour… there are plenty of things to do in Riga that will keep you busy during your stay!
In terms of the weather in Riga, the hottest months are June-August, where the temperature is usually in the early 20s (degrees Celsius). Autumn and Spring are fairly mild, but winter (December-February) can be cold, with temperatures dropping below zero.
Keep reading to see more about this city in my Riga travel guide and all the fun things to do in Riga that you should add to your Latvia bucket list!
Other blog posts you might find useful…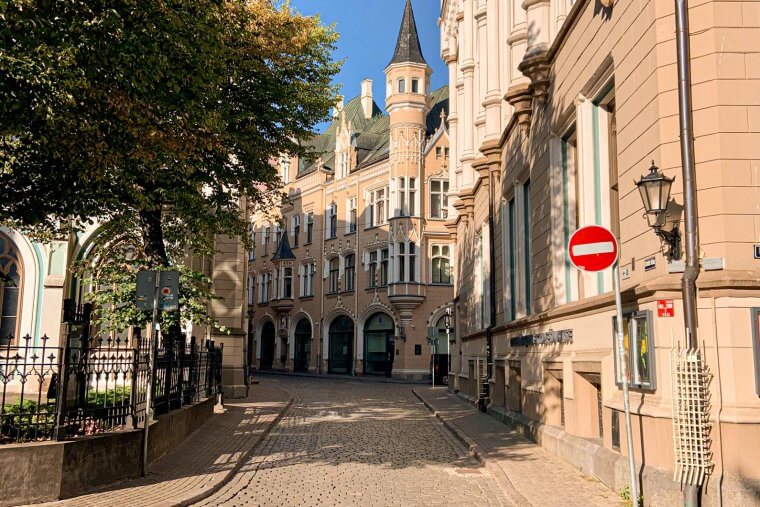 Where is Riga? How to get to Riga?
If you're wondering 'where is Riga?' or 'how to get to Riga', then you're in the right place. Latvia, one of the Baltic States, borders Russia, Estonia, Lithuania and Belarus. In the heart of Latvia, there's Riga! Riga is the capital of Latvia, and also one of the country's largest cities.
Flights to Riga are usually super cheap and affordable. Most flights to Riga from the UK are with Ryanair or Air Baltic, with budget-friendly prices normally being between £40 – £100, so it's a perfect candidate for a short trip or weekend away for anyone travelling on a budget!
Depending on where you are travelling from, a flight from the UK to Riga (RIX) is about 2hr 30 minutes. You can also fly to Riga from many international airports across Europe and around the world!
Top tip: Check out flights to and from Riga on Skyscanner here.
Check out how to pack a weekend away in a carry-on suitcase here.
Getting around Riga…
From Riga's international airport you can hop on one of the many means of transport they have to offer. You can take the bus, hail a taxi (which you can pre-book in advance) or get a ticket for one of the trolleybuses. Find out more and book your Riga airport transfer here.
Bear in mind that when travelling by taxi in Riga, a small tip of around 10% is usually expected through a kind gesture and appreciation.
Transport fare prices are very reasonably priced. You can pay as little as 5 EUR for a 24 hour day pass which can be used on all buses, trams and trolleybuses. Bargain!
If you prefer to find your way around a city yourself, there are bicycle hires in Riga. Pick up a local map and the locals will be more than happy to help. However, please be aware of the fast local drivers.


Riga is full of different types of accommodation, offering whatever you're looking for. If you're wondering where to stay in Riga, there's everything from luxury spa hotels to budget-friendly hostels and everything in between!
Check Airbnb for apartments and rooms in Riga.
Check out booking.com to find lots of hotels and hostels in Riga.
In terms of where to stay in Riga, in this Riga travel guide I'm also going to share my insight into the best areas to stay in in Riga…
Old Town Riga
Stay in the Old Town in Riga if you want to be in the centre of the city, in amongst all the culture. I spent my first night here and loved it!
The hotel we stayed at was Monika Centrum Hotel, facing right opposite a local park and within walking distance to the town centre. Some more of the best hotels in Riga Old Town are Grand Poet by Semarah, Pullman Riga, and there are also hostels in Riga Old Town like Tree House Hostel.
Jurmala
If you want to spend time by a beachside location then Jurmala is the perfect place to stay in Riga for you!
In Jurmala I stayed at Hotel Jumala Spa. This hotel is incredible, located near the beachfront whilst surrounded by forest trees, beautiful cafés, restaurants and shops.
Whilst we were here we spent time in the hotel spa with an impressive amount of 6 different saunas ranging at different temperatures. It's in the perfect location for spending time on the beach and taking evening walks alongside the sand to watch the sunset with the locals.


(As of Sept 2021)
Is Riga expensive? How much to budget for Riga?…
Riga isn't expensive and I found it very similar to the UK for prices. You can pay using your bank card or Euros. In this Riga travel guide I've included some examples of what I spent in Riga to give you an idea…
For a standard average hotel price, you can pay €40 – €80 a night.
A bottle of water €1.5 (depending on the size and brand)
You can pick up a pint of beer for €3
A stop at the local cafés, coffee will be €2.50 – €3.50
A main meal in Riga can cost between €9 and €18, also depending on where you eat and which restaurant you stop at.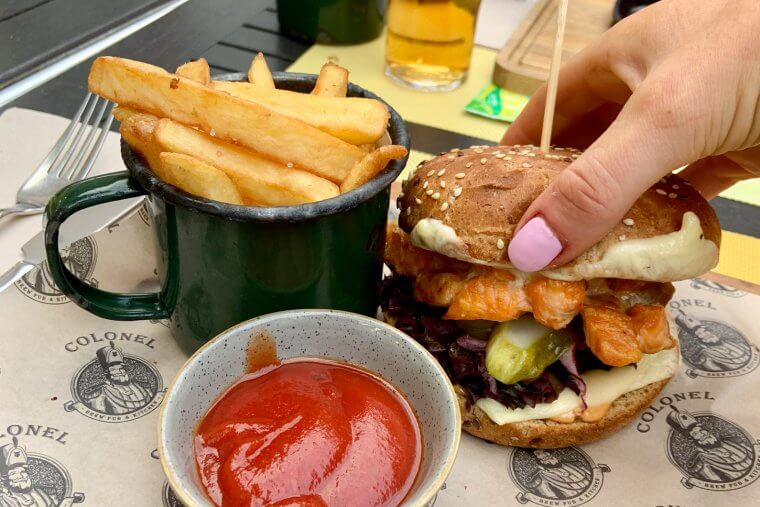 My favourite places to eat in Riga:
Without a doubt, Riga is full of delicious food to enjoy!
In the Old Town and the other main areas in Riga, the streets are filled with unique restaurants and cafes. One of the best things to do in Riga is to spend some time walking down the little cobbled streets to come across the lesser known restaurants! This is where I came across many small hidden cafes.
Two of my favourite cafes in Riga were Miit Coffee and Rocket Bean Roastery.
If you're currently sitting there thinking, but what food does Riga have? Will I be able to eat anything? Latvian food has so many options including traditional soups, bread & pastries, cold meats, cheese and olives, as well as international dishes such as pasta, pizza, burgers and kebabs. You won't go hungry. If you're vegetarian or vegan, don't worry.. they have so many options for you, such as risottos, veggie soups, potato dishes and dairy-free milk too.
One of my favourite restaurants in Latvia was an outdoor restaurant called Colonel Brew Kitchen. It's right in the centre of the town square with local music.
One more thing for this part of the Riga travel guide… you can not leave Latvia without trying out the Black Balsam, a traditional alcohol that is found all over Riga, in restaurants, bars and shops. Warning! Be careful with how many you have, it's on the stronger side, with a high alcohol content of 45%.


The best things to do in Riga: A Riga travel guide
1. Jump on the River Boat.
One of the best things to do in Riga is to see the city from the water! You can journey out along the canal and make your way to the River Daugava for more sightseeing opportunities. You can do this trip with Riga by Canal. For an adult fare this will cost €13.
2. Hike in Gauja National Park.
This was one place I had on my list but didn't get around to doing but believe it's definitely worth visiting. It's got to be one of the best places to visit in Riga and hiking here should be on your Riga bucket list! The Gauja National Park is known as the Switzerland of Latvia.
You will be able to witness the breathtaking scenic views, one of the biggest caves (Gutman Cave), ancient historical sites/manor and free to adventure along the trails and hike to get to the best views.
Make sure you take your camera! And comfortable walking shoes or boots. You don't want to miss out on one of the best things to do in Riga because you weren't prepared!
3. Find a Tour Guide to uncover the history.
The best way to find out all the local history is from the locals themselves.
If you want to know all the history of this country then I believe a tour guide is your best option. Walking tours in a town are great if you're short on time, start in different locations of the city depending on what you want to experience. You can choose anything from food & wine tours, old town walking tours, heritage history and if you don't fancy walking, you can even hop-on the red buses.
When I first visited Riga, I went on a history walking tour with some locals to get to know all about the city, to soak up all their local knowledge and recommendations, and to recognise the pride they have for the city they live in. This was definitely one of my best things to do in Riga!
You can book a walking tour where they will take you around the town, seeing all the buildings, churches, the many museums and places you may not have ventured to on your own.
A few of the best walking tours in Riga to look out for: House Of Blackheads built in 1334, Freedom Monument and Rigas Christ Cathedral.
4. Do an ATV Safari or Quad bike tour.
If you're feeling really adventurous and you're looking for things to do in Riga that will get the adrenaline pumping, book onto a ATV Safari or Quad Biking day trip. This will take you out of the city and onto the hills, which means it's time to have fun!
Your tour will be full of off road driving, dirt tracks and the beauty of the outdoors.
The tours are 2 hours to half-day duration, pricing from £80 per adult. There are several companies that offer these tours, so shop around and see what suits you money and time wise!
5. Go skiing or snowboarding in Riga.
Although Latvia is not full of mountains, one of the best things to do in Riga is to enjoy the winter sports available there such as skiing and snowboarding. Latvia surprisingly has a range of slopes and hills for both skiing and snowboarding in most districts.
So, if you're a big fan of this sport or fancy daring yourself to try something new, then hit the slopes for some downhill adrenaline.
6. Explore the Old Town in Riga.
One of the top things to do in Riga is to visit the Old Town. You will venture down the cobbled paths where the streets are filled with markets to entice you in (which they certainly do), many restaurants and cafes for your choice and often live music will be playing along the streets with live performances.
Make sure you admire the architecture in the Old Town as you wander around Riga too. From visiting the Thee Brothers or the House of Blackheads, to seeing many of the wonderful churches, there are plenty of places to visit in Riga that will catch your eye!
7. Hit the beach in Riga.
The beaches in Riga are all without a doubt stunning! White sand, clear water and overlooked with big trees in the distance.
You will find the beaches have small bars with shelter, chairs and places to eat. Some even have activities taking place for children to join in with. One of the best things to do in Riga is to have a beach day!
The beaches in Riga have a friendly and fun atmosphere for all family and friends. A few favourites would be Jurmalas Beach, Ritabulli beach and Vecāķu pludmale.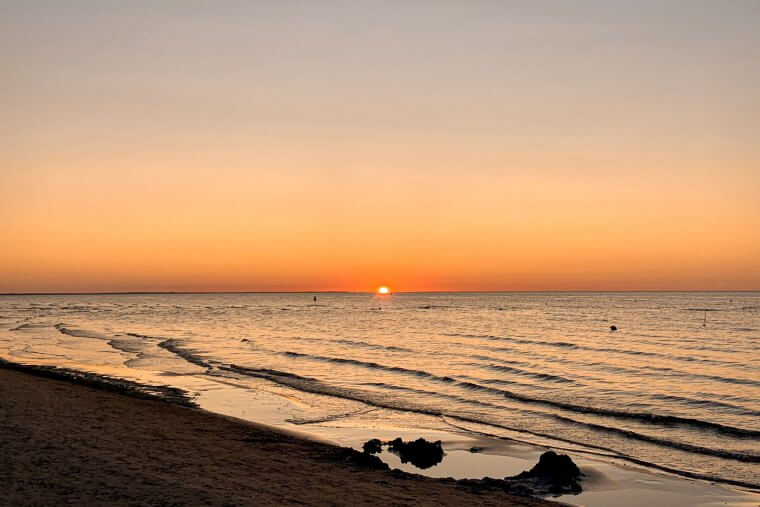 8. Enjoy the artwork in Riga.
One of the top things to do in Riga is to enjoy the art and creative energy in this European capital city. From the Art Nouveau District to art galleries and museums, Riga is one of the most creative cities I have visited. If you're looking for free things to do in Riga, be sure to visit LOW, a space dedicated to up and coming artists in Latvia.
9. Explore the markets in Riga.
Markets around Riga are open all year round and are one of the main attractions for people when visiting. One of the best things to do in Riga is to try and find souvenirs here to take home. You can find anything from food & drink, artwork and music. Some include Riga Central Market, Riga's Christmas Market and Kalnciema Street Market.


Is there anything else you'd add to this Riga travel guide?
Where are your favourite things to do in Riga? Anything you'd add?
Love as always and happy adventuring…
Did you find this post helpful? I'd love you to share it for me.
Pin and save this blog post for later…