If you're planning on visiting Romania in 2022 and you're on the lookout for the best things to do in Romania and the best places to visit in Romania, you've come to the right place. In this post, I'll outline everything you need to know, along with some local top tips!
Tucked between Central and Eastern Europe, Romania's popularity as a tourist destination increased in recent years. It might not be one of the first destinations that springs to mind when you think about backpacking in Europe, but it is one of the cheapest places to visit in Europe, and one of Europe's most beautiful hidden gems.
Romania boasts spectacular mountain scenery with numerous hiking trails, as well as beautiful, wild, natural landscapes thanks to the Carpathian Mountains. Medieval cities such as Sibiu, Brașov, and Cluj Napoca offer lots of cultural attractions and ways to spend your time. And there are plenty of well-preserved, impressive medieval castles such as Bran Castle also known by its touristy name Dracula Castle, Corvin and Peles Castle.
Last but not least, Romanian's rich folk culture is best experienced in its rural parts in the traditional regions of Transylvania, maramures and Bucovina where you'll feel like you've traveled back in time. If you're looking for the best things to do in Romania, there certainly are a lot of places you could add to your Romania bucket list!
So if you're looking for a new destination to visit this year, consider visiting Romania. Here are the top things to do in Romania, including my personal favourites and local top tips, along with the best places to visit in Romania.
Other travel guides you might find useful…


The best places to visit in Romania...
1. Brașov: Romania's beloved tourist city
Brașov is hands down one of the most charming cities in Romania. Located at the very heart of the country, Brașov is the country's #2 favourite tourist destination after Bucharest and one of the best places to visit in Romania. And for good reason – it's a beautiful city with medieval townhouses and cobbled streets against a backdrop of mountain scenery.
Brașov has very good restaurants serving traditional Romanian recipes with a modern twist, a laid back town square to enjoy local life and medieval walls with defence bastions you can visit to learn about the city's history.
Due to its location there are many things to do in Brasov and most tourists spend a couple of days in the city. It's a great base to explore the region of Transylvania on day trips or to go hiking in the Carpathians, which is one of the best things to do in Romania! And for those interested in seeing wild animals, especially bears, this is the place to be!
2. Visit the famous Bran - Dracula - Castle
Just 28 kilometres away from Brasov you'll find one of the most important medieval routes that connects the region of Transylvania to Wallachia: the Rucăr-Bran Pass. In this village, at the top of a steep mountain cliff, lies Bran Castle, famously known as Dracula's Castle, which is by far one of the best places to visit in Romania and one of the most popular tourist attractions.
Novels and vampire movies widely popularized it and although there is no proof that Bram Stoker knew about Bran Castle's existence, this medieval construction is often referred to as the home of his notorious character, Count Dracula. Hence the name of Dracula's Castle.
Nevertheless, the castle has many legends and an impressive history to tell given its strategic history. Go on a guided tour to find out – just make sure you check its schedule before going!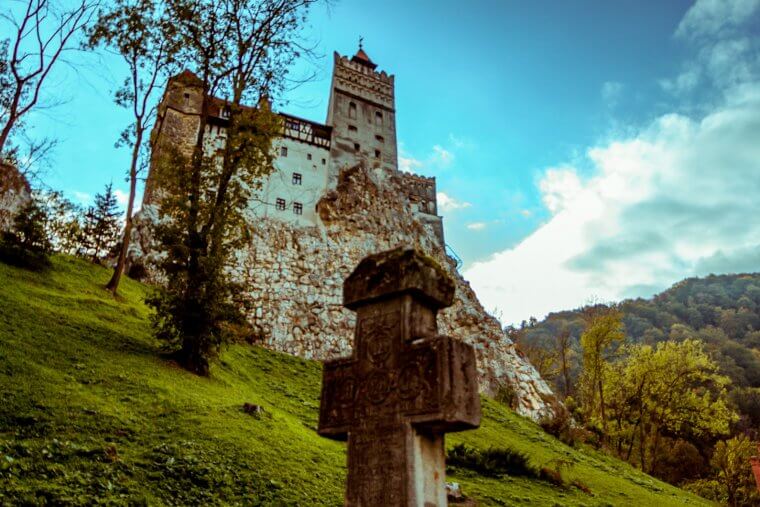 3. Go hiking in the traditional villages of Măgura & Peștera
Looking into the distance from Bran Castle's defence walls you'll see the impressive ridge of Piatra Craiului Mountains scratching the sky. Halfway up you'll see old houses and barns scattered all over the hills – those are the villages of Măgura, Pestera, Sirnea and Holbav. For me, this is the most beautiful and picturesque region in Romania.
Natives think of these villages when they want a sweet escape from the city. It's one of the best places to visit in Romania if you don't want to see crowds, allowing you to connect to nature fully. Gentle hills, green meadows and sheep flocks will make your trip unforgettable. You will notice traditional wooden households where locals still live like they used to 50 years ago. With some you could even enjoy a typical lunch made with organic products from their garden.
Then, on the horizon, you will be stunned by the beauty of Piatra Craiului's ridge. You're in a national park with a dense network of hiking trails for beginners and experienced hikers alike. The main attraction for the most enthusiastic hikers is the 25km limestone ridge, the longest and the highest ridge of this type in the country and one of the best things to do in Romania. Hiking it safely and completely requires almost two full days, but it's worth the effort as the panoramic views are breathtaking. Most hiking tracks start in Zărnești, Plaiul Foii, or the small villages from the base, and you'll have more than 70 options, from the easiest to the most intense. There are a few small refuges on the long limestone ridge, but for lengthier trails, carrying your tent & tools is the best option as, particularly in the summer, the few cabins from the national park are fully booked.
4. Visit an underground amusement park: Turda Salt Mine
Turda Salt Mine is an ideal place to cool down, relax and evade the torrid city summer. Located in Durgău-Valea Sărată, Turda Salt Mine is the world's most spectacular underground shaped by people. It's located 50 km from Cluj-Napoca, the unofficial capital of Transylvania and one of the best places to visit in Romania.
Turda's salt deposits dated back to ancient times and were dug up to 30 meters deep, creating tunnels that were used as anti-aircraft shelters during the war. Each tunnel in the mine was formed without the help of explosives or machinery and, for a while, was one of the main salt deposits in the whole region.
Since the late 90s, the mine has been converted into a mining museum and tourist attraction with an incredible and very popular amusement park. The light installations create a wonderful feeling and make you feel in awe of nature's underground beauty. And did you know that breathing salty air is good for your lungs? One of the best things to do in Romania is to spend 2-3 hours inside to see for yourself!
5. Transfăgărășan Highway
Driving on Transfăgărășan is not for the faint-hearted, that's for sure! But for everyone else – a road trip on one of the highest roads in the country will be an unforgettable experience. Connecting Transylvania to Wallachia crossing Fagaras Mountains, the highest in the Carpathians, this experience should be on your Romania bucket list. It's one of the many grandiose projects completed by communist leader Ceausescu, together with the Danube-Black Sea Canal and the Palace of Parliament in Bucharest.
At the top at almost 2,150m altitude you'll be rewarded with spectacular views of Transylvania's plains bordered by the impressive ridges of Fagaras Mts. And from here you can go on a quick walk to admire Balea Lake or start a hiking trail deeper into the mountains. Or just sit on a bench and admire the views!
6. Spend time in Transylvania's villages
This region in the heart of Romania is where you can find the best of what our country can offer: the experience of a slow rural lifestyle, far from civilisation and modern technology, where you can reconnect with nature. Travelling from village to village will make you feel like you've gone back in time. Shepherds tend their flocks while horse-drawn carts roar along dirt roads, and villagers make hay in the sunshine. You can participate in these activities and treat yourself at the end with delicious meals made from home-grown products. Some of the best places to visit in Transylvania include Viscri, Crit, Saschiz, Biertan, Apoldu or Zalan.
The region also has numerous resort towns famed for their therapeutic waters. The warm salty waters and mineral mud of Bear Lake in Sovata are rumoured to cure infertility. The balmy, buoyant waters of Ocna Sibiului – right up there with the Dead Sea when it comes to salinity – work wonders for arthritis. Turda Salt Mine has already been mentioned as one of the best things to do in Romania. All-in-all – if you're looking to reconnect with nature and relax, Transylvania is the place for you!


Where are your favourite places to visit in Romania?
What are your favourite things to do in Romania? Anything you'd add to this Romania travel guide?
Love as always and happy adventuring…
Did you find this post helpful? I'd love you to share it for me.
Pin and save this blog post for later…