Winter isn't the most popular time to visit Copenhagen but winter in Copenhagen has a beautiful charm to it. In this blog post, I am going to share with you my favourite finds and the best things to do in Copenhagen, Denmark, during winter.
Yes, it'll be chilly, but all the best things to do in Copenhagen can be enjoyed in winter! Cycling along the canal, enjoying hygge with friends and indulging in all the Danish culture at the museums and castles are just a few reasons to visit Copenhagen in winter. On top of that, Denmark is consistently rated as one of the happiest countries in the world! If you're considering visiting Denmark's capital, this Copenhagen travel guide will tell you everything you need to know before you plan your adventure! If you're looking for the best things to do in Copenhagen in winter, the best places to visit in Copenhagen in winter, and what to see in Copenhagen winter, keep reading!
If the winter is the only time you can make it across to the capital of Hygge, I wouldn't let the time of year put you off heading out on the adventure. After all, this is the country that invented hygge (pronounced 'hoo-gah') and you won't walk far without being enticed into one of the gorgeous cafes here for a hot drink beneath their warm lighting arrangements.
What is hygge? Hygge is the absence of frustration or anything emotionally overwhelming. Hygge is a feeling and a concept often enjoyed with good food, warm drinks, blankets and snuggles. So basically, just make sure you've got your warm layers packed and get yourself over to Denmark!
See my ways to save money when visiting Copenhagen here and my summer visit to Copenhagen here.w
I've put together my knowledge, tips and tricks from these trips into the ultimate Copenhagen travel guide, ready for your next Danish adventure! Let's get planning!
There are also lots of things to do in Copenhagen if you're travelling on a budget! Check out my favourite free things to do in Copenhagen here.
Other blog posts you might be interested in…
The best things to do in Copenhagen in winter…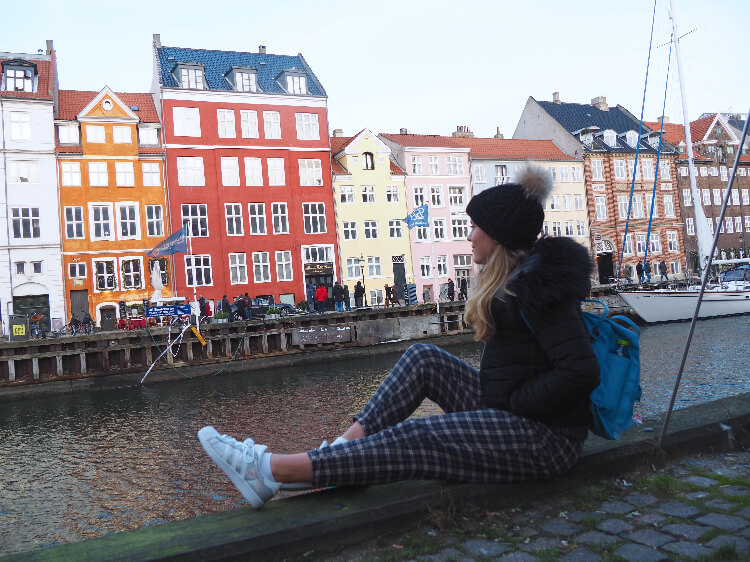 Although a summer and winter itinerary in Copenhagen will differ, Copenhagen is totally doable in winter, as long as you are prepared (clothing!).
There is a ridiculous amount to entertain you in Copenhagen should you seek it, but equally, it also accommodates for a chilled getaway.
In my opinion, Copenhagen draws many a similarity to Amsterdam. An abundance of waffle shops, bikes and canals, incredibly stunning architecture, the cutest of houses and Copenhagen even hosts Freetown Christiana – an independent district where cannabis is freely traded.
Check out my ways to save money in Copenhagen here.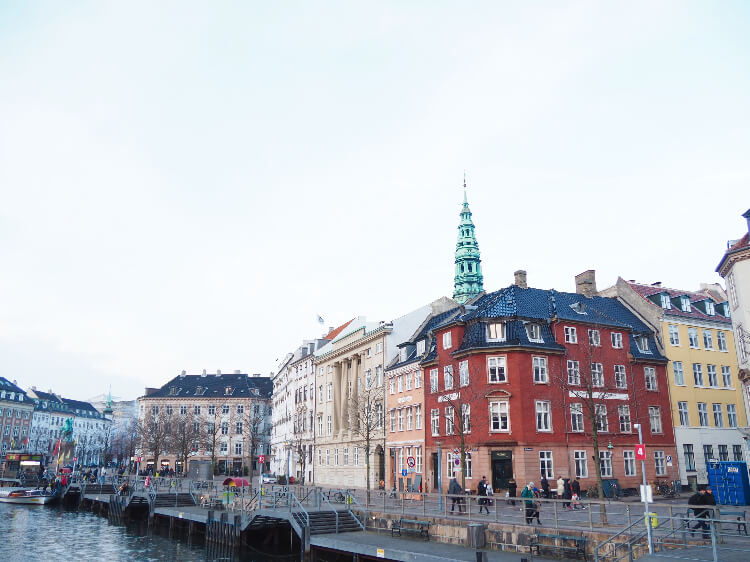 Where is Copenhagen?
Copenhagen is in Denmark, one of the three countries that make up Scandinavia in Europe (with Sweden and Norway). It is bordered in the south by Germany.
How do you get to Copenhagen?
Flying from London to Copenhagen takes just an hour and a half. You can also fly in from many other major European and international cities. A return flight can cost as little at £20 if you are able to be flexible on dates, so it's a perfect candidate for a short trip / weekend away for anyone on any budget!
For around 38DKK (£3.60) you can get the train from Terminal 3, Platform 2 to Københavns Hovedbanegården (Central station). You can also get the metro to other areas in the city. Be sure to get a ticket that covers all the zones you need – probably a '3 zone' ticket!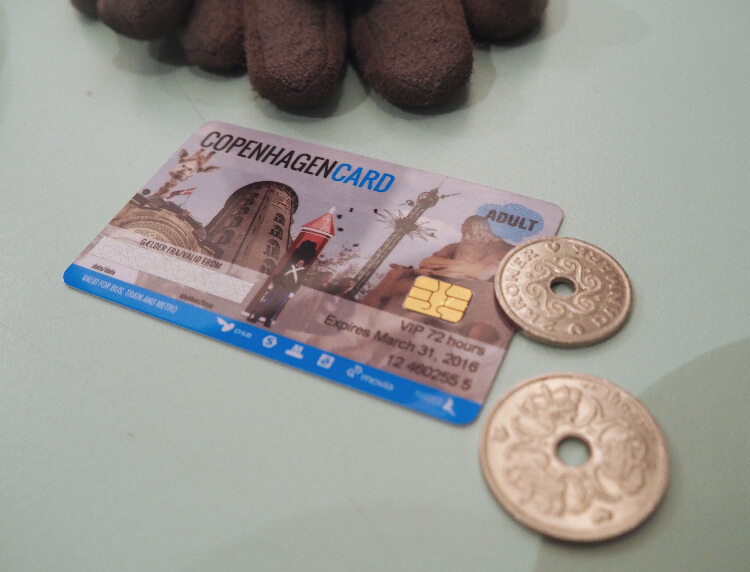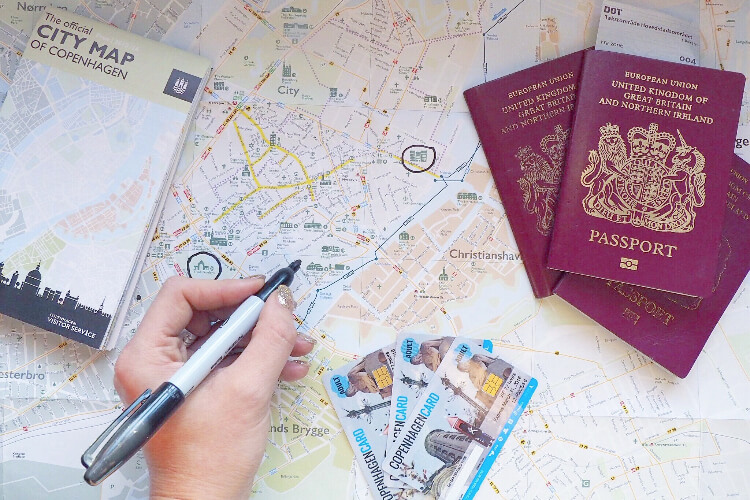 What should you pack for Copenhagen in winter?
Between November and April you can expect average temperatures of -5 C to +5 C , and so coming to Copenhagen in the winter months will mean packing a few extra layers. This is particularly important if you plan on taking to the streets and exploring Copenhagen, trust me!
The addition of layers in your suitcase can obviously begin to bulk it out. So depending on the duration of your stay and your ability to pack light, it may mean the additional cost of checking in hold luggage – something to bear in mind if you're planning a budget getaway. Or, pack several layers that you are able to rewear over and over, saving space in your carry on!
Where you should stay in Copenhagen?
There is a wide variety of accommodation on offer in Copenhagen including hostels, hotels and apartments (check out the deals on Booking.com, and as always you can always grab a unique added value stay through AirBnb.
Get £30 off your first AirBnb stay here!
I stayed in the Anderson Boutique Hotel during my trip, located a 2 minute walk from central station & walking distance from everything. Gorgeous rooms, service and the most delicious breakfast buffet. See full website and room options here.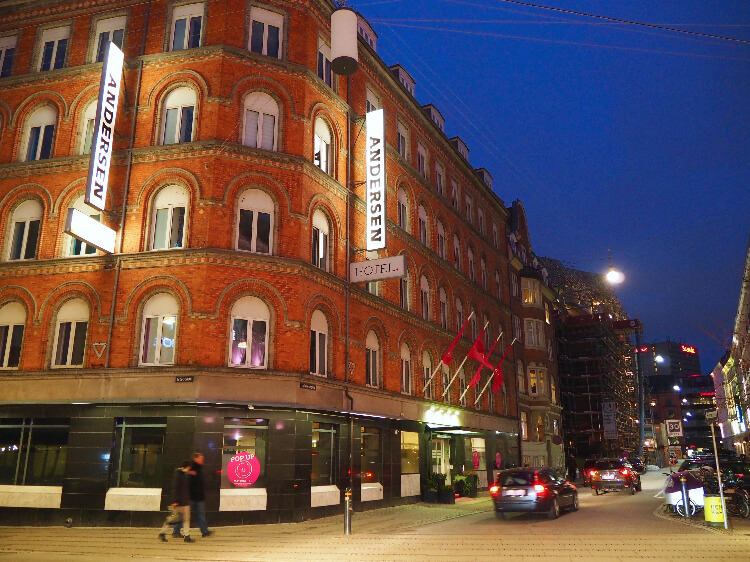 The best things to do in Copenhagen in winter…
1. Hop on a canal tour.
Like Amsterdam there are canals running through Copenhagen. When first arriving, a canal tour is a great way to get your bearings and eye up spots to explore during your stay. There is something so serene about the presence of water in a city and these canal tours allows you to see Copenhagen from a unique perspective. See the variety of tours on offer here.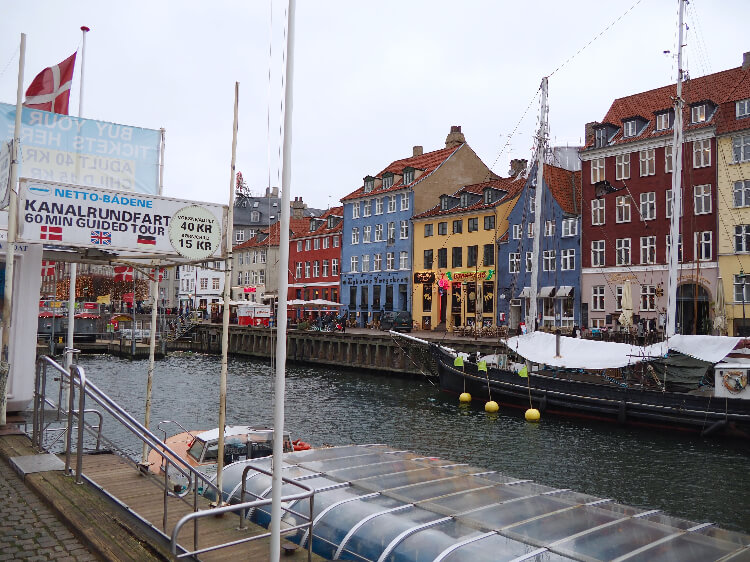 2. Visit Nyhavn.
The place you've seen on all the postcards and the image you most like already associate Copenhagen with. You'd be lying if you said you didn't want to take a photo – so make sure you check it off early in your visit.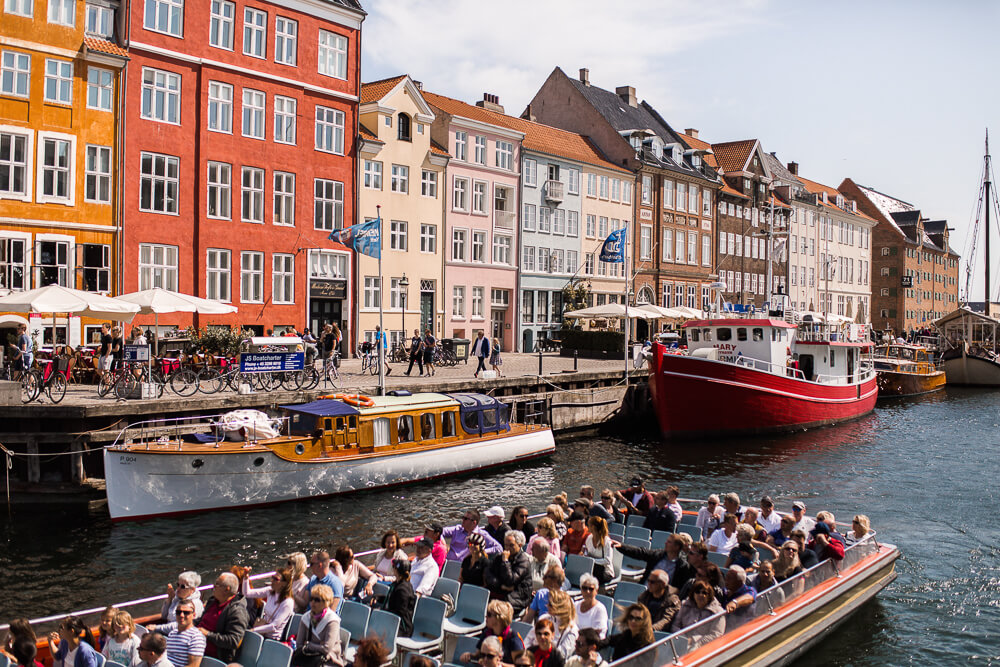 Eating along the canal in Nyhavn is quite pricey; you can expect to pay 130-270 DKK (13-27£) for a main course. Copenhagen is renowned for being one of the most expensive cities in Europe, so combine that with being in the most popular tourist attraction here, Nyhavn, it's clear why the prices are that bit higher.
The canal is beautiful though so, if you aren't on a strict budget, it's a perfect addition to your trip.
3. Grab a traditional Danish lunch.
There are plenty of eateries around Nyhavn both along the canal and down the streets pouring off it.
We headed to Nyhavn on two occasions during our stay in Copenhagen for food. The first occasion took us to a Bagel place where the girls grabbed a Rye bagel and filled it with their choices of protein, veg and salad (around £6 each, 60 DKK).
The second visit had us hunt out the traditional 'Smørrebrød' (translates to butter and bread), which is an open sandwich with a dark Rye base. Popular toppings include cold cuts, pieces of meat / fish, cheeses, chutneys and pickles. We stumbled upon Brooklyn Bar, tucked away along one of the side streets & dug into into a selection of Smørrebrød's. I can highly recommend the Rolled pork and Scrambled egg with Smoked Salmon ones! Each dish was between 59-89 DKK (£5.90-8.90).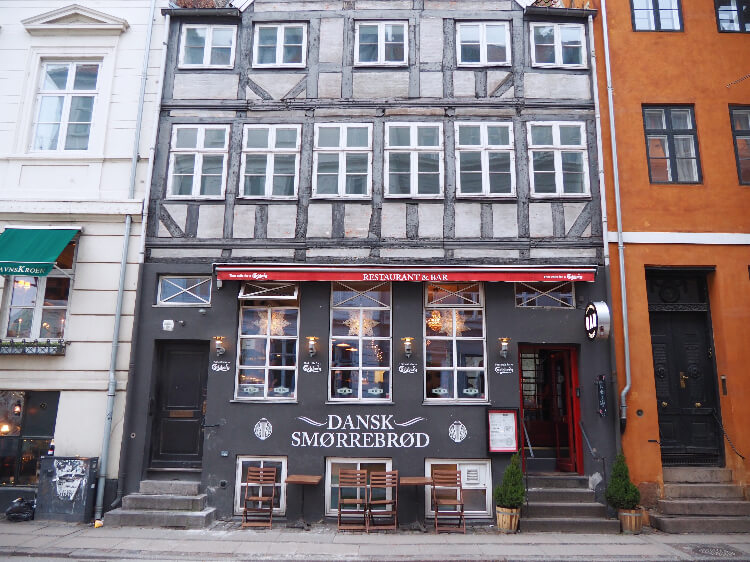 4. Visit The Little Mermaid.
This iconic danish sculpture is now over 100 years old and was a piece of art commissioned by Carl Jacobsen and created by Edvard Erikson in 1909 after Carl fell in love with the mermaid character in a ballet performance of Hans Christian Andersons fairytale – The Little Mermaid.
The mermaid is about a 15 minute walk further north of Nyhavn. When you arrive at 'The Little Mermaid' you will no doubt be greeted by a crowd of happy snapping tourists and not much else. When we were there there were coffee, hot dog and pancake stands to warm you up from the chilly winter winds (it's an unsheltered walk, so wrap up warm!). There is also a bus stop besides this hotspot if you don't fancy walking, especially if you are looking for things to do in Copenhagen in winter when it's a bit colder!
5. Wander through Stroget.
[Strøget] This 1km stretch of car free, pedestrian friendly street boasts a wealth of well known shops from budget friendly stores to luxury shopping experiences. Here you will be able to pick up souvenirs, grab a coffee or listen to talented street entertainers. Barisso Coffee serves a great cappuccino. If you are here and hungry, there are a few eateries on the main strip but you will need to dive off the main stretch to gain a decent selection.
6. Visit Tivoli Gardens.
When I asked you guys for recommendations in Copenhagen, 90% of you included a trip to Tivoli Gardens in your response & rightly so.
Tivoli Gardens is the Winter Wonderland of Copenhagen & the ultimate provider of festive vibes. This popular amusement park is located in the heart of the City Centre (near central station).
Here you can have a go on Tivoli's oldest and most popular ride – the wooden rollercoaster, one of only 7 rollercoasters in the world that has a brakeman on every train, alongside many other rides.
If ferris wheels and rollercoasters aren't your thing, you can instead nestle between the exotic gardens for something to eat in one of the restaurants, wander around the shops or, my favourite option, grab a glass of gløgg (mulled wine). This is one of the best things to do in Copenhagen in winter!
7. Visit Rosenborg Castle
Built in the early 17th Century and located in King's Garden, this Royal Hermitage hosts the crown jewels and sits in the most beautiful of settings. The perfect spot for a run, for a wander, to satisfy the historian in you or to combine with a visit to the Botanical Gardens nearby.
8. Explore Norrebro.
[Nørrebro] Often described as vibrant and youthful, this district of Copenhagen reminded me a lot of Shoreditch in London. Sophisticated coffee shops, a quirky dress sense, walls filled with Graffiti (heart of the artistic individual) and shops filled with vintage wear.
The only street we had time to explore here was Jægersborggade. Here we nipped straight out of the sharp -5 C air into The Coffee Collective and snuggled up with a coffee and a danish sweet pastry. It was one of my favourite things to do in Copenhagen in winter! You can read more about the Norrebro district and what it has to offer here.
9. Dine at Cocks and Cows.
This award winning restaurant serves only the best burgers (110 DKK average for a burger and chips). They have a few locations in Copenhagen and I can definitely vouch for a visit here. See the website and menus here.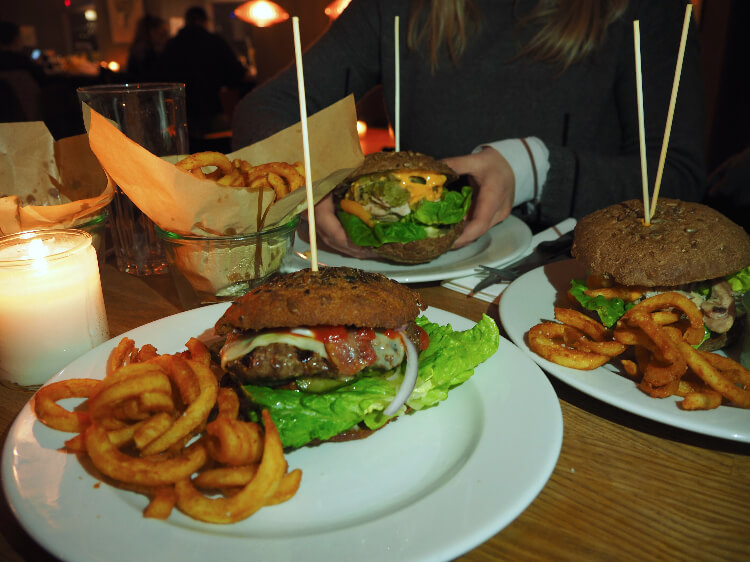 10. Visit one of the markets.
Copenhagen boasts a variety of markets, some of which are just open in the summer, understandably, as they are located outside. Don't fear though – there are still some options in Copenhagen in winter. View the full range of markets in Copenhagen here.
11. Explore the city by bike.
It goes without saying that should you come to Copenhagen and the weather be anything more than mild – you should grab a bike and explore on wheels.
Bikes have their own bike lanes here in Copenhagen and you can rent a bike for just 60 DKK a day.
Bikes are hands down my favourite way to explore a city, but honestly, when it's -5 degrees outside and you have no balaclava to hand – cycling is just a no go. The exact situation we found ourselves in during our visit. So, make sure you take layers so you don't fall into the same trap as I did! If you want to rent bikes (as it is one of the best things to do in Copenhagen, even in winter) then definitely bring hat, scarf and gloves!
A good enough reason to come back, though!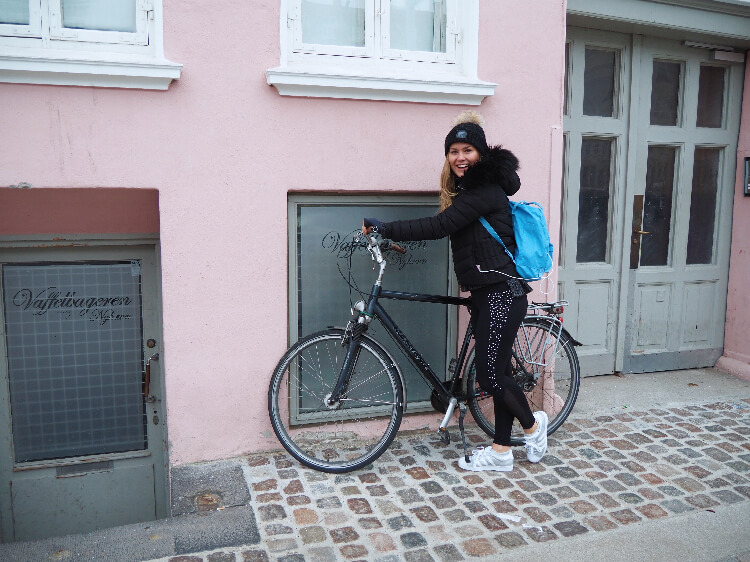 12. Enjoy the view from Christiansborg Palace Tower.
Sitting at 106 metres the Christiansborg Palace Tower is the highest tower in Copenhagen and boast gorgeous views over the whole city.
Unfortunately access to the Tower was closed during my stay in Copenhagen but should you seek gorgeous city views like me – definitely go! And take a picture for me! It's one of the best things to do in Copenhagen in winter. If you want to further your experience you can dine at the Tower's restaurant – see more here.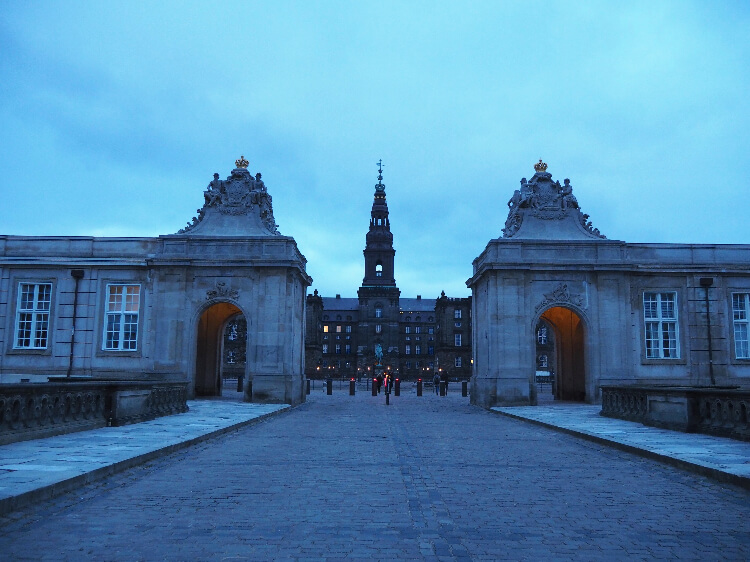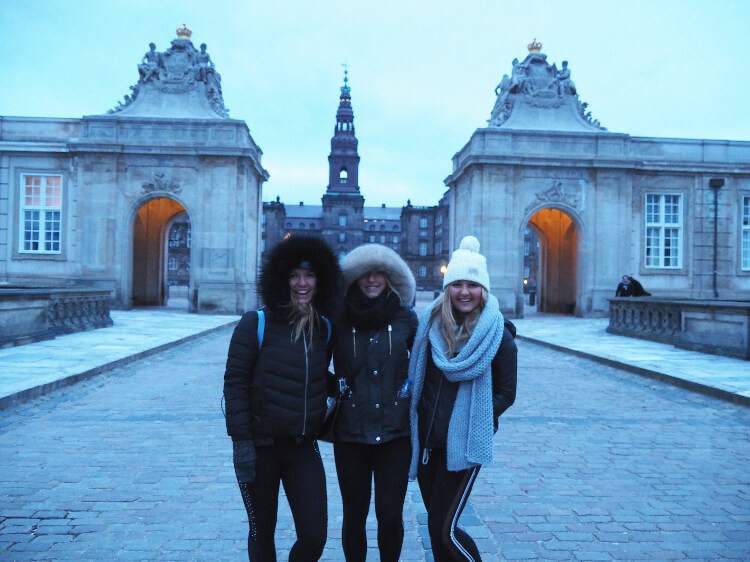 13. Explore Freetown Christiana.
Estabilished in 1971 by a group of hippies, this green and car free neighbourhood has its own set of rules and is completely independent from the Danish government.
Consisting of art galleries, workshops, homemade houses, organic eateries and gorgeous nature, it's most certainly a unique place to visit.
My favourite places to eat and drink in Copenhagen…
Healthy: Joe and The Juice, 42Raw, SimpleRaw, Palao Torvehallerne.
Coffee: The Coffee Collective, Barisso Coffee,
Lunch: Copenhagen Street Food Market, Brooklyn Bar, The Bagel Co, Wok On
Dinner: Cocks and Cows, Noma, Tivoli Gardens, The Tower @ Christiansborg Palace, Sky Bar and Restaurant, Alberto K, Sticks'n'Sushi @ Tivoli Hotel
Party: During our stay we went to a night at HIVE for new year which was amazing! Centrally located and full of house music. See here for VisitCopenhagen's top 10 nightclubs.
Day trips from Copenhagen…
I didn't have time to explore elsewhere when I visited Copenhagen in winter, but one day I'd like to visit…
Malmö
Dragør
Odense
Kronborg Castle
Frederiksborg Palace
The Cliffs of Møn
Egeskov Castle
Legoland!
Have you been to Copenhagen in winter?
What were your favourite things to do in Copenhagen in winter? I'd love to know!
Love as always + happy adventuring,
Did you find this post helpful? I'd love you to share it for me.
I can't do this without you.
Pin and save this blog post for later…