The Canadian Rockies are a thing of dreams.
This mountain range, filled with epic mountains, stunning scenery and endless outdoor activities, is the perfect destination for a road trip adventure. I have spent a lot of time exploring Canada, especially classic west Canada road trip itinerary destinations such as Whistler and Vancouver. However, the Rockies have been on my bucket list for so long, and I was determined to experience them for myself! So, a few months ago, I mapped out this epic winter Canadian Rockies itinerary to explore some of the top skiing mountain resorts and the best of the Rockies.
This 2-week Canadian Rockies itinerary kicks off in Vancouver and follows a loop venturing as far east as Banff and as far south as Rossland before looping back toward Vancouver. Including everything from hot springs, tubing, skiing, and all of the best eats along the way.
If you are looking for ideas for things to do on your upcoming Canada road trip itinerary, places to eat, places to drink and the spots not to miss – I have you covered with this 2-week Canadian Rockies itinerary.


But first, what are the Canadian Rockies?
The Canadian Rockies are a sweeping region of over 180,000 square km stretching through British Columbia and Alberta in western Canada. This region is known for its dazzling peaks and endless adventures. In the summer, you will find panoramic hikes, mountain bike adventures and vivid blue lakes begging to be explored.
In the winter, these peaks transform into a blanket of white and offer some of the best skiing terrain in the world. Not to mention all the cosy winter activities on demand! It really is the perfect destination for a west Canada road trip itinerary.
How to get to the Canadian Rockies
One of the best ways to begin a west Canada road trip itinerary is by landing at Vancouver's International Airport YVR. This is a fully serviced international hub that is bound to have a great flight from wherever you are visiting. From here, you can pick up your rental car or campervan and begin!
Where to stay on your Canadian Rockies road trip?
Depending on your personal style of travel, you can opt to travel in a rental car and stay at hotels/hostels etc., for this Canadian Rockies itinerary. Alternatively, you can choose to travel in a campervan or motorhome.
If you are travelling in a car for this 2-week Canadian Rockies itinerary, there will be plenty of different accommodation styles to choose from along the way. If you are looking for cheaper stays, be sure to look in the towns outside of the mountain resorts. You will likely find a good deal and be able to drive up to explore the mountain or take advantage of local bus services to and from the mountain.
If you choose to travel in a campervan for your Canada road trip itinerary, there are also a few options for camping along the way. Travelling in a camper in summer, you will find plenty of campsites in this region. If you are travelling in winter, many RV parks will be closed. However, in their place, many of the local ski resorts offer free or low-cost parking options.
Do I need to buy any Parks Passes?
To travel to the Rockies region during this 2-week Canadian Rockies itinerary (specifically Banff National Park), you will need a Discovery Parks Pass. These cost around $145 CAD for up to seven people in one vehicle and is valid for 12 months and up to 80 Canadian parks destinations.
Ski Passes for the winter
If you are planning a West Canada road trip itinerary during winter and want to take advantage of the incredible skiing on offer, it is worth buying a multi-mountain pass such as an Ikon Pass or a Mountain Collective Pass. These multi-mountain passes give you access to a huge number of resorts, each with several days included per resort. These are absolutely perfect for a west Canada road trip itinerary! Be sure to do your own research, but overall these passes are often worth it, even if you just spend five or more days skiing per season.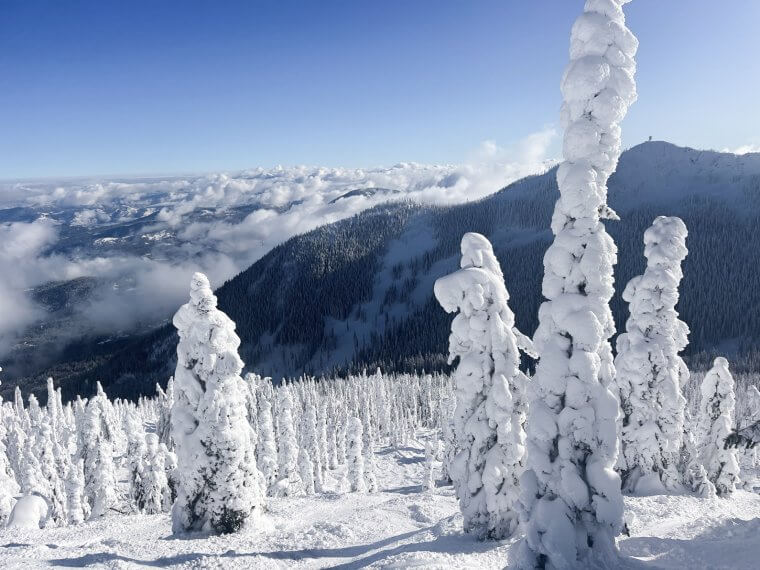 A 2-week itinerary through the Canadian Rockies
This 2-week Canadian Rockies itinerary is set in winter but could just as well be done in the summer! In winter, there is plenty of skiing and boarding to be done, while in the summer, you can swap this out for local hikes and mountain biking at many of these same mountain towns!
Day 1: Vancouver to Sun Peaks
Drive time: 4 hours and 26 minutes
After arriving in Vancouver and picking up your rental, it's time to hit the road toward the first stop on this 2-week Canadian Rockies itinerary: Sun Peaks Mountain Resort. After making your way out past the city's edges, you will come across one of the most iconic roads on a west Canada road trip itinerary: The Coquihalla Highway. This road climbs to an impressive elevation of 4068 feet (1240 metres) and winds through an impressive mountain range. If you are driving this road in the winter, it's important to look ahead at the weather. This road is notorious for becoming quite dangerous with ice and snow and large trucks and can close due to avalanches. So be sure to check ahead.
On the way to Sun Peaks, you will pass through Kamloops. This town is a great place to pick up any food/supplies. You can choose to stay the night in Kamloops or drive up the mountain and stay up in the mountain village. If you are travelling in a camper, you are permitted to camp in Sun Peaks for a small fee of $15 per night in parking lot 5. Simply head to the customer service desk, pay the fee, and you have ski-in ski-out accommodation – how does it get better than that?
Sun Peaks Resort is a stunning little mountain resort with an iconic mountain village. Begin the day by heading into the village and grabbing a coffee from Vertical Cafe. If you're feeling a little holiday spirit, they also offer a boozy shot for their coffees.
The mountain itself is best known for deep steeps and powder stashes but also has a huge range of beginner and intermediate-friendly terrain. After exploring the mountain for the morning, grab a poutine from Chez Joe Poutine for lunch. This place does a mean spin on this Canadian classic with everything from Indian, Texan and Maple bacon additions to keep things interesting.
If you're looking for a good place to head for dinner after a big day of skiing, be sure to check out Fondue Stube. They offer a 3-course meal including cheese, broth and chocolate-based fondue for $100 CAD for two. Yum!
Drive time: 3 hours and 8 minutes
Say goodbye to Sun Peaks and drive the 3 hours to the next Canadian Rockies Itinerary destination: Revelstoke. Revelstoke is a notoriously steep mountain, perfect for immediate riders looking for a challenge and advanced riders looking for a playground to explore. Begin the day by grabbing a coffee from town at the Modern Bakeshop and Cafe or La Baguette if you're staying up at the base of the mountain. Then grab your skis or board, and start exploring. If you are a beginner or would prefer a rest day, be sure to check out the local Halcyon Hot Springs. These springs are located on Upper Arrow Lake, a short 45-minute drive from Revelstoke – a perfect day adventure for just $30 CAD per person.
After a big day of exploring, head to the Roxy Theatre for a classic small-town movie night and grab an apres drink at Monashee Spirits. Their Monashee Mule is the perfect after-ski refresher. For more ideas on things to do, check out the best things to do in Revelstoke.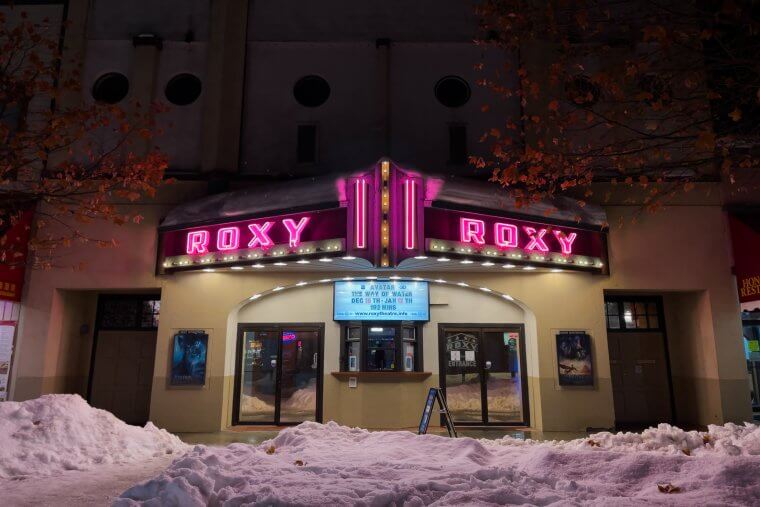 Day 4-5: Ski and Skate at Lake Louise
Today it's time to continue west on this West Canada road trip itinerary. On the drive, stop in the town of Golden at Legendz Diner for a classic 50's diner experience. Then, carry on driving towards Lake Louise.
Lake Louise is both the name of a town, but also of one of the most popular (and breathtaking!) lakes in Canada. It is also conveniently (and perhaps a little confusingly) the name of the local ski resort. If you are looking for a day of skiing, make your way to explore the mountain. Otherwise, I recommend grabbing a pair of skates and heading to the lake. Skating on a lake that is 70 Metres deep is a surreal experience – talk about wild ice skating! Access to the lake itself is free, but if you don't have your own skates, you can rent a pair from the Fairmont for around $23 CAD. Once you have finished exploring, make your way to Banff for the night.
Note: Banff National Park has very strict rules around camping, and they do not allow this at any of their resorts/in the park. As such, if you are travelling in a camper for the duration of this Canadian Rockies itinerary, you will have to book a campsite or enjoy a night at a hotel in this region.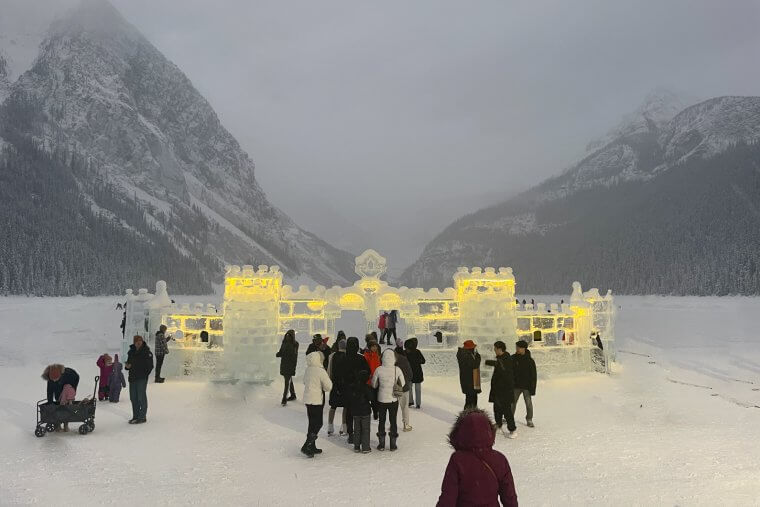 Day 6/7: Adventure like the locals at Mt. Norquay
Kick off day seven of this Canada road trip itinerary with a classic hearty breakfast from Coyotes Southwestern Grill, or try a breakfast-inspired poutine from Tooloulou's. Then make your way up to Banff Mt. Norquay, just a short 10 minutes from town. This is a super cute, small ski resort best known to the locals. If you want to skip a ski day, why not go tubing instead? Norquay is home to Alberta's longest tube lanes and a great way to spend a morning. Tickets cost around $40 CAD and include access to the magic carpet to carry you back to the top. Once you're finished, head back to your accommodation and stay another night in Banff.
Day 8: Ski Sunshine Village
Sunshine Village is a short 20-minute drive from the town of Banff. This is one of the most unique resorts in the fact that it has two villages: one at the base and one at the mid-mountain. Parking at the base of the mountain, you will load a gondola that will take you to the 'village' at mid mountain. From here, you can access ski lessons, lifts and the majority of the terrain. This is a fantastic hill for beginners and even has a heated chair with a cover for those extra chilly days! Stay one final night in Banff.
Day 9: Road trip to Panorama and soak in Radium Hot Springs
Drive time: 1 hour and 55 minutes
Begin the day by grabbing a morning coffee from Little Wild in Banff before getting ready for the next leg of this 2-week Canadian Rockies itinerary inland towards Panorama Mountain Resort. This drive is spectacular, offering stunning views of the Rockies as you weave through the valleys.
On the way, you will pass through Radium Hot Springs. This idyllic mountain town is nestled in between the Rockies and Purcell Mountains. It is also home to the famed Hot Springs of the same name. These hot springs cost $16.50 CAD per person and offers a 'cooler' 32-degree pool as well as a 'warmer' 40-degree pool. These are a little more commercialised than hot springs I have been to in the past, but it is still a pretty magical way to take a break from driving. Once you have finished soaking, hop back in the car and continue onto Invermere to stay the night. However, it is important to be aware of the avalanche risks of this pass in winter. Over this 40km stretch of highway, there are 135 known avalanche paths. But don't worry, it is also home to the world's largest mobile avalanche program and is monitored very closely. The only problem is the regular (and often lengthy) highway closures after a big snowfall. But I think this just makes it all the more special when you do have the chance to drive through it and experience it for yourself.
This is also the gateway to other incredible mountain resorts such as Banff, Lake Louise and more. For more ideas of where to go on a larger Rockies road trip, check out our road trip through the Rockies: a 2-week itinerary guide.
Day 10: Sit on top of the world at Panorama Resort
Begin the morning with the short 20-minute drive to ski at Panorama Mountain Resort. Regardless of your ability, I would recommend catching the chairlift all the way to the top to the summit. The views on a clear day are breathtaking and completely surreal – offering an almost 360-degree view of the surrounding peaks.
At the top of the summit chair is the Summit Hut. This little mountain hut offers a range of boozy and decadent hot chocolates and coffees that you can enjoy with a view. Intermediate riders can enjoy the cruisy blue cat track down, while the more advanced riders should try and duck over into the Taynton Bowl to explore the backside. This short hike is absolutely worth the views and terrain. Then, head back to Invermere for the night.
Day 11: Ice Skate in Invermere
Invermere is a quaint little town set on Windermere Lake and a must-do for any west Canada road trip itinerary. In the winter, this 17.7km (11 mile) long lake, transforms into the largest skating loop in the world. Known as The Lake Windermere Whiteway, this 34 km (21 mile) groomed track runs all around the lake. But don't worry! You don't have to skate the whole thing.
This loop is broken into a smaller 5 km loop and a few other larger loops. Even if you are a novice, I would highly recommend grabbing some skates and exploring – it is truly spectacular. Finish off your skating adventure with a coffee or gelato from Stolen Church Coffee co.
Day 12: Adventure through the eclectic town of Nelson, BC
Today we are nearing the end of this Canadian Rockies itinerary with a big drive south toward Nelson, BC. Here you can spend the day skiing at Whitewater Mountain Resort or simply meandering and exploring this eclectic town. Baker Street is filled with cute cafes, breweries and eclectic thrift stores.
If you are l​ooking for a unique experience, why not check out the Himalaya Salt Cave for a salt cave and sound therapy session. Then end the day with a drive to Red Mountain Resort for the night. If you are travelling in a camper, you can park here overnight for up to seven days! Otherwise, you can stay close by in Rossland.
Day 13: Explore Red Mountain, BC
If you are planning your Canada road trip itinerary between January and March, be sure to get an early start to the day with a yoga class. Every Thursday a by-donation class is held at Keen Cafe to help skiers and boarders warm up before the first chair! Once you are feeling limber, it's time to head up to explore the mountain.
If you are a competent rider and want a thrill, ride the Motherload Chair. This chair gives access to the third steepest terrain in Canada (after Whistler Blackcomb) and has a thrilling chair ride up! Stay another night at Red Mountain Resort or in the nearby town of Rossland.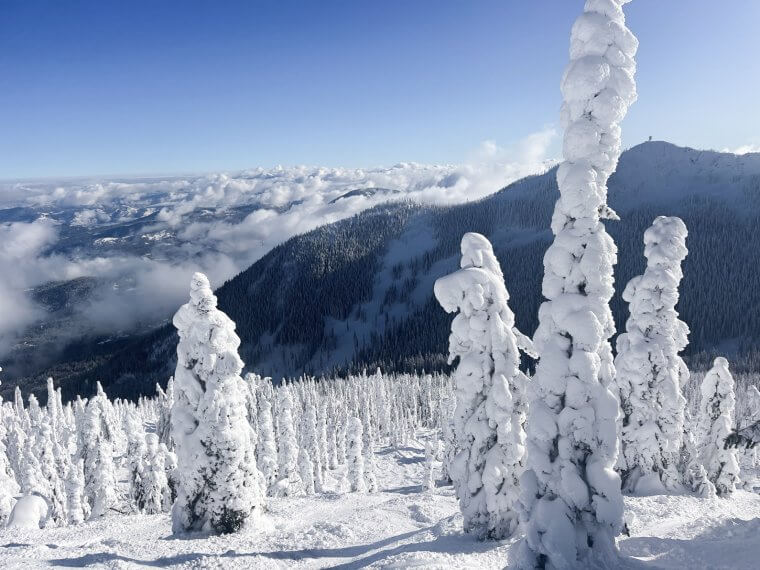 Day 14: Drive to Vancouver and have one final explore
Today marks the end of this 2-week Canadian Rockies road trip itinerary. If you have a few more days, you can take your time getting back to Vancouver and even spend a few days exploring this beautiful city! For more ideas, check out our guide to the best things to do in Vancouver.


So there you have it! A 2-week Canadian Rockies itinerary! Are there any top things to do in the Rockies that we have missed? Anything else you would love to see added to this Rockies travel guide? As always, happy adventuring.
What are your favourite things to do in British Columbia?


Did you find this post helpful? I'd love you to share it for me.
Pin and save this blog post for later…