Nestled inbetween the hills in the Sri Lankan highlands sits a rather unassuming village pathed with just one road that acts as the gateway to one of the most famous walks in Sri Lanka – Adams peak or Sri Pada.
For many, a hike up to Adams peak will make the ultimate Sri Lanka bucket list having just completed it myself, I agree. The hike up to Adam's Peak is a very unique and humbling experience physically, but also offers the chance to dive deep into the culture and traditions here in Sri Lanka. Adams peak is without a doubt one of the best things to do in Sri Lanka!
If you're currently planning your Sri Lanka adventure and have no idea what Adam's Peak is… Adam's Peak is a 2,243 meter tall conical mountain located in central Sri Lanka. The mountain is a sacred pilgrimage site for Buddhists, Hindus, Muslims and Christians due to the footprint imprinted at its summit, which each faith attributes to its own sacred figure.
If you're looking for the best time to hike Adam's Peak, the best way to get to Adam's Peak, the best place to stay for Adam's Peak and just a general guide for Adam's Peak (what to pack and wear etc) – you're in the right place!
This is an Adam's Peak travel guide.
Pens and paper at the ready – it's time to plan your Sri Pada pilgrimage.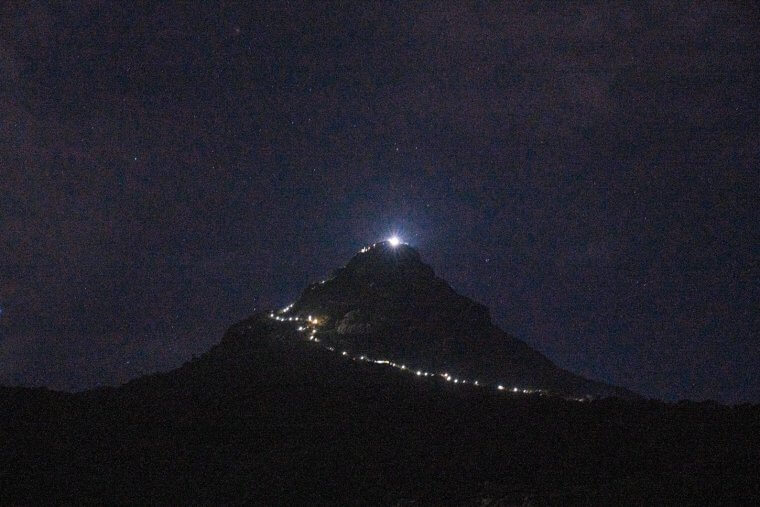 A guide to hiking Adam's Peak, Sri Lanka
How long will you need for Adam's Peak?
Depending on your fitness a hike to the summit of Adams peak will take you anything between 1-5 hours, there are 5 500 steps!! Yes, this hike is no joke, it's an adventure! On the way down it's a lot quicker for obvious reasons, it took us just under an hour and a half to descend.
Do not worry about your fitness level, just leave yourself enough time to not worry about getting back for a certain time. There are families with small children walking this route and there are stopping points, seats, refreshments and toilets dotted all the way up. I had no idea how many facilities would be on this route – it surprised me! Take some money and you'll never be far from what you need – water, rest or glucose.
Due to the early recommended start time of 2am (if you want to catch sunrise and avoid the midday heat), I would recommend booking a night before the summit and then a night after. Getting a good sleep before hand is key. and you will definitely need to rest after! Our legs were sore for DAYS!
How to get to Adam's Peak?
Adam's Peak is located in central Sri Lanka, about 40km northeast of the hill town of Ratnapura. When planning your route to Adam's Peak, you'll want to pop Dalhousie or Nallathanniya into your sat nav, this small town provides the main access point to the mountain (which is about an 8 hour drive from Colombo).
There is no escaping it. To get to Nallathanniya you have no choice but to take on the rough winding roads, covered in gravel and pot holes as you wind through acres upon acres of tea plantations and estates. Whether you do that by bus, tuk tuk or car is up to you, we opted for a car as we were travelling from Kandy (3-4 hours) and then onward to Hiriketiya (5-6 hours) and we wanted comfort!
Most people will get a train via Columbo / Ella / Kandy to Hatton which is the nearest access train station to Adams Peak. From there you can pick up a tuk tuk or car to ride the final stretch!
Tip: If you hike during off peak season, public buses and tuk tuks are harder to come by.
The mountain itself sits in the Peak Wilderness Sanctuary, home to lush montane forests and tea plantations, a combined adventure with visiting some local tea plantations is a must.
Tip: We would highly recommend our driver Dilshan who drove us from Kandy to Adam's Peak and then back to the coast! You can contact him on WhatsApp here: +94 71 985 6115
Where do you stay for Adam's Peak?
For the most convenience and to base yourself at the start of the trail, you'll want to find somewhere in Nallathanniya. This is where the Adam's Peak walk begins – you can't get any closer!
We chose a local homestay very last minute and would highly recommend Lavendra Guest House. It was just £8 a night for the two of us, double bed, hot shower, perfect location and a HUGE breakfast upon our return from the hike. See below images.
When is the best time to hike Adam's Peak?
There are some months where the peak is actually closed and some months where the weather will certainly add additional challenge and so there are definitely better times throughout the year to plan your Adam's Peak hike.
June/July: The monsoon season means the mountain is usually closed these months.
August to October: The mountain is open during these months too but you risk more chance of rain. Less crowded though than the main season which could be great!
December to May: This is the main pilgrimage season when the mountain is open and conditions are best for hiking to see the sunrise. Of course though, these are the busier months with the busiest months being April and May.
I cannot write this blog post without warning you about how busy the Adams peak pilgrimage gets during public holidays, full moons and other religious events. As a sacred site for Buddhists, Hindus and Christians there are a few dates in particular where this route is chaos!
I have no idea what special day we accidentally timed ours with (12th March 2023 if anyone wants to enlighten me) but we set off at 2am and were 1km from the top by 4.30am but it took us another 4 hours (yes!) to actually reach the peak at 8:23am.
Why? As the path gets toward the end it gets steeper and narrower, I'm talking very steep! Combine this with another 20,000 people and a limited summit area and you have yourself a very long traffic jam. At one point we didn't move for an hour!
There were no signs (in English anyway) that indicated how far you were from the top, it was only when fellow European travellers tipped us off on their descent that there's an alternative route to the summit (a fork at one of the temples) that will bypass this main queue!
So if you find yourself stumbling across a very busy summit like we did (which I don't think is that common), take the right road pictures below!
When you read up online about Adams peak and do your research you'll notice that most people recommend to begin the hike around 2am. I'd agree with this as the sun rises around 6am which gives you 4 hours to reach the peak and enjoy the dawn of a brand new day from the summit.
Hiking before the sun rises also means you avoid the added challenge of the heat – which if you've been in Sri Lanka for a while before planning this – you'll understand the benefit of.
How much does it cost to climb Adam's Peak?
There's no official entry fee for Adam's Peak but you are asked to make a donation, sign your name and you get a string tied around your wrist at the start of the hike. We followed the lead of the hikers before us and placed 1000rph down. We have no idea of the recommended amount, if you know, please leave a comment!
I would definitely recommend bringing cash on this hike (and everywhere in Sri Lanka).
What to pack for Adams Peak?
Whilst you want to go as light as possible in terms of weight, you will also need to prepare a little for this hike. You'll be breaking a sweat and putting your body through its paces so some fuel, water and essentials are needed. Because of the popularity of this hike, even though Dalhousie is a small town, they have local stalls and shops selling everything you need including wooly hats, local glucose filled treats, waterproofs, umbrellas – literally anything and everything!
Here are a few essentials I'd like to bring to your attention:
Comfy trainers – some people were barefoot but I'd be wearing your comfiest active trainers / hiking boots if you're travelling with them!
Head torch or a torch – In pilgrimage season the path is lit up. However, you will need a head torch if you climb Adam's Peak at any other time as there are no lights and the route is completely dark.
Layers – if you set off at 2am it's chilly and so until you warm up (happens quickly) you'll need a layer to entice you out of bed. When you reach the top and wait for sunrise, you may appreciate your layer again. However when that Sri Lankan sunshine hits – you'll be taking it right off! As you're getting the picture – layers is key to your comfort!
Cash money – for snacks / donations
A camera – of course!
Suncream / hat / glasses – you'll appreciate the relief on the way back down.
Snacks and water!! As much as you can carry.
Top tips for Adam's Peak:
Have a chilled couple of days planned afterwards, we could hardly walk up and down stairs for about 3 days afterwards!
Try some of the local sweets in the town before hand, super cheap and supports the locals!
Don't worry about getting hungry or thirsty – there are PLENTY of options the whole way up!
Enjoy the experience!
My honest opinion of this adventure?
I absolutely loved it. It was a real physical challenge (we really went for it on the ascent) and then it was a mental challenge being at a stand still for 2-3 hours amongst the locals as we queued to reach the summit.
The Sri Pada hike truly encouraged us to enjoy the journey and not be focused on the destination. We surrendered to the thousands of people we had been accompanied by and bathed in the laughter and song of families in the queue besides us, all trying to pass the time. It was humbling to see 70-80 year olds walking and to see families really pull together as a unit, holding each others hands, carrying each other and smiling at the summit.
The summit itself is not what you'd expect if you're used to mountain hikes, it's a sacred site and so there are wires and railings all around making it hard to see the view. Another reason to enjoy the journey and not be focused on the destination… the best views are on the way!


That's it for my Adam's Peak travel guide!
Anything you'd add? Any questions? Leave a comment if you'd like to pick my brains any more!
Love as always and happy adventuring…
Did you find this post helpful? I'd love you to share it for me.
Pin and save this blog post for later…