If you're considering a summer trip to Chamonix and you are a lover of the outdoors, you are about to fall head over heels in love with this French mountain village. Chamonix is out of this world.
I first passed through Chamonix for 2 days on my 8-day French and Swiss alps road trip in 2018 and I have finally returned as the first destination on my big Europe road trip @wheresmolliesvan this week. I can confirm I've fallen even deeper in love and I'm even considering spending the winter months here to catch the incredible snow season just about everybody has told me about.
Why Chamonix? Chamonix is one of many gorgeous towns that you can pass through on a French mountain road trip but it's not just the views of Mt.Blanc, the tallest mountain in Europe at 4,807 meters, that get people visiting here. Chamonix is known as the climbing capital of Europe and has an abundance of outdoor activities for every level of expertise. From exploring the likes of Mont Blanc, Aiguille du Midi and overnight hiking up to Lac De Cherseys, all the way to Via Ferratas, outdoor climbing walls and cocktails with mountain views, you'd easily fill a weekend itinerary, week itinerary or life itinerary here.
The amazing thing about Chamonix is that you feel worlds away from city life, yet you have the city of Geneva just an hour's drive away. From Geneva, it's only a 1hr45 minute flight to London. This makes Chamonix a very accessible destination to get to in Europe.
Chamonix is also only an hour's drive from my favourite lake in Europe, Lake Annecy, and so if you end up here, promise me you'll take a day trip there.
In this blog post, I am going to share with you the best things to do, see and eat in Chamonix during summer to help you plan the trip of a lifetime.
Other blog posts we think you may like:
A guide to visiting Chamonix during summer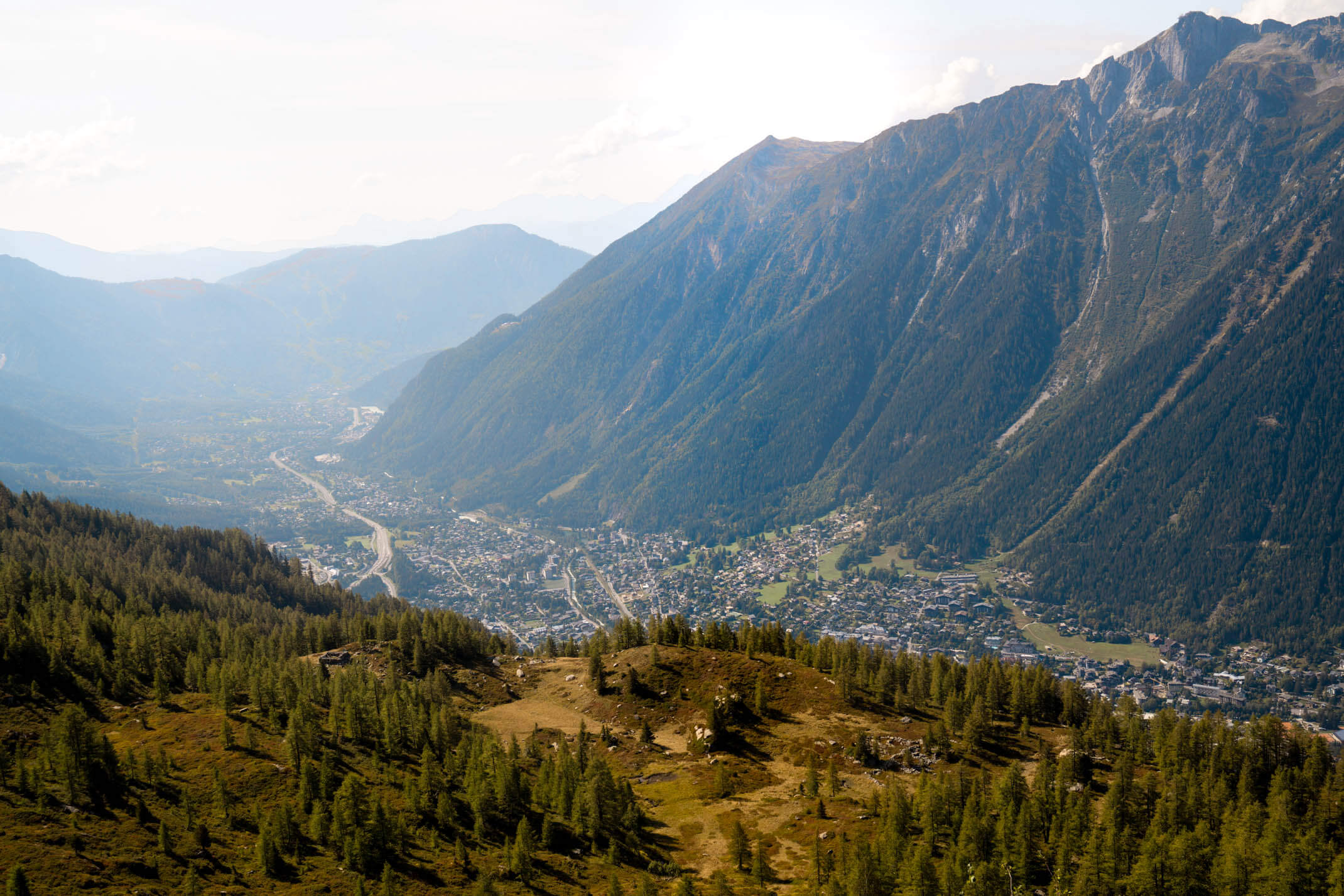 Getting to Chamonix…
The nearest airport to Chamonix is actually Geneva International Airport in the neighbouring country of Switzerland and is just over an hour's drive away. When arriving at the airport you have a few options:
Taxi from the airport
Rent a car from the airport and drive yourself
Catch the Easybus from the airport which takes 1 hour 15. Get more info here. Blablabus, Transalis and SwissTours also offer bus routes between Geneva and Chamonix.
Get the train. Note: this takes 3-4 hours and is not a direct route. But, worth doing if you want to stop off and explore on the way!
You can also fly to Lyons in France, or Turin or Milan in Italy, but these airports are about 3 hours away.
Accommodation in Chamonix:
Chamonix is notoriously expensive to stay in because of its popularity. What I would recommend is either booking in advance, booking somewhere just outside the town centre (if you have a car) or having a look at Airbnb. You can end up spending quite a lot and not getting that much for your money if you book at the wrong time.
On my road trip in 2018, I camped a 3-4 minute drive outside of Chamonix at La Mer de Glace. It was perfect and had views over the mountains which you can see below. It cost €32 for two adults, a car and a tent. When checking in, we even opted in for the yoga class happening in the trees that evening for €10 each.
Wild camping in France is legally a grey area, but generally tolerated if you have permission from land owners. Stay away from tourist sites and it's recommended that you leave by 9am.
Places to eat and drink in Chamonix…
Places to eat:
Mumma: This Pan-Asian fusion restaurant is my friend's favourite place in town. He's a French chef so that one big seal of approval.
Tampopo: This is his second favourite and I can second as amazing and affordable Japanese food. The vegetarian miso ramen was a win! And the squid starter!
Sesame: Your go-to juice and smoothie bar. They've only been open a year and they serve golden lattes, matcha, energy balls and ginger shots galore.
Organic Epicerie: Amazing vegan menu and place to work for a few hours!
Places to drink:
Cha Cha Cha: cocktails and wine with views of Mt.Blanc and the mountains. (Price-wise, Aperol Spritz was 5€)
Le Shack: beer garden (and burgers)!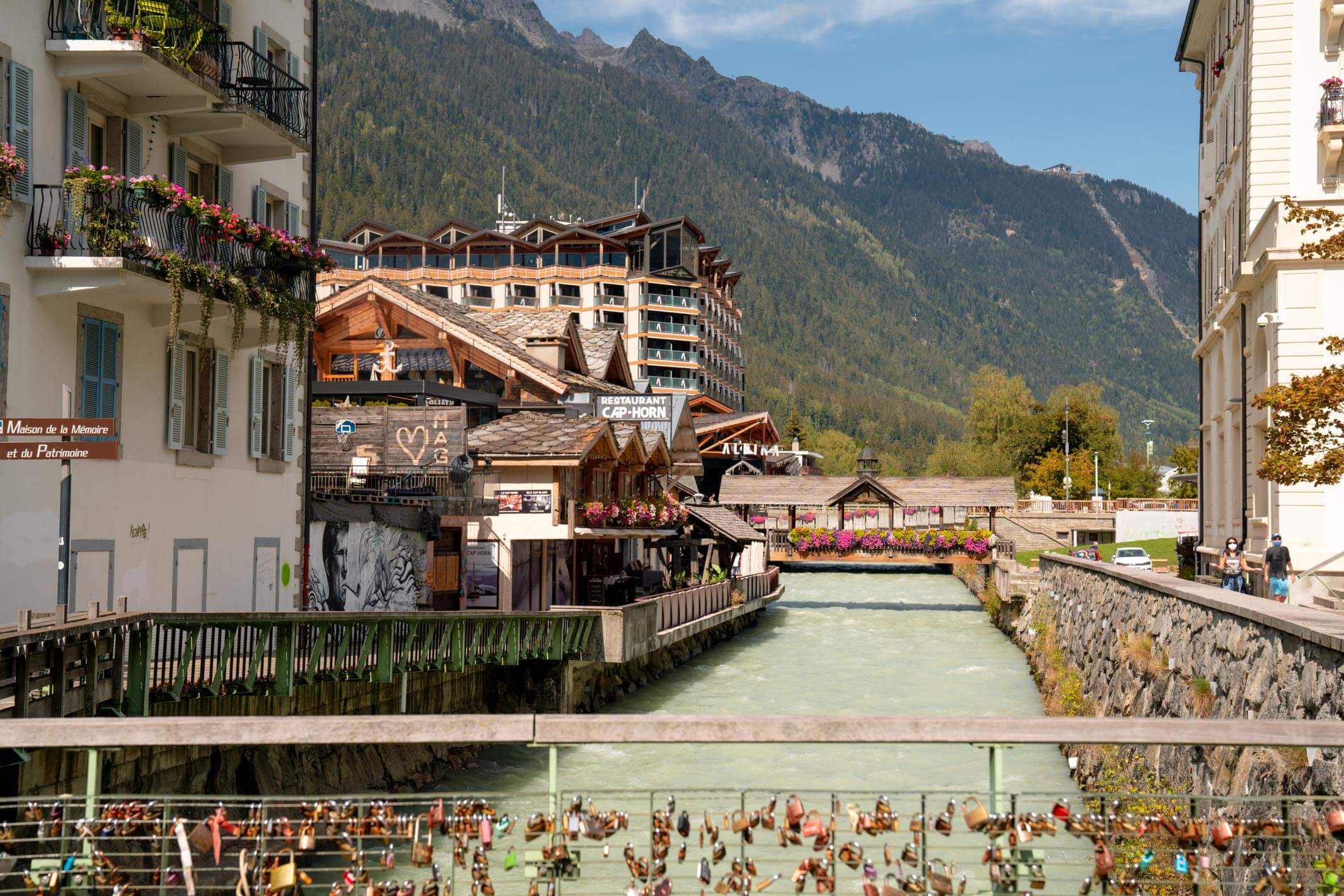 Top things to do in Chamonix during summer…
1. Take the gondola up to Aiguilles du Midi.
Despite its height, it actually only takes to 20 minutes go up in the Aiguille du Midi cable car, starting in the centre of Chamonix and reaching an altitude of 3,842m in the mountains. When you're up there, you can see awesome views of Mont Blanc from the highest deck, and trust me, you won't want to come down. Rumour has it it's the second most seen attraction in France after… you guessed it, the Eiffel Tower!
At the top, you can also opt to 'step into the void' and stand in a glass box suspended over 1000m over the rockface.
A visit to Aiguille du midi isn't the cheapest but even from locals, I've been advised it's a must and something you must do at least once.
Top tip: If you get the cable car up to Aiguille du Midi you have to spend 2 hours there. This stopped us being able to do it on my first visit to Chamonix because of timings, which was a shame. It's meant to be insane so leave enough time for a full experience.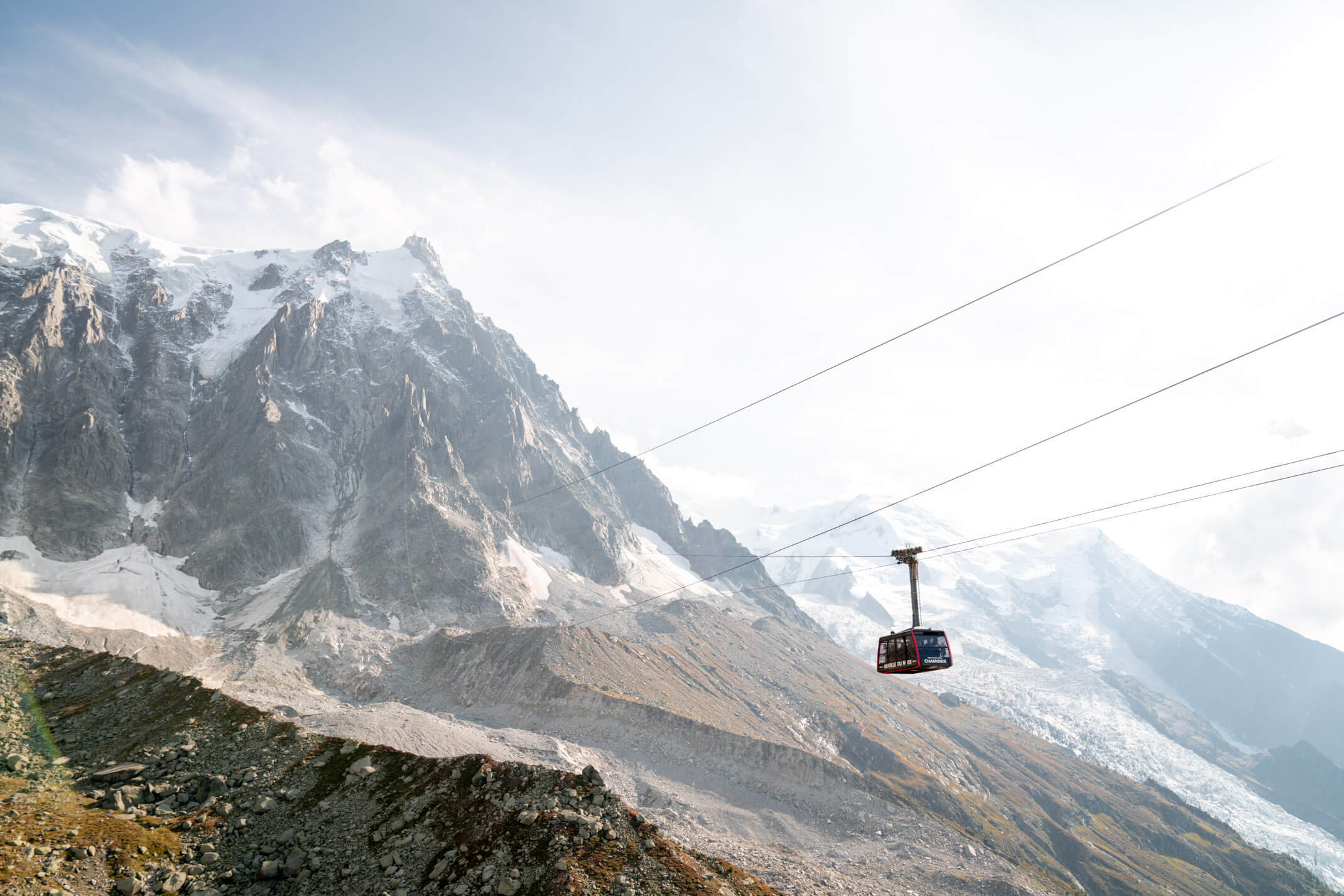 2. Have a cocktail or glass of wine at sunset overlooking Mont Blanc at Cha Cha Cha
We did this on our first evening in Chamonix. A perfect, chilled way to welcome yourself into this gorgeous village. It's a small bar with all the local and international offerings plus a huge variety of wine, obviously.
Catch a nice evening and there are some little tables and chairs out the front with views of Mont Blanc. C'est parfait!
3. Take over the glaciers to Italy in the panoramic gondola.
Once you're at the top of Mont Blanc, get on the Panoramic gondola and head for the top of Helbronner on the Italian side, and descend into Courmayeur on the Skyway Monte Bianco Cable car.
The wonderful thing about this area of Europe is that you have many borders within close proximity, meaning you can very easily create an international trip. Did someone say pizza?
5. Go on a day hike.
Chamonix is full of walking and hiking routes, so if you love exploring nature, you're going to be in heaven.
Popular hikes and walks in Chamonix include…
Mer de Glace balcony hike across to the mid-station at Plan d'Aiguille (2-3 hours) overlooking Chamonix.
Hike up to Lac Blanc (2352m) from the Flegere / Index lift (just under 2 hours). A great place for a picnic with views of Mont Blanc.
Explore other lakes in the Aiguille Rouges nature reserve: Lac Cornu (2276m), Lac Noir (2540m) .
Bossons glacier – hike from Le Mont and enjoy food with a view at Chalet du Glacier des Bossons (1425 m)
Aiguillette des Posettes (7,220ft) – Walk up above Le Tour to the top and a beautiful 360° view over France and Switzerland. (4 hours total).
Berard Valley & Mont Le Buet (gentle hike with a waterfall)
Visit one of these Buvettes en Montagne (snack bars and restaurants in the mountain)
Aiguilette des Houches (2285m) – Heading towards Bel Lachat passing the Lapaz river and the Carlaveyron prairies (around 3h15 climb), this route gives you one of the best views of Mont Blanc.
If you want to get active but don't fancy hiking, Chamonix is also a great place to cycle or go horse riding!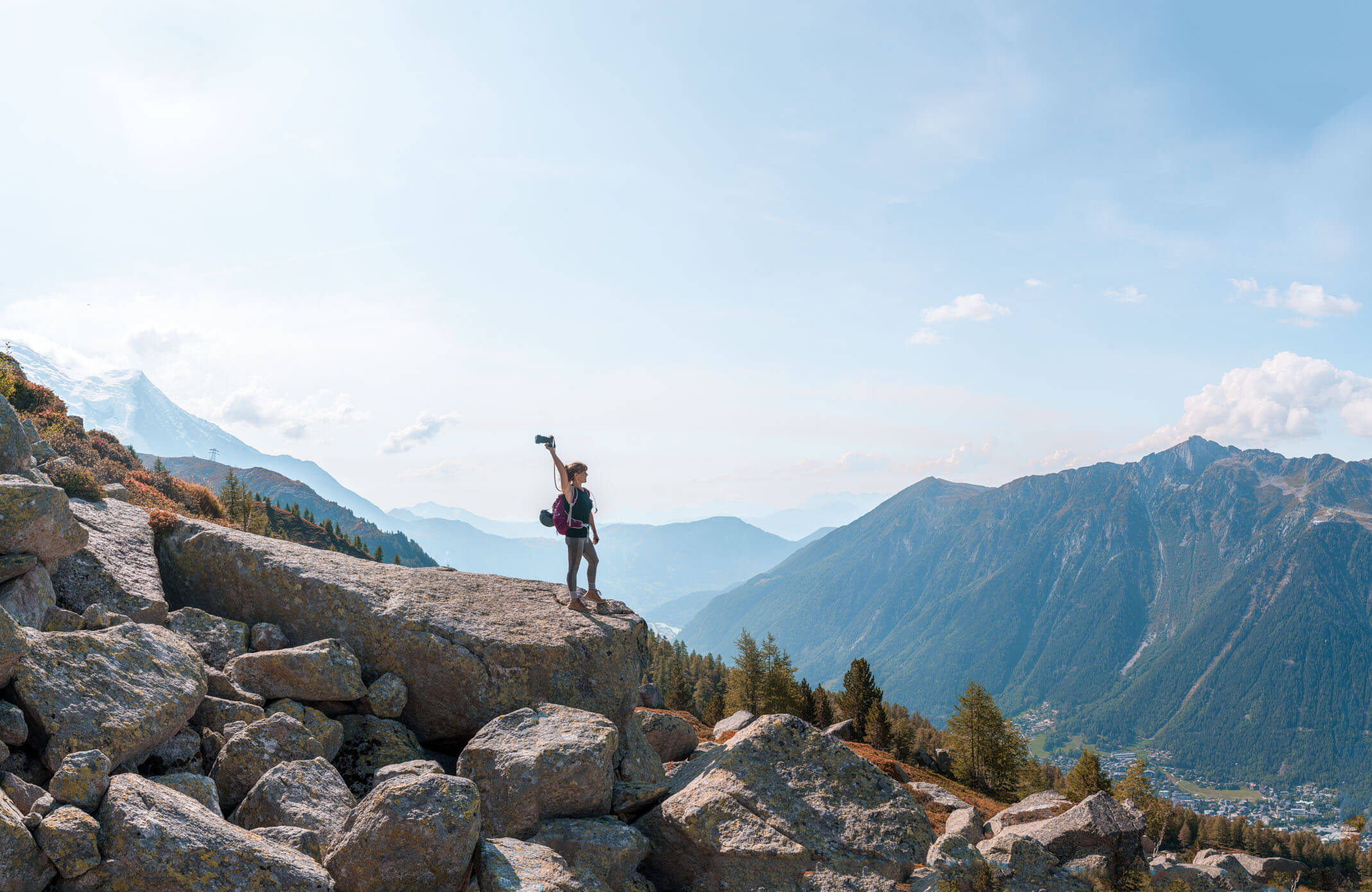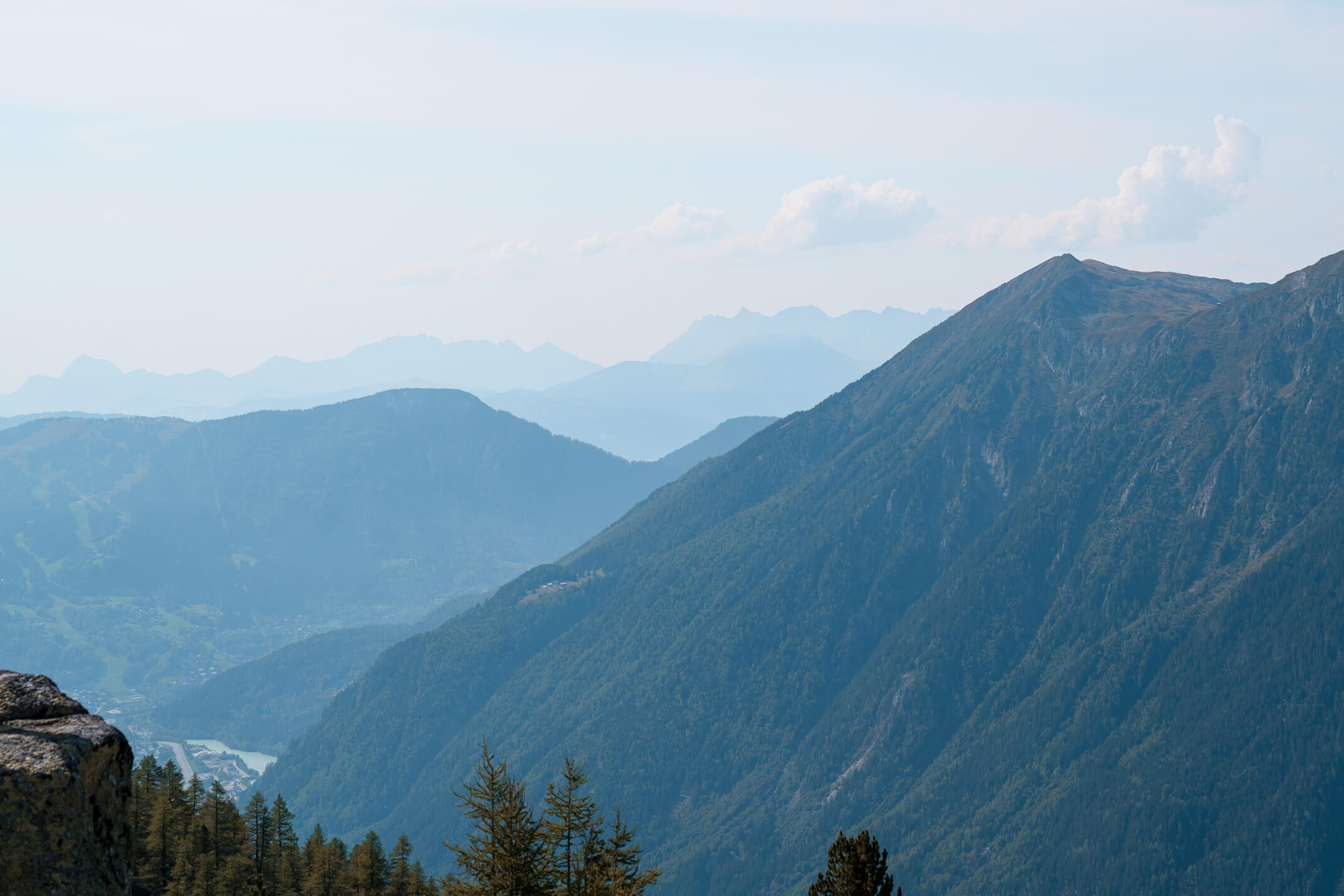 6. Take on a guided glacier walk.
Learn about the glaciers up close as you explore the Mer de Glace, the Albert Premier glacier or the Valley Blanche.
7. See Chamonix from above.
Chamonix is a wonderful place to try a helicopter flight above the mountains and glaciers, or to go paragliding!
9. Go climbing, take on a via ferrata!
I absolutely love via ferrata adventures and in France, you are never too far from one. These 'iron paths' built into the rocks consist of ladders, bridges and all sorts of challenges and will guide your climb, making it a little more 'straight forward' than rock climbing but believe me, they aren't to be underestimated.
You can book onto a guided via ferrata if you're taking on your first one, but you are also welcome to turn up with your equipment and self-guide it (making it a free activity). If you need to rent equipment, you can do so at one of the outdoor shops in Chamonix centre. I had my harness and helmet but rented the rest for €7 in town (half-day).
The French use a 6-grade system to rate the via ferrata routes, in terms of difficulty: F (facile), PD (little difficult), AD (quite difficult), D (difficult), TD (very difficult) & ED (extremely difficult). So if you do try one, make sure you do your research first.
I did the Via Ferrata Parc Thermal one last week in Saint-Gervais, just outside of Chamonix and it was insanely good. A little more on the challenging side (definitely not for beginners) but incredible exposure over the waterfalls and you climb your way around the cliff. See more information about the climb and what you'll need here.
During summer in Chamonix you have access to many Via Ferratas, there's Via des Evettes, Via Ferrata de Curalla and more (listed below). I love climbing as a way of getting my heart racing and taking in the stunning views and nature all at the same time!
Equipment needed:
a via Ferrata sling equipped with a braking system and 2 carabiners (designed to prevent a fall)
your climbing harness
a helmet
And away you go! Plus a water bladder, snacks etc.
If you have access to a car and can go a bit further out, consider travelling to these Via Ferratas which are 30 mins-1 hour outside of Chamonix…
Borderan in the Col des Aravis near La Clusaz
Yves Pollet Villard in La Clusaz
Saix du Tour in Avoriaz / Morzine
Saix de Miolène in Chapelle / Abondance
Tour de Jalouvre in Grand Bornand
Collonges in St. Julien / Genève
Reclavier in St. Julien / Genève
du Mont in Sixt Fer à Cheval
la Roche à l'Agathe in Thônes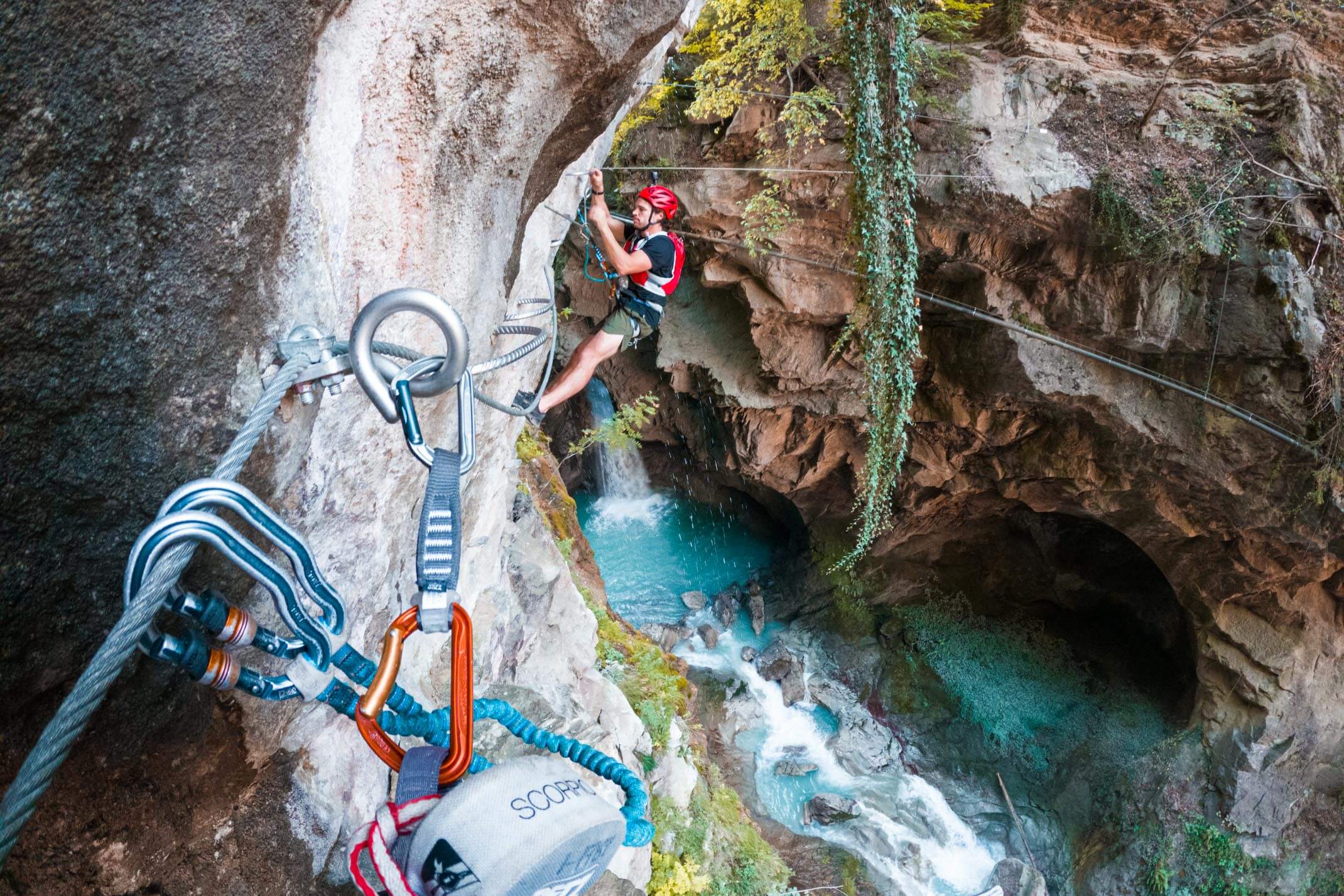 10. Go climbing at the outdoor wall next to Lac des Gaillands.
Via ferratas aside, Chamonix is the perfect place for bouldering and climbing. There are so many options when it comes to climbing routes but the one I went to whilst spending summer in Chamonix was the outdoor wall at Lac des Gaillands. You can park for free right next to it (there's space for vans too) and off you go! I never saw the wall empty. It's a great place to learn the ropes… literally!
The outdoor wall at Lac des Gaillands also has views across Mont Blanc too so make sure you bring a picnic to enjoy by the lake after your climb.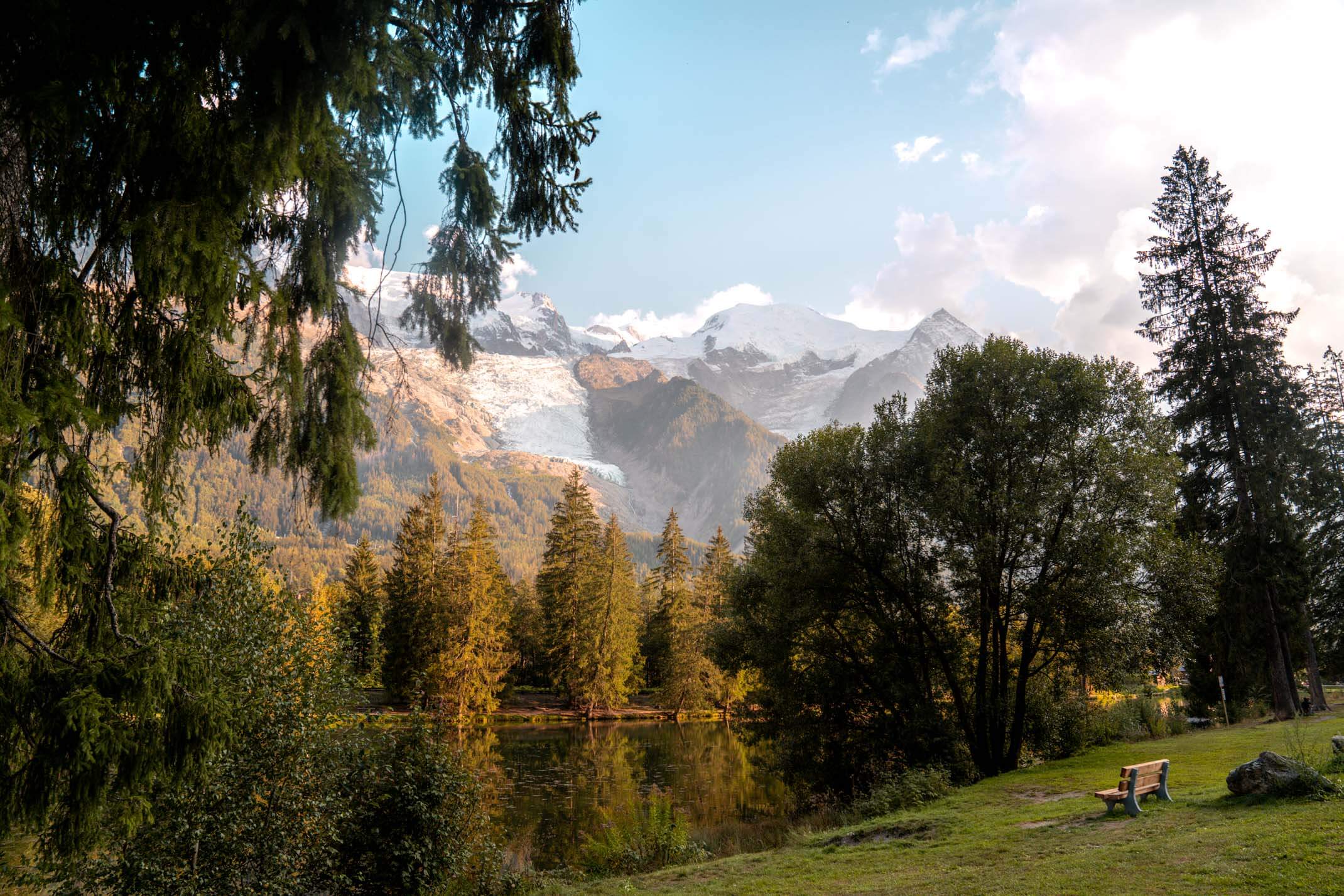 11. Get the famous red train up to Mer De Glace glacier.
Marvel at France's longest glacier at the Montenvers – Mer de Glace site. The famous train runs from the centre of Chamonix to the top (1913m), where you can go down by cable car and then 400 steps to visit the ice cave within the glacier. While you're here, there are restaurants, a mountain refuge, a gift shop, a glacier exhibit and a crystal gallery.
Mer de Glace is also amazing for ice climbing, mountaineering, glacier walks and hiking! We did the 'Grand Balcon Nord' hike (6km, recommended time 2h 45 but we did it in 2 hours without a break!). On the route you see the Mer de Glace and Italy's Grandes Jorasses.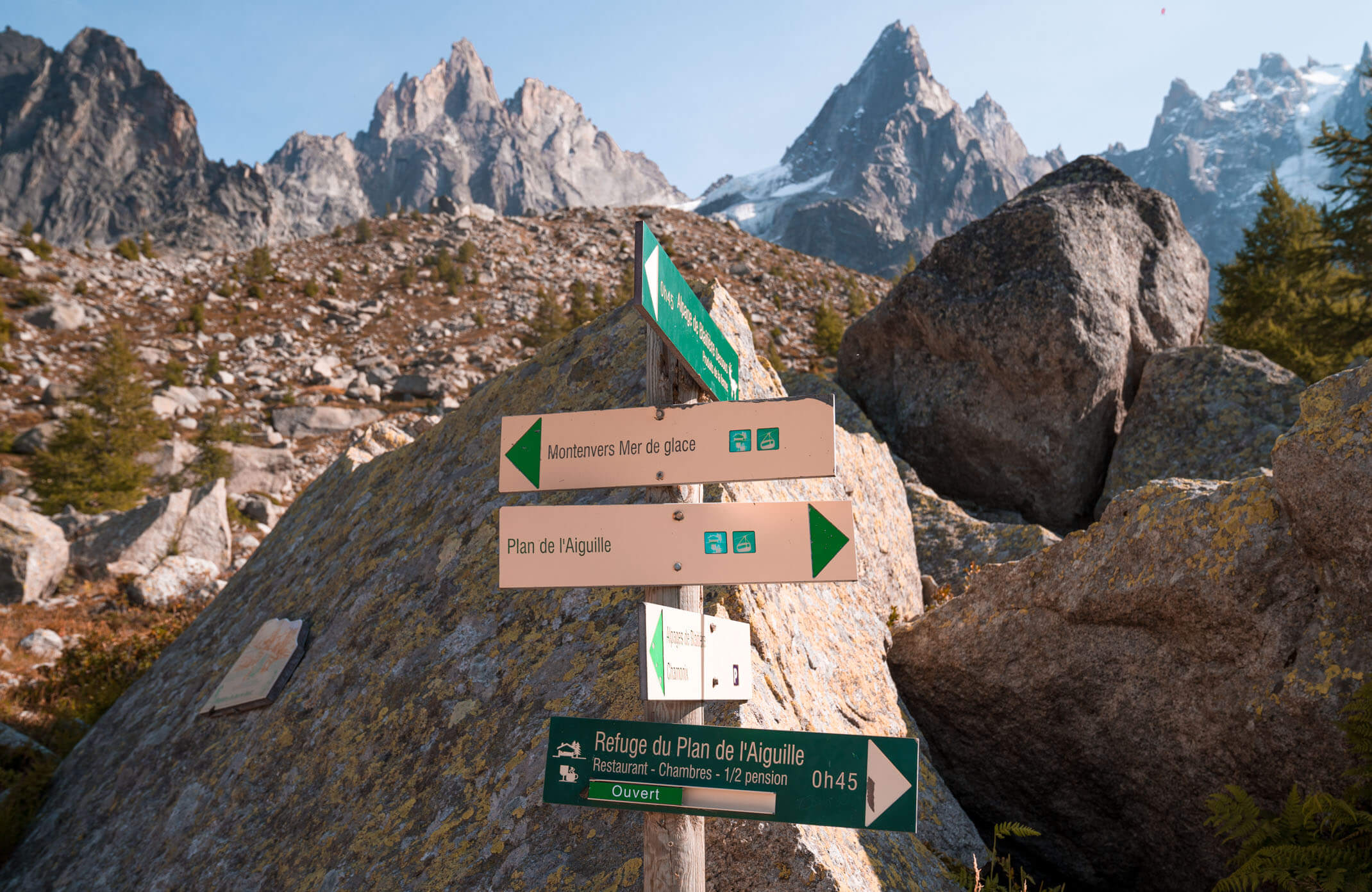 12. Enjoy the views on the tramway du Mont Blanc.
This tramway opens in mid-June and is a popular way of getting to the starting point for summitting Mont Blanc. Even if you're not interesting in mountaineering, it's a great way to take in the view and go for a walk/easier hike in the St. Gervais area!
13. Bungee jump off the viaduct in St. Gervais.
14. Take a ride on the Chamonix Luge Alpine Coaster
You guessed it! A roller coaster in the mountains. This luge is in the centre of Chamonix and is open all year for just €8 a go! Jump on board and slide your way down 1300m of jumps, turns and spins for a Chamonix thrill. Find out more here.
Have you been to Chamonix?
What were your favourite things to do in Chamonix? I'd love to know!
Love as always and happy adventuring,
Did you find this post helpful? I'd love you to share it for me.
I can't do this without you.
Pin and save this blog post for later…