Are you going to Portugal and looking for the best things to do in Lisbon? Are you embarking on a Portugal road trip itinerary and looking to stop off in the capital and explore the most fun things to do in Lisbon?
Well, you're in luck because Lisbon is one of our favourite capital cities in Europe and we've got a Lisbon travel guide jam-packed with ideas and activities for you to consider.
I wonder… Have you ever been to San Francisco on the west coast of the USA? If that's a yes, you'll begin to notice some striking similarities the moment you arrive in Lisbon, located on the West Coast of Europe.
Whether it's Lisbon's tram system, the Ponte de 25 Abril suspension bridge, the steep hills, the nearby surf beaches and wine regions or the historic streets and street art, it becomes very obvious why most call Lisbon the 'San Francisco of Europe'.
Lisbon is without a doubt one of the most colourful, fun, friendliest and safest cities to visit in Europe – perfect for a spot of solo travel. I always enjoy my time here and every time find myself daydreaming about 1-bedroom Casas to buy so that I can decorate a little European home with all of the stunning ceramic and tile work that Portugal does so well.
Basically, I know you're going to love it here in Lisbon.
Lisbon is one of the best places to visit in Portugal and I've put together the best 15 things to do in Lisbon, in this blog post for you.
The word is catching on about this stunning city and Lisbon is quickly becoming a hub for digital nomads, surfers, and beach lovers from all over the world, as it's very close to some of the best places to go surfing in Portugal. See our guide to Ericeira here.
I've just returned from a 5-day city break to Lisbon, exploring everything this place has to offer, so I'm ready to share all of the best things to do in Lisbon. Think of this blog post as the ultimate Lisbon guide, including everything from the best places to eat in Lisbon to the cutest bakeries and the quaintest streets.
Other travel guides you might find useful…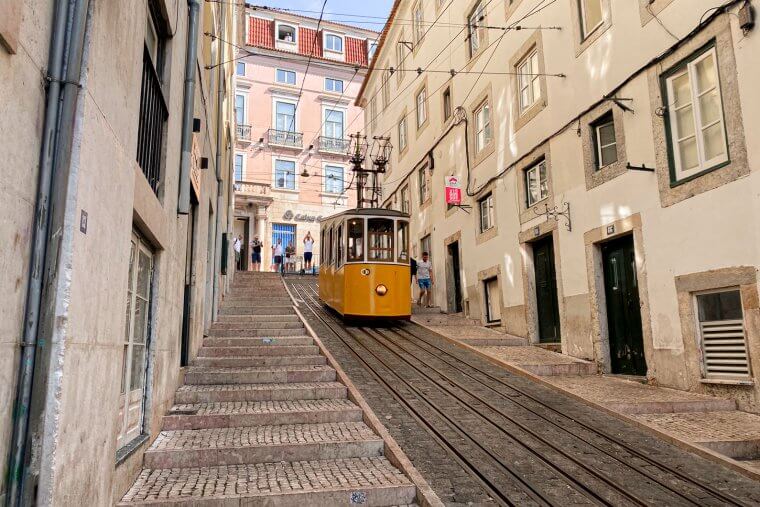 Money saving tip for Lisbon...
You can buy the Lisboa Card to save both time and money during your stay. Available in 24h, 48hr and 72hr options, it costs from €19,95 (from €12,82 for children) and gives unlimited free travel by bus, metro, tram and CP train lines to Sintra and Cascais, free entrance to 35 museums, monuments and places of interest, and discounts of up to 50% at other tourist sites, and up to 10% in member stores on a wide range of local items.
Now let's get to the good stuff… here are nine of the best things to do in Lisbon, Portugal
The best things to do in Lisbon, Portugal...
1. Pastel de nata for breakfast lunch and dinner
No but really…
Nobody does these sweet and creamy Portuguese egg custard tarts better than the Portuguese and you'll find them everywhere here in Lisbon. Yay!
There are definitely a few spots that have a better reputation than others though, don't get me wrong if they've been sat on the shelf for a while they aren't invincible.
Some of our favourites include:
Manteigaria
Fábrica da Nata
Oh, and two places in Lisbon to get Vegan Pastel de nata (win!):
2. Sunset at one of the many FREE miradouros across the city
Usually, to enjoy a drink with an epic view, you have to pay good money to book into a fancy restaurant hey? That or you're crammed into a public space that everyone wants to enjoy for free too!
One of the best things to do in Lisbon is, without a doubt, to explore the city's abundance of Miradouros. Miradouros translates to viewpoints and there are several located across the city with views over the Tagus River for the public to enjoy.
Some have bars there where you can purchase drinks, some are completely empty, and some have live music. It hits the top of the best things to do in Lisbon because you never know what to expect and you can go to a new one each night for another taste of Portugal!
See all of my favourite spots and places to eat/drink/adventure around Portugal on the Portugal Google Map legend here.
3. Hire a GoCar and do a self guided tour of Lisbon
Okay, this was so fun! One of the best things to do in Lisbon and one of the best ways to see the city.
We noticed people driving around in these little yellow cars on our first day in Lisbon and we said 'WE ARE DOING THAT'. It reminded me of the Mario Kart tour in Tokyo Japan.
You can hire the cars from the centre of Lisbon and you can choose the time you'd like to rent it for.
1 hour = €39
2 hour = €54
3 hour = €64
7 hour = €94
Money saving tip:
Grab one for departure at 10.30am / 3.30pm and get 2 hours for just €39.
Once you've hired the GoCar, there are basically 3 main routes to choose from that are inbuilt into the GPS. Depending on which part of Lisbon you're keen to explore, as you drive the inbuilt GPS gives you directions and gives you a pre-recorded audio tour. Super cool!
You'll get the opportunity to get up close and personal with landmarks such as the Belem Tower, the suspension bridge and the Mosteiro dos Jeronimos… all in one afternoon!
I can't lie, it was hard to hear the tour guide on the inbuilt system as the noise of the car and the city around us often drowned it out… but we heard bits and I'd still highly recommend the tour anyway!
A great way to see Lisbon at the start of your trip and then decide where you want to go back to explore more!
4. Take a street art tour
Walk through the wonderfully vibrant city of Lisbon with a private guide who can point out all the wonderful examples of street art around the districts of Lisbon. Street art in Lisbon exists largely thanks to the Urban Art Gallery, created to promote graffiti and street art throughout the city, in an authorised way.
This gallery has enabled many local artists to express themselves through multiple artistic initiatives that have taken life in public spaces scattered throughout the city.
Original Travels walking tour ends at LX Factory on the docks in Lisbon, at an old industrial complex, which features innovative art galleries, vintage shops, restaurants and lively bars.
You can explore more tours and tailor-made Lisbon holidays here on Original Travel.
*The links in this post to Original Travel are sponsored but I can highly recommend their tours and service from direct experience.
5. Wander the colourful, tiled streets of Lisbon
Guided tour or not, one of the best things to do in Lisbon is simply wondering around.
The buildings are so wonderfully filled with character, colour and incredibly unique design touches. Every single building catches your eye for one reason or another. Ever corner inspiring you to redesign your home.
Take an afternoon to let your eyes guide you and… be sure to stop off in a couple of cafes along the way! You are spoilt for choice.
6. Eat your way through Lisbon
Okay Lisbon has some of the best food in Europe.
I don't think there was a single average meal that we had in Portugal and definitely not one in Lisbon. From cute brunch spots, hip all-day breakfast cafes, sunset dining with a view and everything in between – Lisbon delivers the goods. You simply won't have enough meal times to fit it all in. You'll be booking your city break back to Lisbon before you've even left!
Some of my favourites included:
The Food Temple
The Folks for brunch (pictured below left)
The Green Affair for INSANE vegan food (pictured below right)
Java for sunset and insanely exquisite food
See all of my favourite spots and places to eat/drink/adventure around Portugal on the Portugal Google Map legend here.
7. Try Scoop n Dough Doughnuts
Lisbon does Vegan incredibly well! Even for those of you that don't categorise yourself as a vegan.
I'm personally not Vegan but I love it when Vegan chefs get creative and these doughnuts are a creative explosion. The flavours, the textures, the presentation… My mouth is watering just looking at these pictures and remembering how good they were.
Get it on your Lisbon bucket list. This is one of the best things to do in Lisbon if you love doughnuts!
8. Take a boat trip along the Tagus
One of the best things to do in Lisbon is to get onto the river that flows into the Lisbon region from the north of Portugal and continues out to meet the Atlantic Ocean. This is the water that's visible from most of the city and its a gorgeous perspective to get on a boat and see Lisbon from the water.
A tour recommendation with Original Travel…
Set off from the lively Santo Amaro docks district to Terreiro do Paco for a two-hour boat trip along the Tagus, spotting iconic sites of the city along the way, such as the district of Belem and its tower, the April 25th Bridge, the Cristo-Rei monument located on the south bank of the river, the Commerce square which is the gateway to the city centre of Lisbon, and in the distance the castle and St. George the hills of Alfama district with the Pantheon Nacional.
You can explore more tours and tailor-made Lisbon holidays here on Original Travel.
9. Visit the Time Out Market
It's worth a wander through, at the very least, during your time in Lisbon. The iconic Time Out Market is forever deemed one of the best things to do in Lisbon because of its buzz and the fact it houses the best of Lisbon (chefs, restaurants, events and cooking workshops) under one roof in a big food hall.
Go hungry!
Especially if your time in Lisbon is limited, this is a great place to tick off a few of those bucket list eats and drinks and you'll be ticking off the best things to do in Lisbon in one evening!
P.s. The sushi bar was amazing.
10. Wander the Flea Market at Mercado de Santa Clara
Open every Tuesday and Saturday from 9am-6pm this flea market is a wonderful way to pick up souvenirs, antiques and Portuguese offerings all whilst admiring the historic architecture that surrounds it, including the National Pantheon church.
Grab a coffee or breakfast at Copenhagen coffee lab and meander until your heart is content.
Tip: Don't forget to get some cash out for the stalls!
P.s. Look out for this ceramic shop – it has the most gorgeous bowls and mugs for you to take home!
11. Ride one of the iconic trams as you explore the city for the day
The tram system here in Lisbon is an active part of the public transport and, trust me, once you've climbed a few of the hills, you'll be wishing for a tram to pass to help with the load!
Of course though, aside from their convenience, a trip to Lisbon isn't complete without riding one of the iconic trams (and getting a photo). It's without a doubt one of the best things to do in Lisbon!
We hopped on and seem to pay a flat fare of €4 – not sure if it changes across the city but they didn't ask where we were going – we just handed the cash to the tram driver!
12. Grab a pina colada from @pinacoladasexy
Enjoy your fresh cocktail (the do mocktails too) out of a freshly cut pineapple and walk it across to one of the miradouras for sunset.
There are a couple of these stands dotted across the city and this one was in the old town.
I will say, they were a bit pricier than getting a cocktail in a bar here in Lisbon, but it was a fun experience and the cocktails were strong and very yummy!
See exact locations and all of my favourite spots and places to eat/drink/adventure around Portugal on the Portugal Google Map legend here.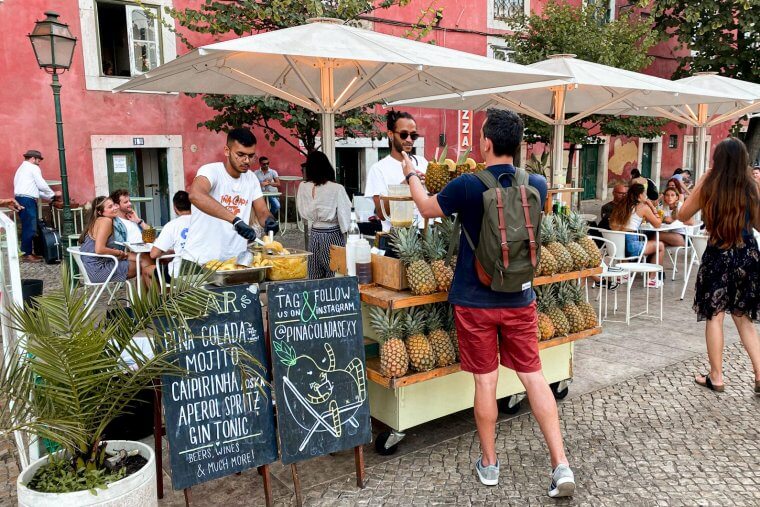 13. Go for brunch at Janis Cafe
It's the yellow building below and they just have the most delicious brunch menu and coffee.
Need I say more? Eat inside or out on the patio under the Portuguese sunshine…
Add it to your Lisbon bucket list!
14. Take Tram 28 to the Old Town
For most, this is THE tram ride to take, if you're going to take any. Hop on board and weave through the narrow streets and the gorgeous maze of a city.
The tram leaves from the centre of town connecting Martim Moniz with Campo Ourique, passing through popular areas such as: Alfama, Baixa, Estrela and Graca.
Tram 28 goes all the way to the Old Town so you can knock off two from the ultimate Lisbon bucket list in one!
Simply Google Tram 28 or keep your eye out for one passing and jump on board.
Tip: We got the 28 to the old town and the driver asked for €4 euro cash. Again I think this might be a flat fare.
15. Take a day trip from Lisbon...
Lisbon has enough to do to occupy you for a lifetime but, should you wish to venture further, there are numerous incredible day trips from Lisbon including:
Explore the UNESCO sites at Sintra (30km, accessible by train)
Wander this coastal town Cascais (25km west of Lisbon, accessible by train)
Surf in Costa da Caparica (18km south)
Surf and hang out in Ericeira (50km northwest)
Drive the mountains of Serra da Arrábida (38km south)
Watch the big swells at Nazare (122km north)
See my best things to do in Ericeira here.
See my guide to Nazaré, Portugal: Home to the biggest wave in the world
Most, of course, will be easily accessibly by car but there are also good public transport options too! So don't write off a day trip just because you don't have a car!
Other cool experiences to do in Lisbon:


What are your favourite things to do in Lisbon?
Where are your favourite places to visit in Lisbon? Anything you'd add to this Lisbon guide?
Love as always and happy adventuring…
Did you find this post helpful? I'd love you to share it for me.
Pin and save this blog post for later…