Switzerland is a country that has stolen my heart. From my road trip through the Swiss Alps to my first via ferrata, and now this weekend in Zurich, it's a country that I have visited and that I will visit time and time again.
If you're looking for a guide to exploring Zurich in summer, from city architecture to lidos and hiking to nightlife, this is the blog post for you.
My summer weekend guide to exploring Zurich, Switzerland…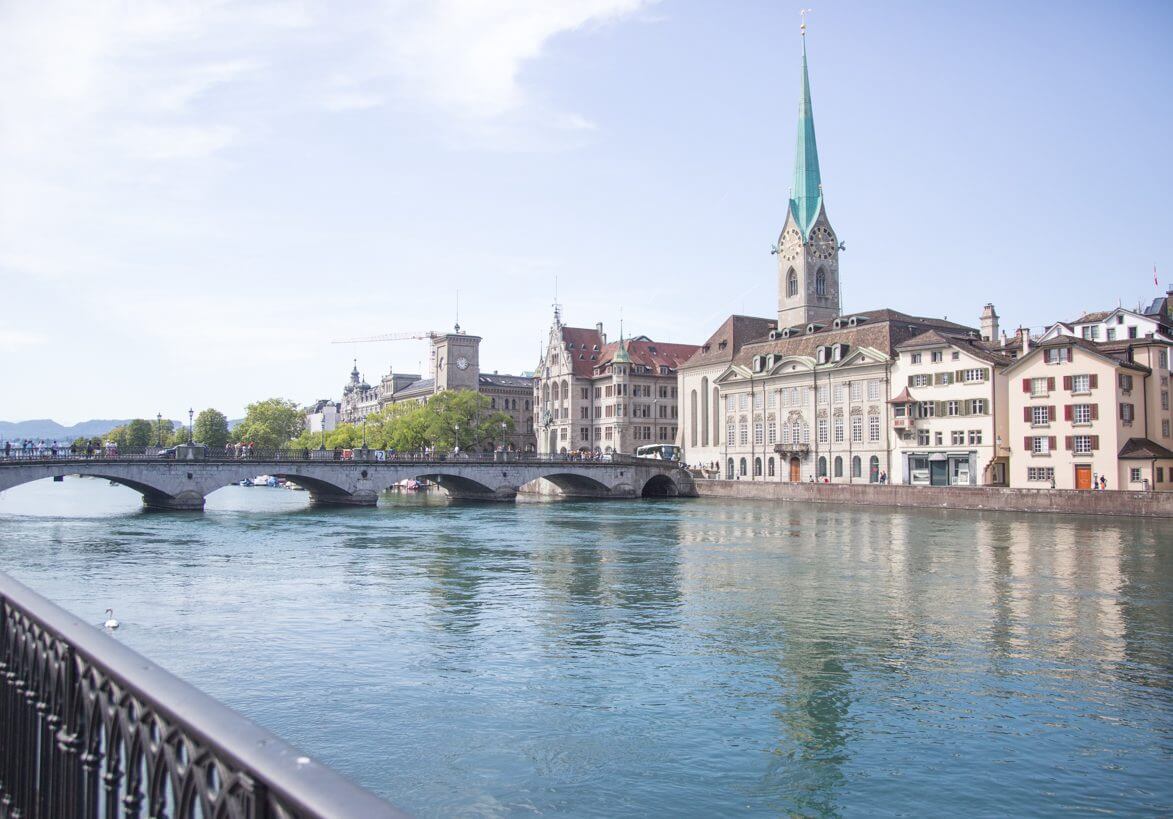 Zurich (the largest of the Swiss cities) sits on Lake Zurich, the main selling point of this destination for me. I explored with my good friend Zanna and we enjoyed a diverse weekend of lake jumping, mountain hiking, catherdral ascending and city mooching, all without venturing far from the city centre at all.
More about the water… It is incredible.
Lake Zurich is filled with the most gorgeous shade of turquoise fresh water which is clear enough to see through, swim through and runs through the whole city. Yup, you'll witness people jumping in to cool off left, right and centre and we did exactly the same.
Keep your swimmers in your bag at all times. The moment you see someone plunging into the crystal clear water, you'll want to do the same.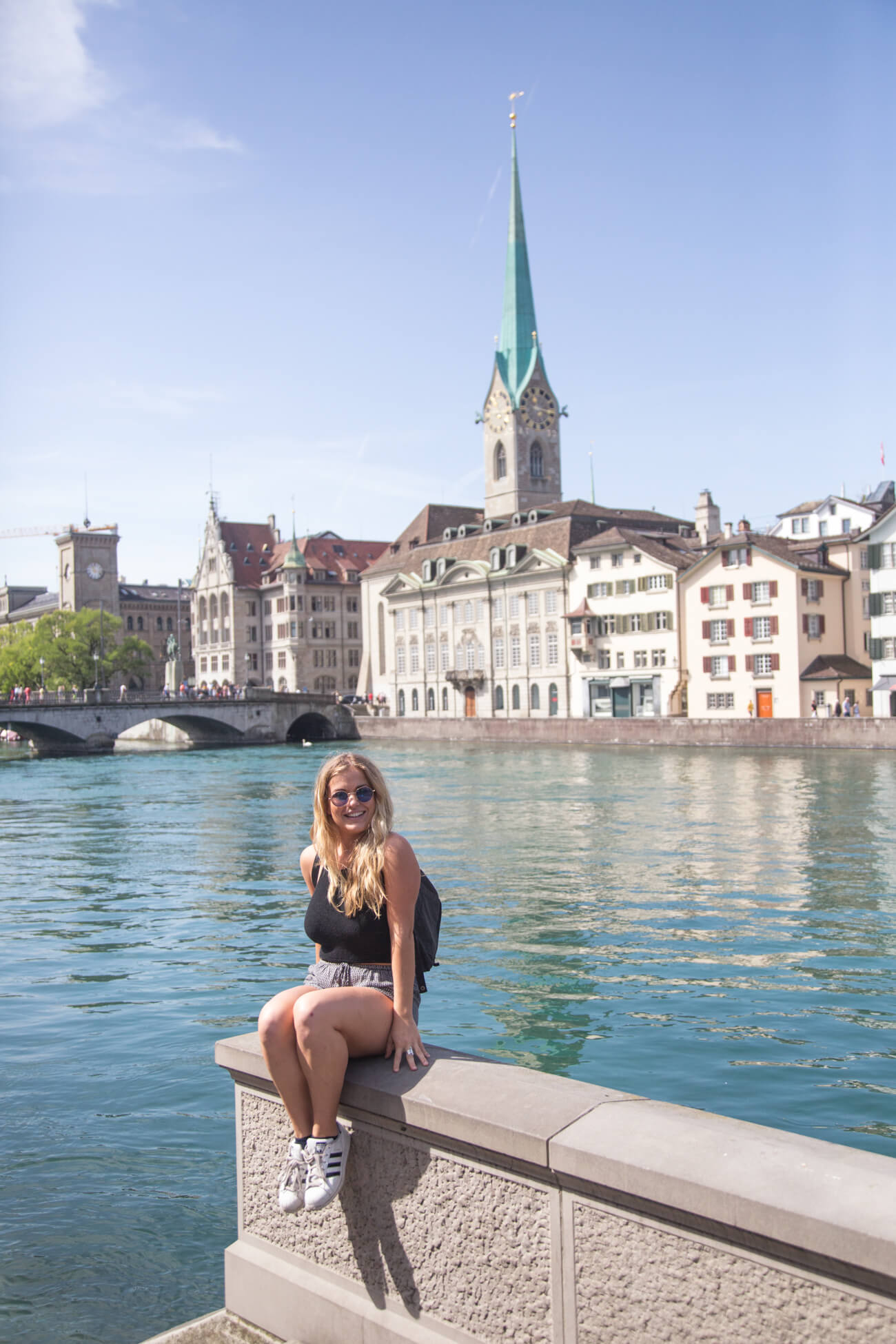 Getting to Zurich…
Zurich Airport (ZRH) is a big international airport with links all over the world! Once you're at the airport, you can get the following transport to the city centre:
Train, 10 – 15 minutes, Single ticket: CHF 6.80
Streetcar (Line 10), 35 minutes, Single ticket: CHF 6.80
Shuttle bus, 30 – 40 minutes, CHF 25
Taxi, 15 minutes, CHF 60 – 70
You can also get to Zurich by bus or train if you are travelling from a nearby city (in or out of Switzerland) or would prefer an eco-friendly alternative to flying!
Getting around Zurich…
Once you're in the city centre, a lot of what you want to see can be done on foot. If you'd prefer not to walk, don't panic – there's a huge train, tram and bus network within the city! Check out more information here.
Budgeting for Zurich…
The rumours are true and I have to be (Swiss) Frank with you: Switzerland is expensive. Well Zurich, where I've spent the last 3 days, was.
I've heard many times before about countries being 'expensive', including Australia, New Zealand and the USA. Honestly though, they've never shocked me, I guess because I'm already used to London prices. Switzerland however IS expensive, so it's important to note that when planning your trip and make sure you save the extra pennies.
Average meal price eating out: 17CHF (£16)
Average coffee: 4-7CHF (£3.50-6.50)
Saying that, Zurich is stunning and the prices wouldn't put me off coming again.
Where to stay in Zurich…
I stayed at the gorgeous Marktgasse boutique hotel during my stay which was located in the heart of the Old Town. The Old Town is a gorgeous maze of cobbled streets, coloured shutter windows, shops and icecream stalls. It was a beautiful place to wake up and its central location never had us needing to walk long to reach any of our adventures. The breakfasts here and the marshmallow pillows and duvets were my highlights.
In the three days I spent in Zurich, of course I scanned the city for the best places to eat drink and play to bring you a well rounded choice of activities.
3 days in Zurich: the perfect itinerary…
Day 1
Morning: Get your bearings of the city…
Pop on your trainers and head out on a run.
We went on a 7km route with City Runners who run free group runs 3 times a week!
Hire bikes and explore.
Walk around the city, meander through the streets and over the bridges on foot.
Need a break? Grab coffee and cake at Cupcake Emporium. I can vouch for the iced matcha latte, passionfruit and chocolate cupcake and the peanut butter vegan one too. Yep I had both. Cupcake Emporium is located in the Old Town.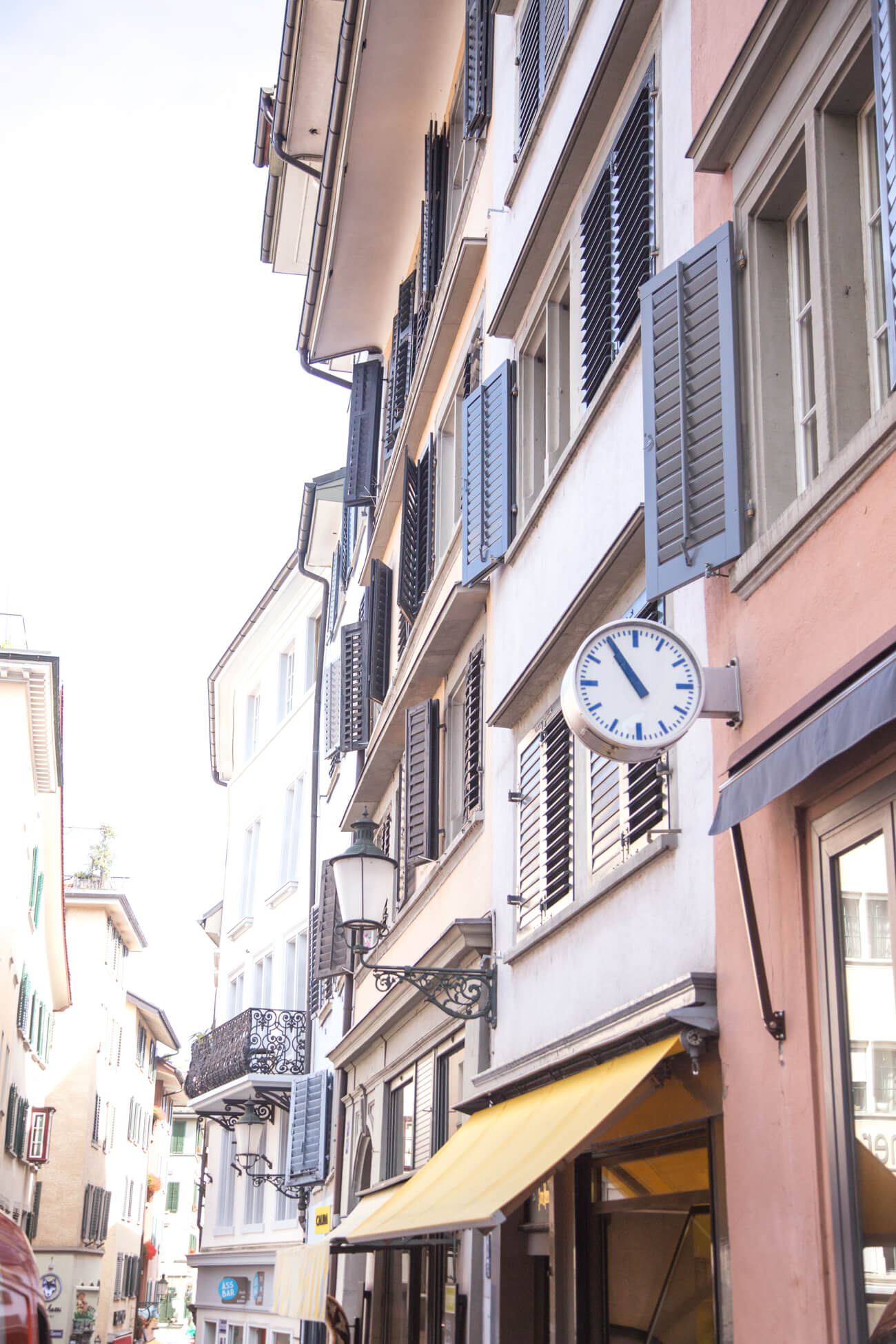 Have lunch in the Old Town…
My suggestion…
The yummy salad buffet and quiches at Delish Cafe. This was the cafe under our hotel, where we had breakfast, and they also do the most amazing cinnamon buns! Be prepared to set your taste buds on fire!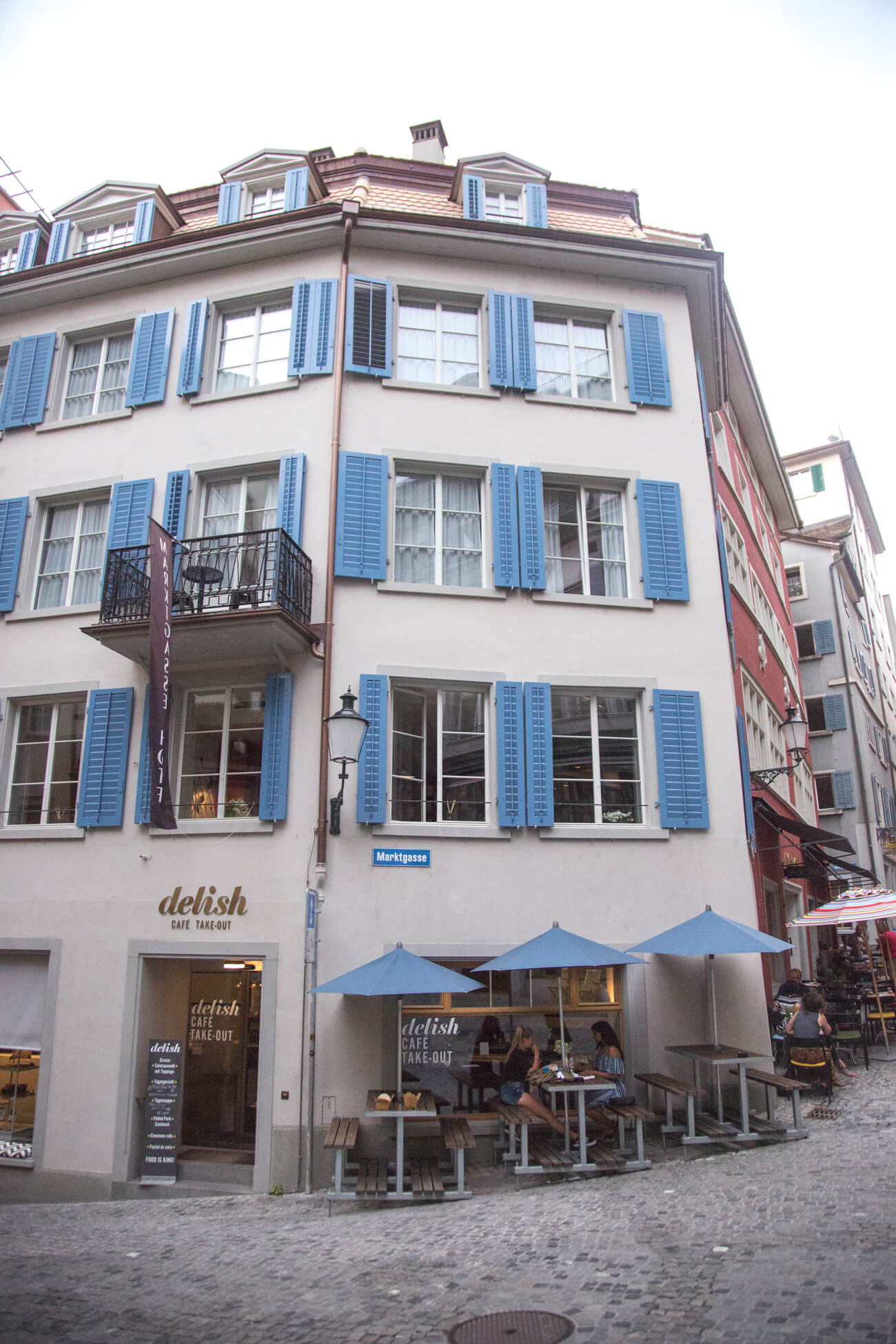 Afternoon: Take a dip!
Take this opportunity to go for a swim in one of the city lidos. There are many to choose from including a female only and male only (old traditions that have remained) one, but many unisex too. We swam at Seebad Utoquai and paid the day rate of 8SF for a day entry (entry, showers, lockers and bathing space).
Evening:
Choose from one of my favourite dinner options…
Baltho Kuche & Bar – the bang bang chicken starter is unreal.
Hiltl – hands down the most incredible vegetarian selection I've ever seen.
Top tip: Hiltl is one of those Wholefoods pay-by-weight places. It's easy to get carried away and you will SERIOUSLY pay the price for it. Look around before piling your plate up and choose wisely. Save room for pudding!
Morning: Hike up to Üetliburg summit
Hop on tram number 13 (yellow line) tram to the end of the line at Albisguetil and continue to walk up the hill until you get to the trees and you'll see a map. This is where the hike starts. It's a pretty intense walk and takes an hour to hike or 40 minutes if you deem yourself rather fit. At the top there's a cafe and lots of places to sit and enjoy the view before heading back down.
Afternoon: Time for an urban dip!
Head for an urban dip in Lake Zurich at Flussbad Oberer Letten. You'll see people jumping off the bridge and floating down the river on inflatables… join in! It's safe to jump, the water is glorious and there's a decent current which will weave you down the river. There's space for you to pitch up with a towel and enjoy the afternoon right by the water. A popular choice amongst locals!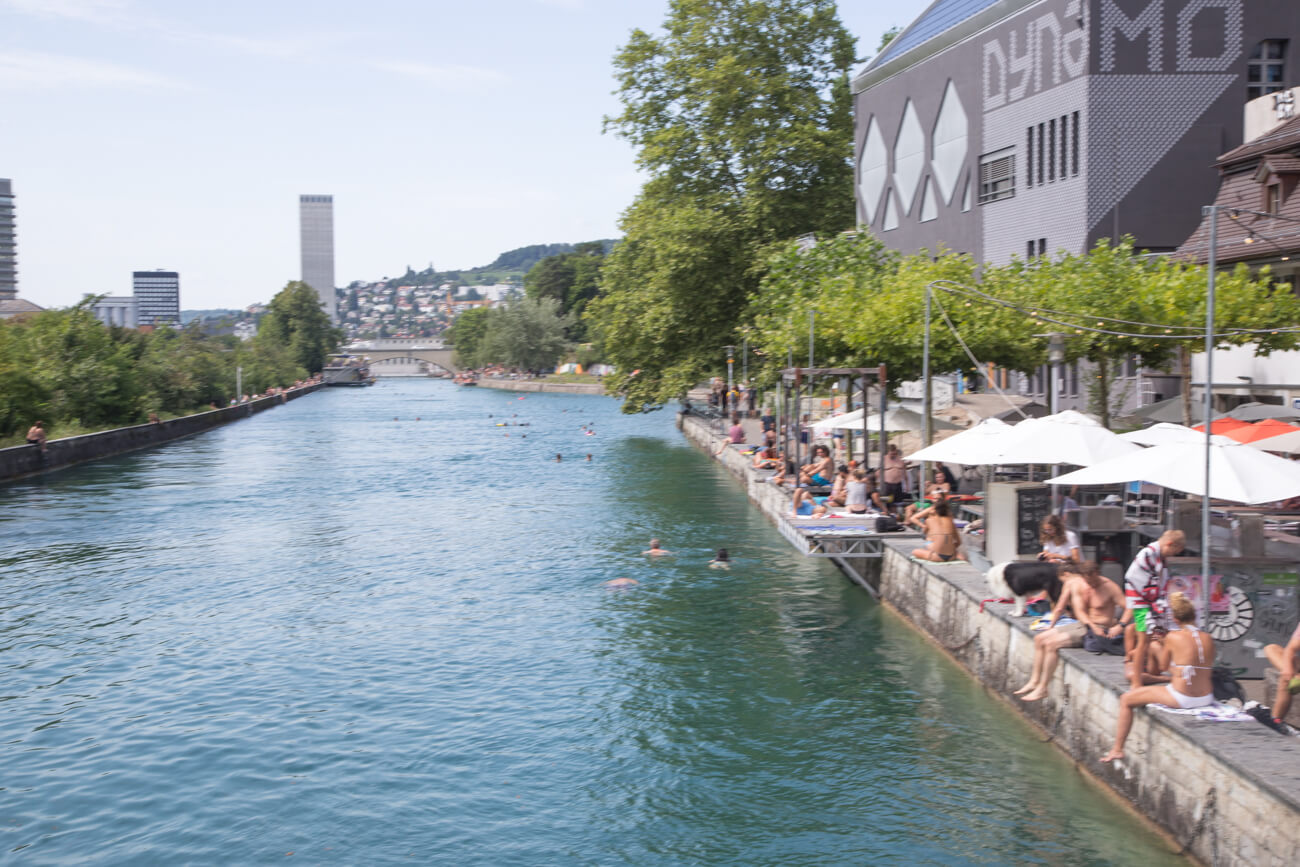 Evening: Toast to the sunset and your trip!
There are so many gorgeous waterfront bars to enjoy the last of the sunshine and the sunset glows from. A couple I noted that took my heart visually were Bauschänzli and Barfussbar.
Day 3
Morning:
If you fancy a gym workout, I've heard good things about Balboa, Atomic and Velocity. We also worked out in Migros Fitnesspark where they have a rooftop terrace and a Hammam (steam room) as well as a fully functional gym. If you stay at Marktgasse boutique hotel entry to this gym is included in your stay!
If you fancy a chilled one, perhaps grab a morning coffee along the water front in one of the many restaurants with outdoor seating.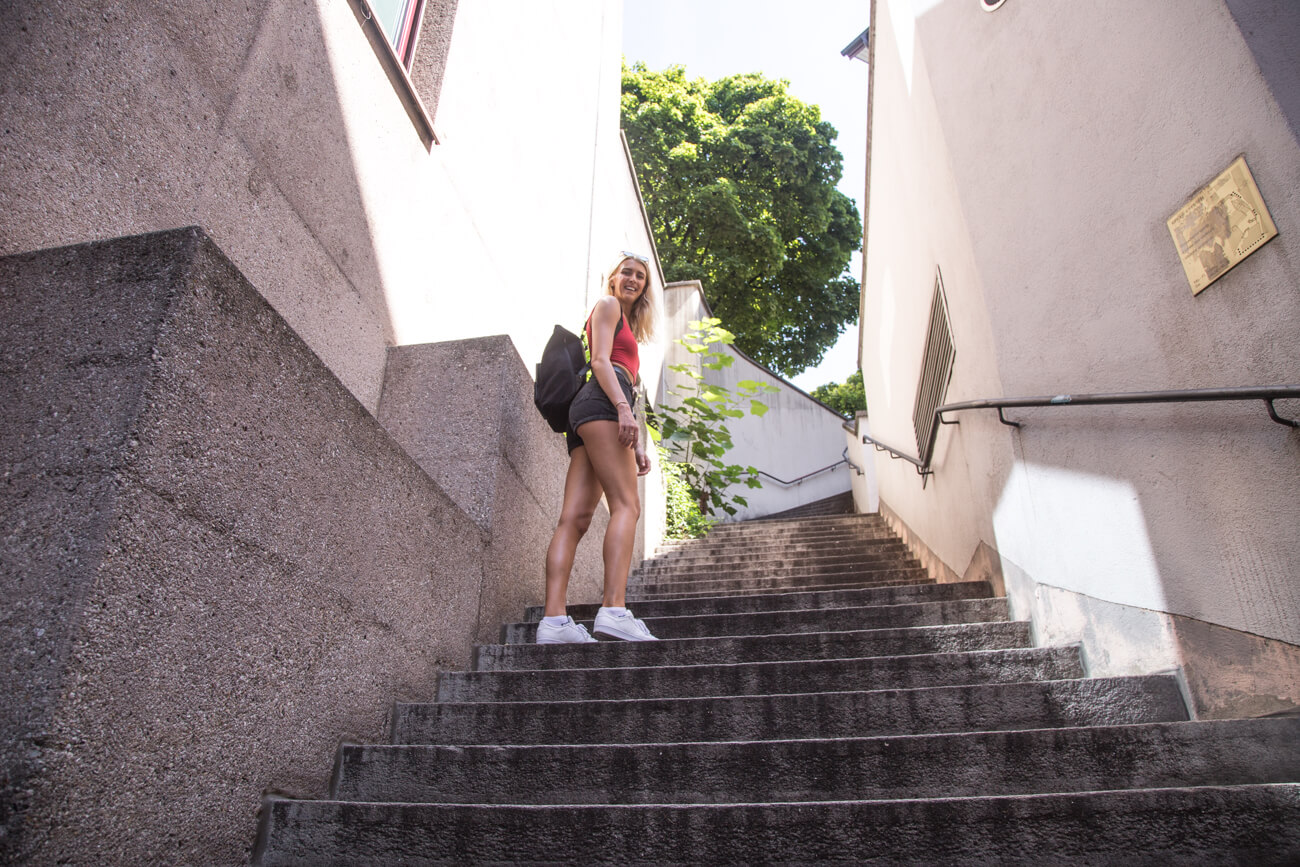 Have lunch in the city…
My recommendation…
Babu's Bakery and Coffeehouse – delicious coffees, salads, sweet brunches and acai bowls! Check the menu here.
Beetnut – highly recommended plant based restaurant.
Afternoon: More city exploring!
Sprungli chocolate shop – taste the unbelievable Swiss chocolate creations.
Check out the university – seriously beautiful architecture with views over the city.
Climb the stairs up to the top of Grossmunster Cathedral (4CHF per person)
Need a pick me up? Head for the yummiest coffee of your entire life at Vicafe. If you normally take sugar like me, you just won't need it! It's creamy, it's strong and you can enjoy it on the cobbled steps just outside the shop.
Evening: Soak up the last of the city!
Depending whether you have an early flight or an evening flight…
Rent a stand up paddle board by the river and cruise along the clear blue waters to get a different perspective of the city.
Go shopping in the Old Town
Pick up some Swiss chocolates from Sprüngli for friends and family, or yourself!
Take the train to the Lindt factory. Need I say more.
Voila! That's 3 days of pure adventure and fresh city living. I can assure you you will soon fall in love with this city, be it the extensive access to active living, the incredible vegetarian and vegan cuisine on offer or the crystal blue waters that you cannot miss jumping into.
I hope I've assisted you in planning your adventure! If you want to see my live updates from my trip, check out #MollieInSwitzerland on Instagram or head to @wheresmollie to see where I am now!
Have you been to Zurich?
Where were your favourite spots? I'd love to know!
Love as always and happy adventuring,
Did you find this post helpful? I'd love you to share it for me.
I can't do this without you.
Pin and save this blog post for later…